If you are looking to buy a movie projector that comes at a low price please read the CLOKOWE portable projector review.
Amazingly, the low-price CLokoWe projector comes at an affordable price with many good features. I bet, you will not find such features and capabilities in other low-price projectors.
Key capabilities – the affordable home theater has 7000 Lux brightness, full HD 1080P resolution and iOS/Android device support. It comes with various hardware interfaces to connect a wide range of multimedia devices. The popular connection ports are USB, HDMI, 3.5mm Audio.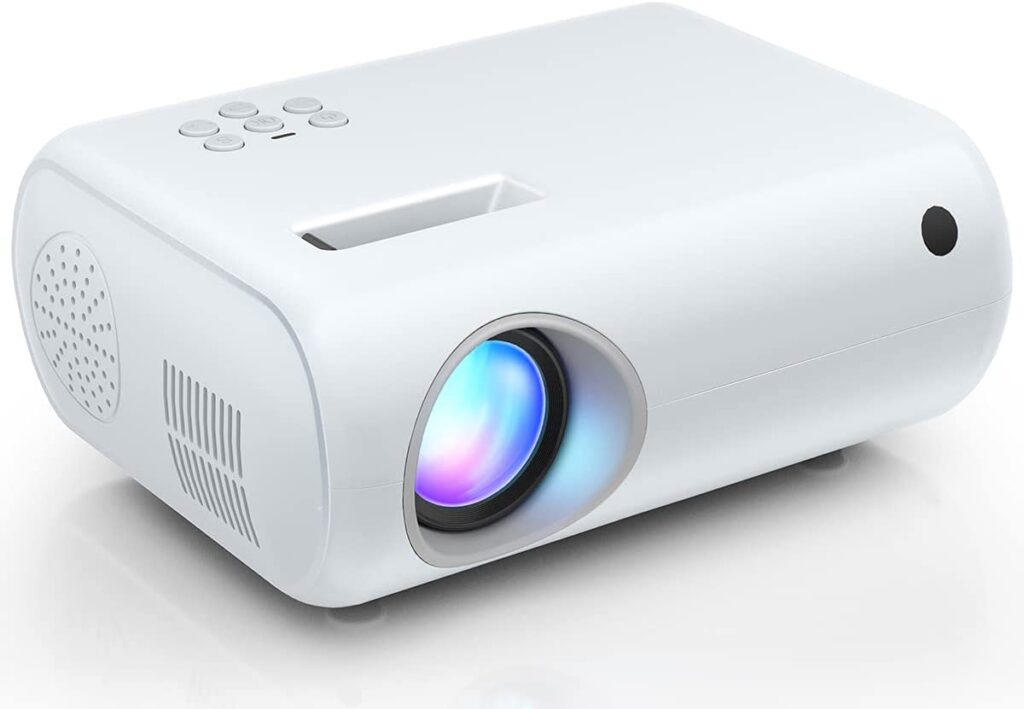 CLOKOWE Portable Projector in 2022 Upgraded Design
7000 Lux Brightness & 1080P FHD – it is based on an advanced LED stable illumination technology. Therefore, the edges of the projector has appropriate brightness because the 7000 Lux is a good amount of brightness in this projection device. When it comes to the picture size, the CLOKOWE projector will give you 30 inches to 180 inches display size. So, the users will be able to enjoy their multimedia content on a large screen up to 180 inches.
However, from the manufacturer, it is recommended to watch on a screen size ranging from 60 inches to 100 inches for the best viewing experience.
With the above mentioned display settings, the users will be able to receive real and dynamic images with good amount of color-vibrant influence.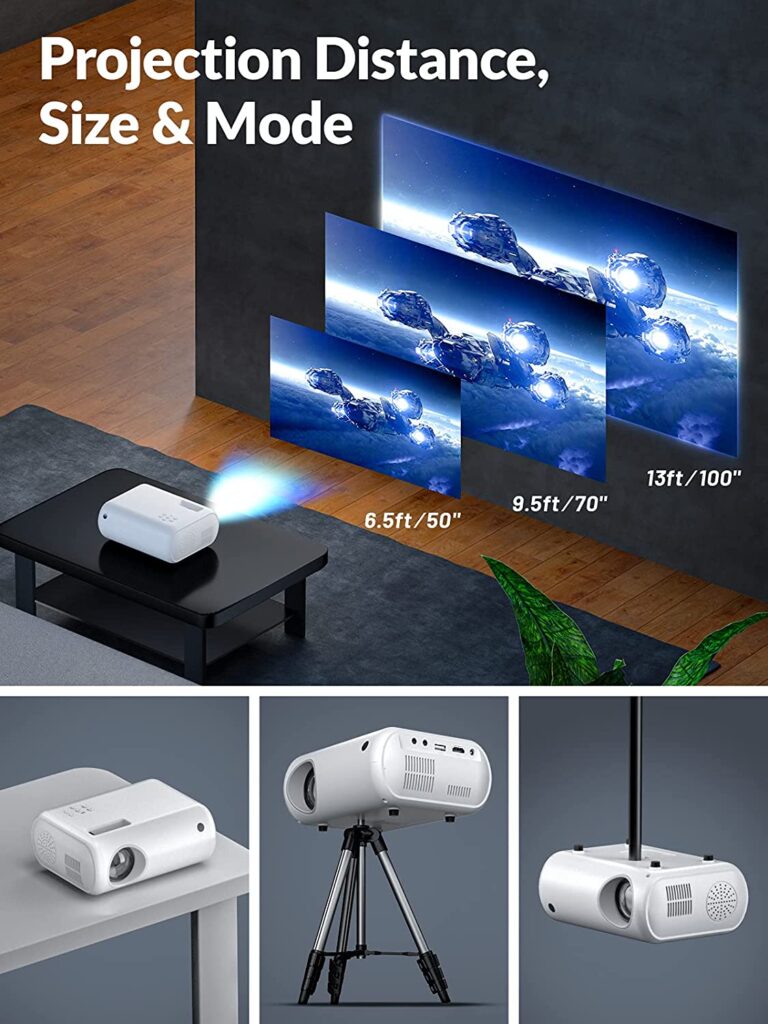 Mini Size – the ClockoWe portable projector is uniquely designed in a small exterior. The dimensions are just 6.74 x 5.28 x 2.96 inches and it weighs just 0.72 Kilograms. Therefore, users do not have a problem in putting their regular bag. The small size projector features a handle for carrying that makes it super portable. You can easily go with this lightweight and mini projector anywhere you want.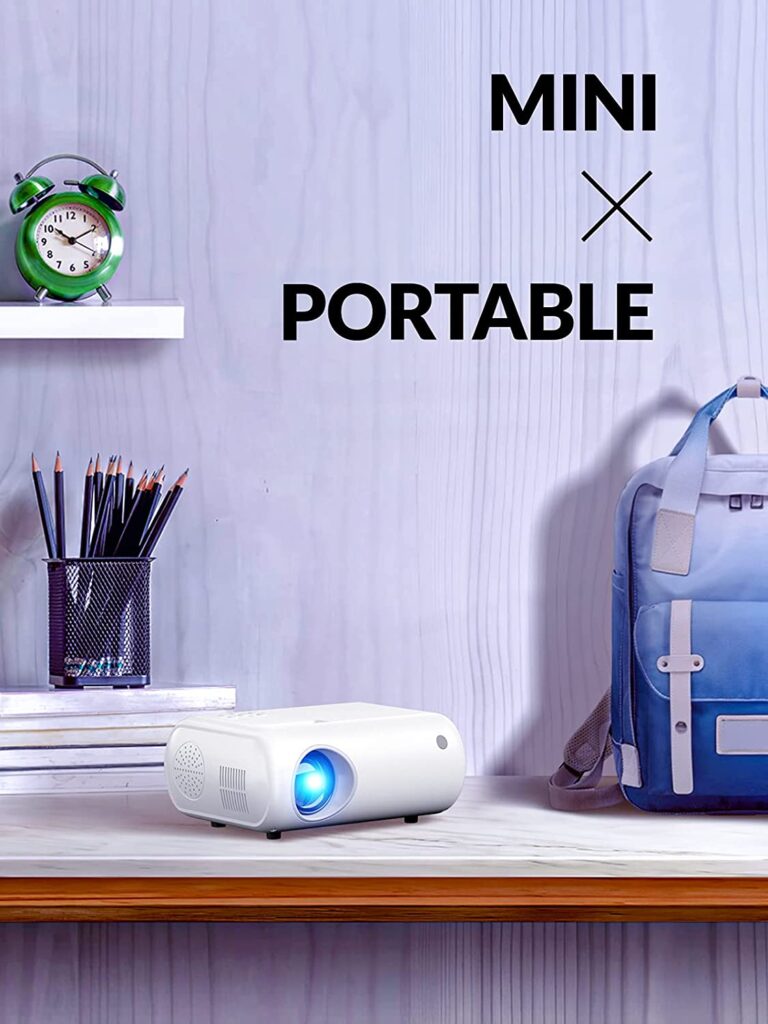 Various Connection Ports, Stereo Speakers & Warranty
Input Connection Ports – The ClockoWe projector features all those connection ports that are found in modern devices. For the reliable connections, you will be able to find input ports such as HDMI, USB and AV. Using these multimedia ports, users can connect this home theater with a wide range of devices. They will not have a problem for connecting devices such as TV boxes, DVD players, Blu-ray players, laptops, Android phones, tablets, iPads and all those devices that have either a USB, HDMI or AV port.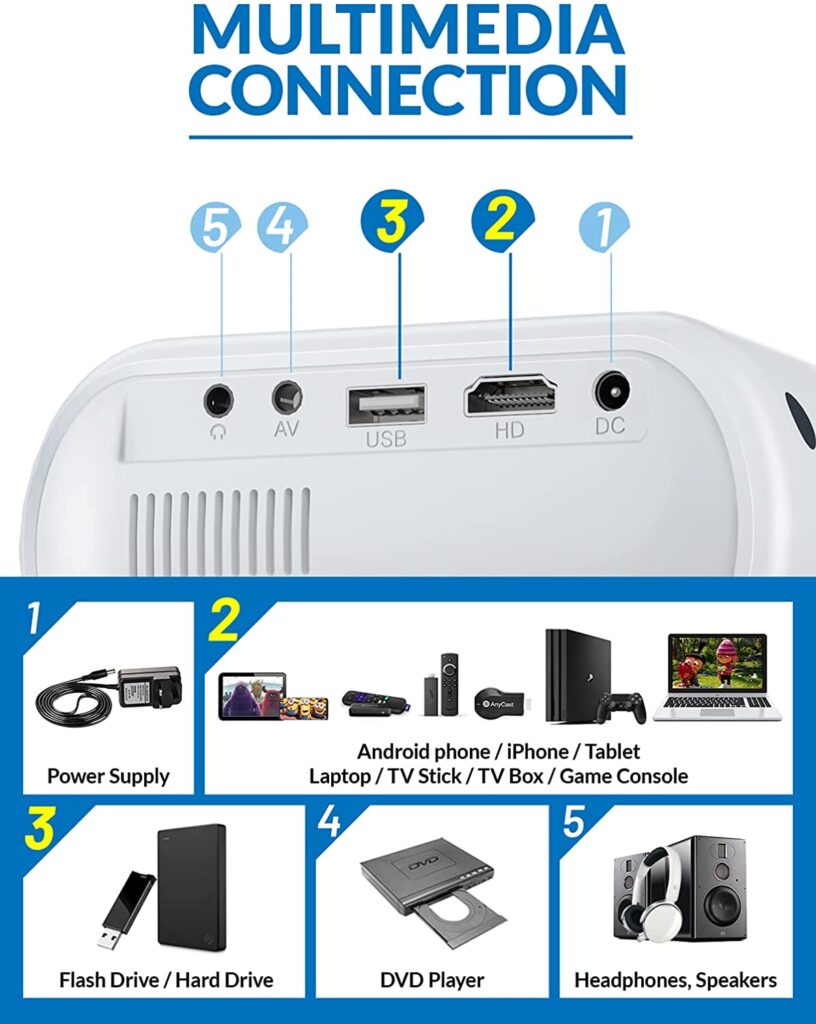 Audio – the mini projector by CLOKOWE comes integrated with Hi-Fi stereo speakers that deliver impressive sound. It also has an audio-out port so that you can connect an external audio device like a headphone or a speaker.
Heat Control Technology – it is based on the newest temperature control mechanism so it has minimized fan noise. This results in an effective heat removal performance.
Therefore, the CLOKOWE outdoor projector is capable to deliver an immersive sound that is always pleasing to your ears.
Warranty – this product is supported with a 3-year replacement warranty and lifetime technical support. Usually, the customer service team at CLOKOWE is very responsive; users can expect a response within 24 hours. Therefore, if you have a question, doubt or problem related to the ClokoWe projector, please do not hesitate to connect the responsive customer service team.
CLOKOWE Projector Features & Specifications
1920 x 1080P Supported Resolution
30 to 120 Inches Viewable Display Size
25% to 100% ZOOM Function
16:9 / 4:3 Aspect Ratio
CLOKOWE M8 Model
HDMI, USB, AV, Audio Connection Ports
0.72 KG Product Weight
Controllable by a Remote Controller of Buttons
Front, Rear and Ceiling Projection Mode
Made in China
The prime features are written above. The outdoor projectors being a low-price unit comes with many good features and specifications. To name a few, 120 inches viewable screen, up to 100% ZOOM function, HDMI, USB and AV connection ports, lightweight profile and it supports multiple installations types such as ceiling, rear and front.
The Package – the package consists of CLOKOWE M8 mini projector, lens cover, remote control, power cable, HDMI cable, AV cable and user manual.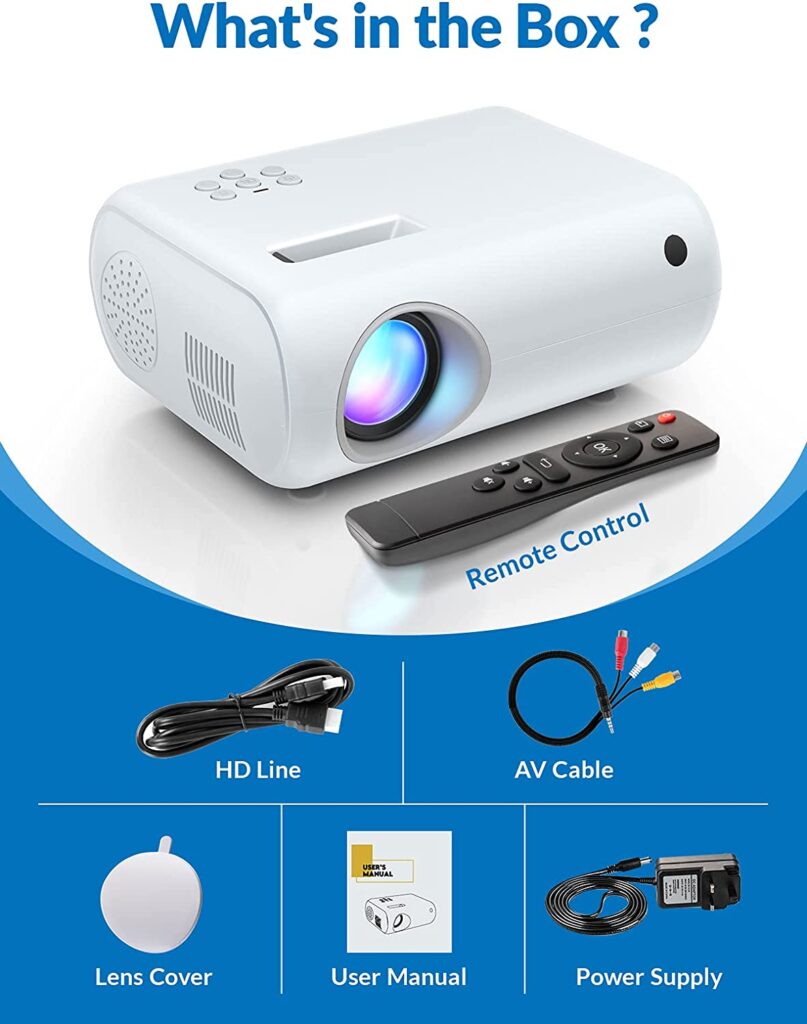 Pros
Easy to operate (anyone can operate including children, grandparents and a less techy person)
The low-price projector delivers good display performance in a dark atmosphere.
Very low price
Comes with all the required connection cables and some other accessories as well.
The sound quality is OK. Picture quality is very good.
Many connection ports, a remote control that make the projection very easy.
Overall, great value for the money you spent.
Very small and lightweight projector that is easy to store, easy to carry.
Easy focus adjustment
It is perfect for a movie, presentations or as an extra display screen.
The low-price projector comes with a built-in speaker too.
The menu is easy to navigate.
Cons
False information has been written in the product description.
Pros as well as cons of ClokoWe mini projector have been mentioned above. Reading the above mentioned pros and cons, will surely remove many of your doubts and answer your questions. The little projector that comes at a low price has many beautiful features and so it delivers beautiful outcome. It has connection options such as HDMI, USB, and AV to connect varieties of your preferred devices.
CLOKOWE Portable Projector Review Conclusion
At the end, I will say that CLOKOWE portable projector gives you the best value for the money. The low-price projection device has all the features and capabilities to produce beautiful pictures and good audio. The affordable picture machine comes included with all the accessories and connection cables.
For your convenience, a list of pros and cons is written above. I urge you to read the pros and cons, which are the important part of the ClokoWe portable projector review.
The affordable projector is very easy to operate. It allows various methods for the installations. Ceiling, front and rear mounting types are supported.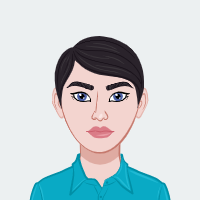 Nikita is a product reviewer who specializes in electronic products. She is an active member of several online forums and is always up-to-date on the latest products and research. Her reviews are detailed and honest, and her recommendations are always spot-on. If you're looking for a new electronic product, Nikita is the person to ask!