AuKing 2400 Lumens Mini 1080P Projector is the best projector for home entertainment. It comes with an extra thirty-percent lumen so it is brighter than other projectors in its category.
The AuKing projector comes with impressive cooling capability that fantastically minimizes the fan sound. Amazingly, the mini AuKing projector has 55000 hours of lamp life that will last for many years without the replacement of the lamp. With such capabilities in this projector, you are going to receive fantastic projection experience without any doubts.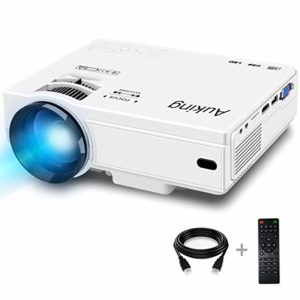 The screen size you get is from 32 inches to 176 inches. You can conveniently manage the screen size as per your preferences. So this is the great time to watch videos and other content on a larger screen. Of course, it gives you an immersive pleasure feeling because of the fantastic performance it delivers.
Also, the AuKing 1080P home theater projector comes with two years of warranty with professional customer service. In case, you have any questions related to this projector or your projector is not working according to your expectation then a satisfaction oriented customer service team is always available to help you out.
Further, the high quality projector is well compatible with most devices. It works with TV box, ChromeBook, Amazon Fire TV Stick, PCs, Laptops, Blue-ray DVD player, tablets, USB flash drive, SD card and media players.
So the projector is ideal for pictures, TXT, music and videos. You can also connect with Android Smartphones, iPad and iPhones with the help of a wireless HDMI dongle, which is not included with the purchase of this AuKing 2400 lumens brightness projector.
Since this is a portable projector so you can take it everywhere you go.  You can also keep this projector in your backpack when you travel and enjoy the good entertainment time.
As I said earlier, the AuKing projector has 55000 hours of lamp life that means you can use the projector for approx. 15 years with ten hours daily use.
Specifications:
55000 hours lamp life
800 x 480 native resolution
2000:1 contrast ratio
LCD projection technology
±15 degree optical correction
32 inches to 170 inches projection size
1.5m to 5m projection distance
Audio file: MP3, WMA, OGG, ASF, WAV, AAC
Video file: MPEG1/2/4, AVI RMVB, RM, MOV, DIVX, VOB, DIVX, MKV
Image file: PNG, BMP, JPEG
Please note that this AuKing multimedia projector is only for home entertainment so it is not recommended for Word, PPT, Excel or business environment.
For the better performance, please use this AuKing video projector in a dark environment.
The package contains AuKing mini projector, AV sign cable, remote control, power cable and HDMI cable.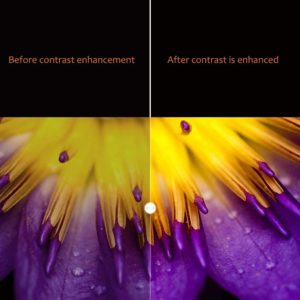 The above image tells you two states of contrast enhancement. Please check the before and after contrast enhancement. The 2000:1 contrast ratio is very reasonable to adjust the image as per your viewing preference.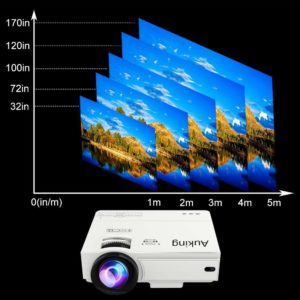 The AuKing mini projector lets you watch videos and play games on a bigger screen from 32 inches to 170 inches from 1.5 meter to 5 meter distance. So now is the time to watch your preferred movies and other multimedia content on a bigger screen at home. Create your own home cinema at home without going outside.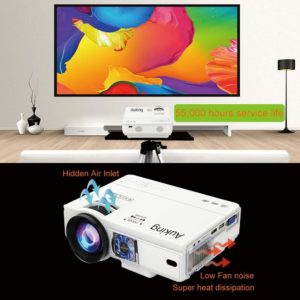 The mini home theater doesn't let you distracted from watching your favorite videos. It has low fan noise and super heat dissipation.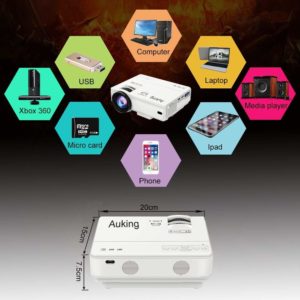 The AuKing projector comes with various connection ports such as HDMI, USB, AV and VGA to connect with your favorite devices. You can easily connect this projector with laptop, computer, micro card, iPad, iPhone, Android Smartphone, Media players and many others.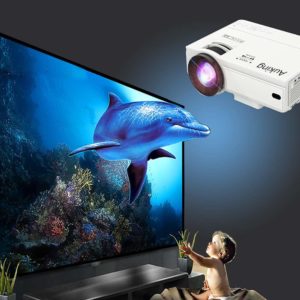 The 2400 lumens projector delivers clear picture that is even on a bigger screen of up to 170 inches. The above image is just an indication of the picture quality you will receive.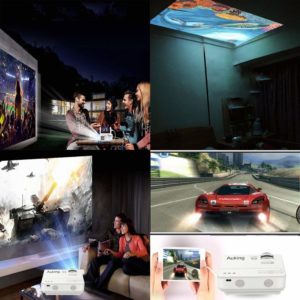 The 1080p video projector is perfect to play games or watch videos with your friends and family. And don't compromise with  the quality and performance you receive from your projector.
[home]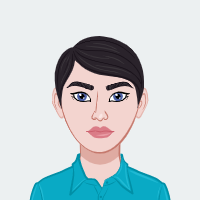 Nikita is a product reviewer who specializes in electronic products. She is an active member of several online forums and is always up-to-date on the latest products and research. Her reviews are detailed and honest, and her recommendations are always spot-on. If you're looking for a new electronic product, Nikita is the person to ask!