JMGO O1 Pro Ultra Short Throw Projector has many special features to deliver the audio and visual of your choice. However, the JMGO as a projector brand is new in the market.
The 1080P FHD video projector has an impressive brightness level of 1500 ANSI and many advanced features like auto focus, keystone correction, wireless capabilities and Dynaudio speakers.
Well, the price of this projector seems a little higher than it should be. However, it is worth the money you pay to acquire this movie projector.
Some notable features are many connection ports, many mounting methods and multiple control ways.
Please keep reading to understand each feature of JMGO O1 Pro Ultra Short Throw Projector in details.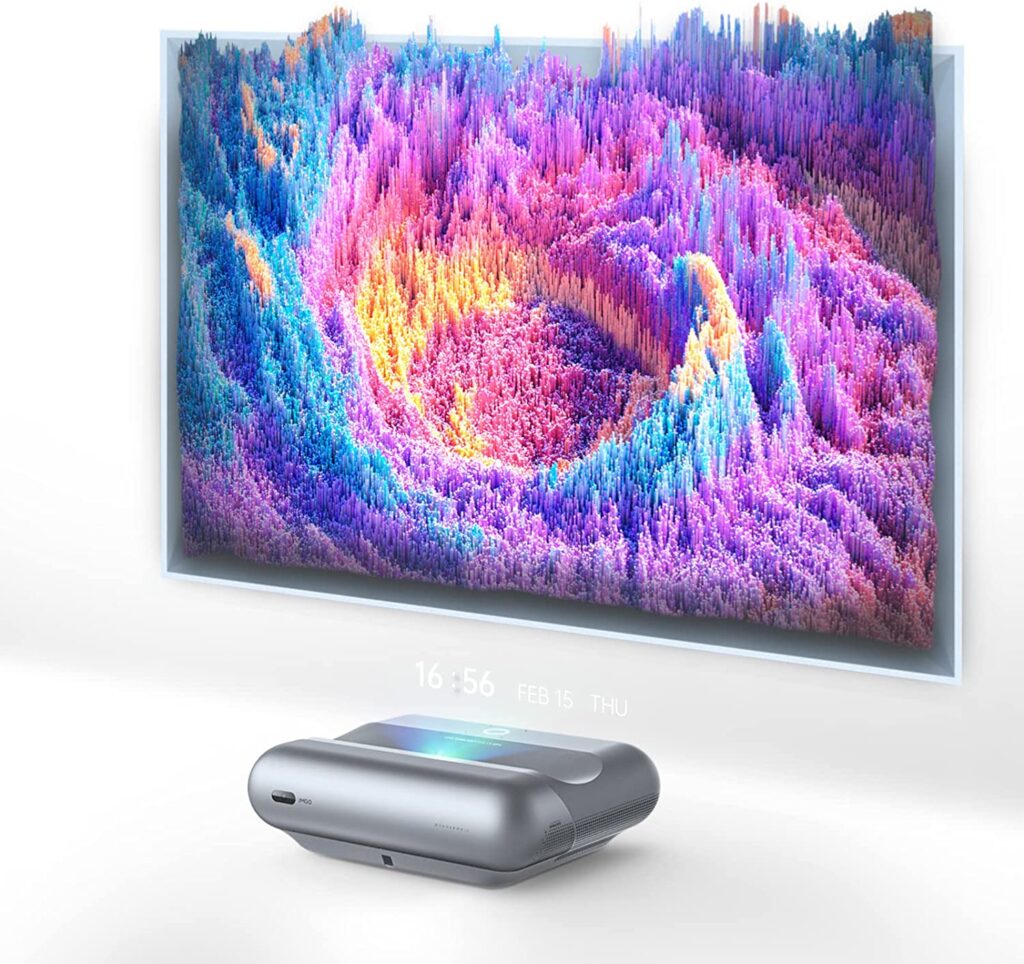 Leica LED Engine & Short Throw Projection
JMGO O1 Pro is designed with Leica to produce impressive display. The projector uses a sophisticated LED based optical design for the improved focus, contrast and clear images.
Therefore the short throw projector gives you accumulated light and a short throw ratio of 0.21:1.
Apart from the Leica LED engineering and short throw ratio, the projector delivers 1080P FHD image quality. The images come from this projector are vivid and saturated.
For good brightness, JMGO O1 Pro Ultra Short Throw Projector comes with 1500 ANSI lumens brightness so it is capable to deliver impressive images for the good watching experience. Users will enjoy the good performance of JMGO O1 for years because the projector lamp has more than 45,000 hours of life.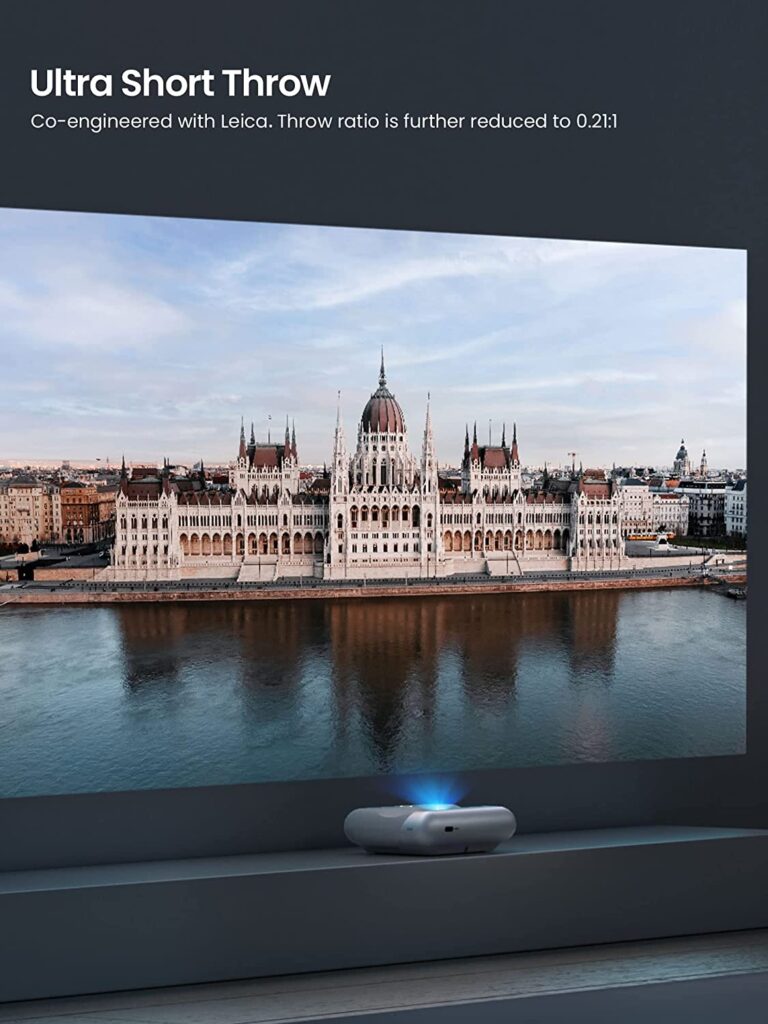 Influential Sound Performance & Easy to Operate
JMGO O1 Pro Ultra Short Throw Projector can deliver impressive audio performance because it has 10W speakers. The projector's audio is characterized by Dynaudio engineering. Moreover, the audio feature is certified from DOLBY and DTS-HD for clear and ear-friendly sound.
Plug & Play – JMGO O1 Pro has many smart features like self-focus, keystone correction which are further powered by intelligent sensors and AI cameras. Apart from these picture correction features, the JMGO O1 Pro has gesture control and eye safety features. With all these special features, the projector becomes more stylish, eye-protective and handy to project.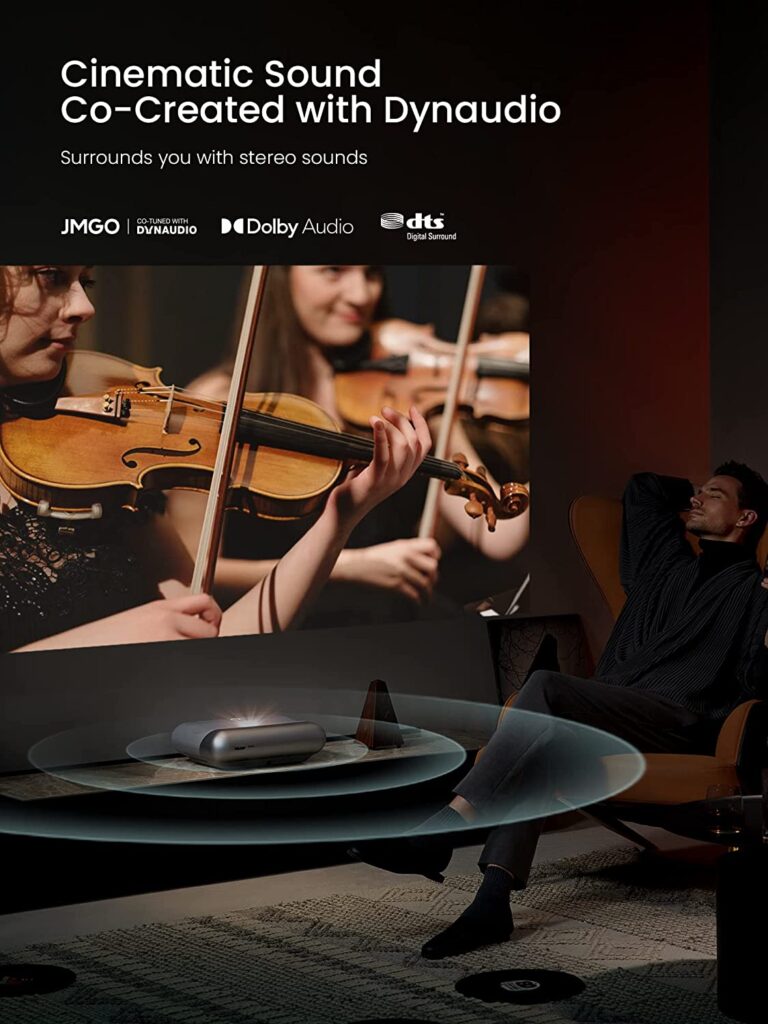 Perfect for Limited Space | More than Watching Movies
JMGO O1 Pro Ultra Short Throw Projector can be installed anywhere because it does not require too much space. The FHD projector requires just 9-inch space from the wall to deliver up to 110-inch screen. Therefore, the projector is capable to offer uninterrupted movie entertainment and excellent gaming experience.
As mentioned above, the JMGO projector is more than watching movie because it comes with low latency mode for the responsive gaming experience. Apart from the Low Latency Mode, the projector has Companion Mode of Message Board, Music Visualizer and Digital Art Gallery. These good features are always with you 24 x 7.
Many Good Features of JMGO O1 Pro
FHD 1080P – high image quality
Empowered with Leica
70 to 110 Inches screen
3D viewing
Auto focus & keystone correction
5G WIFI
Bluetooth connection
Easy swap from Movie Mode to Companion Mode
JMGO brand
HDMI, USB 2.0, VGA popularly used input connection ports
Remote control and App control
Tripod, table and ceiling mountable
1500 ANSI brightness
Dolby and DTS-HD audio
0.21:1 throw ratio
O1 Pro model
45,000 hours lamp life
JMGO O1 Pro Ultra Short Throw Projector comes with amazing features. It has 3D features, Dolby audio sound, 0.21:1 throw ratio, 5G wifi, Bluetooth connection and many others. The projector gives you 70 to 110 inches screen so that you can watch your content on a large screen. It supports Tripod, table and ceiling mounting.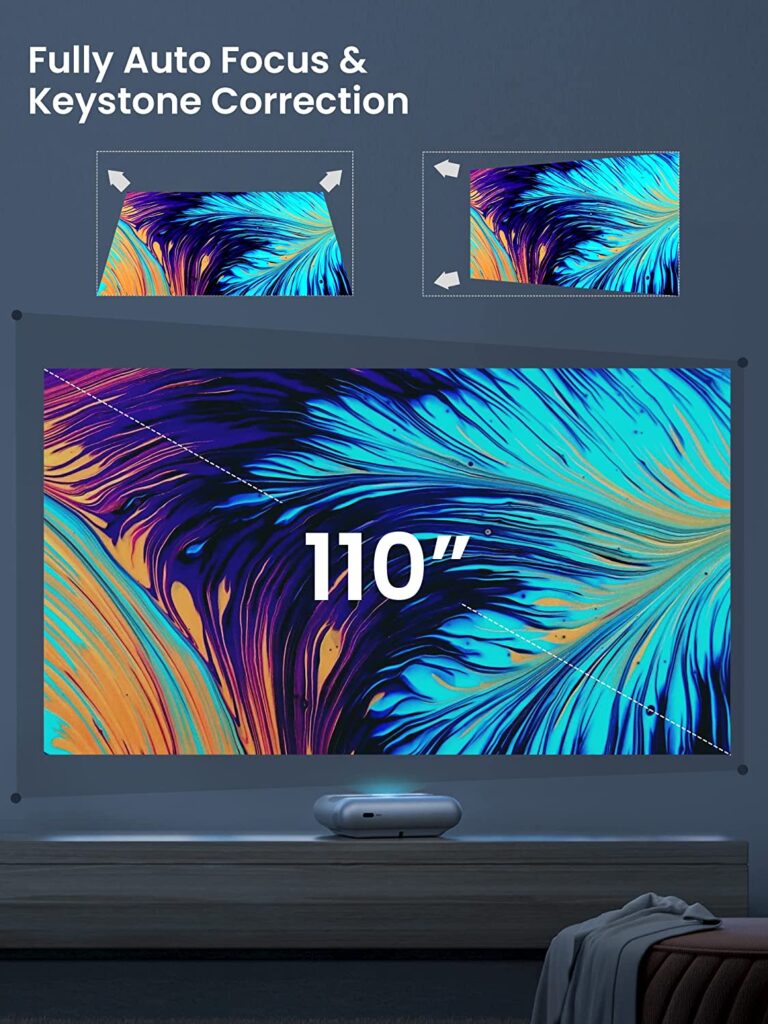 Pros
Noiseless operation
The projector comes well packaged.
Leica engineered projector lens for clear pictures
It can be placed few inches away from the wall to get 100 inches screen.
The 1500 ANSI brightness is perfect for both indoor and outdoor projection.
Sound is OK with most of the users.
Voice enabled remote control
Dual-HDMI and dual-USB ports for various connections
FHD display is perfect for movies and other video content.
Easy to setup
Good quality built-in speakers
Screen sharing option
Cons
Price is a little higher than expected.
JMGO O1 Pro Ultra Short Throw Projector has various pros and just one drawback. You can see the JMGO projector comes with many capabilities such as built-in speakers, Alexa for voice control, easy setup, FHD display, dual-HDMI, dual-USB, 1500 ANSI brightness and many other good features. It has just one con, which is the price is a little high, but it is OK with many users.
JMGO O1 Pro Ultra Short Throw Projector Conclusion
In short, the projector comes with many advanced and special features and capabilities that may not be available in other projectors in the same class.
Well, JMGO may be a new brand name for video projectors but it has designed a wonderful projector. From myside, it is highly recommended. You can read the pros, cons and features displayed above to have an overview on JMGO O1 Pro ultra-short throw projector.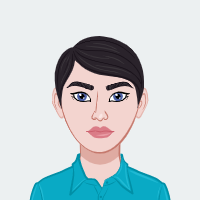 Nikita is a product reviewer who specializes in electronic products. She is an active member of several online forums and is always up-to-date on the latest products and research. Her reviews are detailed and honest, and her recommendations are always spot-on. If you're looking for a new electronic product, Nikita is the person to ask!