WiMiUS is a big name for NextGen projectors. You can see that WiMiUS projectors are full of the latest features. This review is on WiMiUS K7 projector that sells on Amazon at a good price. The WiMiUS projector has many good features such as 1080P (4K, HD) display, 500 inches display size, 450 ANSI lumens brightness, auto keystone correction and many more.
If you are looking for buying a budget projector with good specifications, features and settings, you can go with the WiMiUS K7 projector. The 4K entertainment device has 6D auto keystone correction, zoom function and many other advanced features that are only found in high price projectors.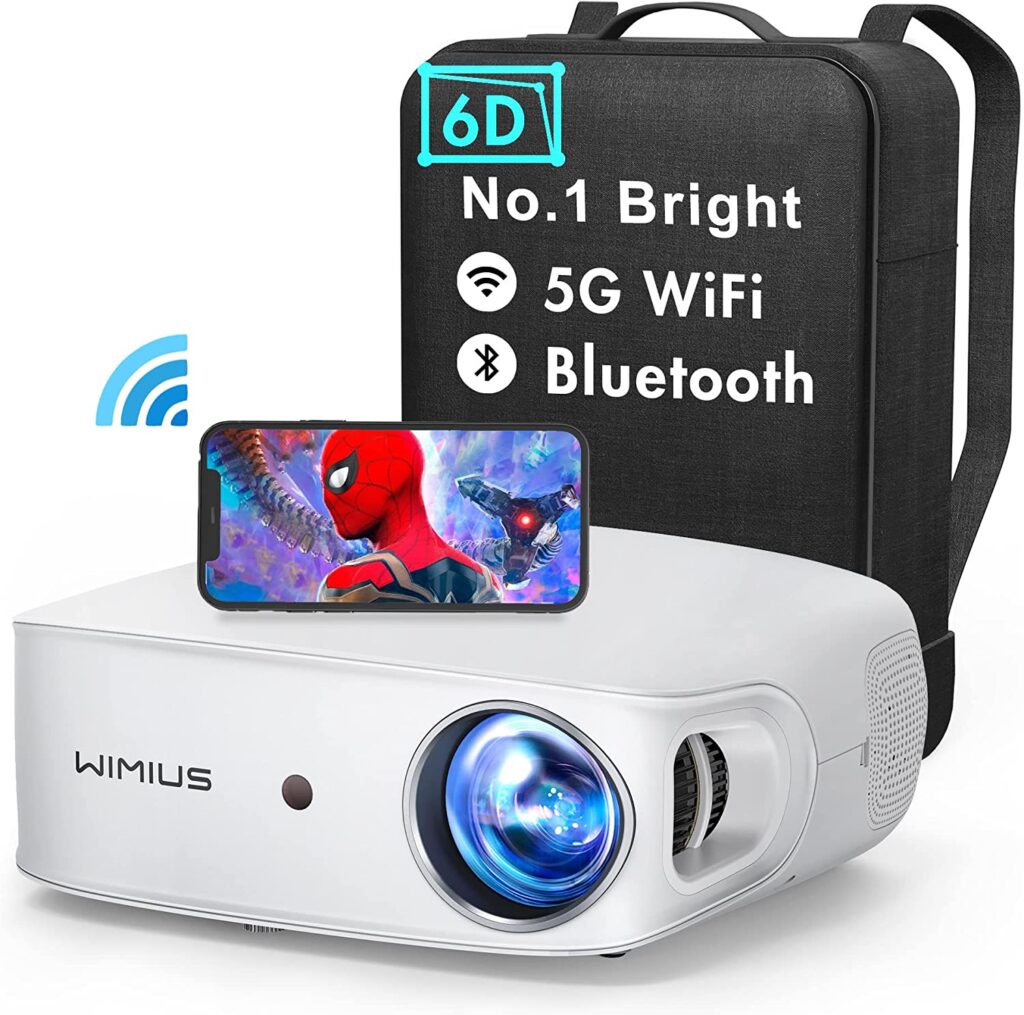 Advanced Wireless Capabilities of WiMiUS K7 Projector – 5G/2.4G Wi-Fi and Bluetooth 5.1
According to the projector review, WiMiUS K7 is two times faster than other 5G projection devices. With the advanced wireless connection capabilities, this unit becomes a good device for indoor and outdoor projection needs. The multimedia content transmission can be faster and smoother than other 5G projectors.
Moreover, please do not forget that it has the latest Bluetooth 5.1 feature with SRS sound system. Using the Bluetooth capability of this projection device, you can easily connect with all the Bluetooth devices such as Bluetooth speakers, air-pods, headsets and others.
WiMiUS K7 4K Projector Has 500 Inches Large Screen and Zoom Function
You can see that WiMiUS K7 offers you a large display of up to 500 inches. Which means, you can project your multimedia content on a large screen. It gives you screen size from 50 inches to 500 inches. You are able to set your own preferred screen size based on your entertainment needs.
Additionally, to shrink the picture, WiMiUS has 100% to 70% zoom out function. You will be able to use this function without moving the projector.
Moreover, the home cinema comes with too many connection features such as USB, HDMI, AV, 3.5mm audio out. You can use these interfaces to connect your gadgets seamlessly. You can easily connect devices such as laptops, TVs, personal computers, cameras, gaming consoles and many others.
WiMiUS K7 Has 6D and 4P/4D Auto Keystone Correction
The newest WiFi 4K projector offers you an advanced keystone correction option. The projection device does the keystone correction works automatically so you do not have to think of the location the projector is placed in. I can say that it is too advanced 4K projector for the keystone correction. You do not have to use the remote to perform click by click. The keystone correction is done automatically.
Apart from the auto 6D keystone correction, the projector offers you 4-point 4D keystone also. You can adjust the image using the keystone varieties you like.
WiMiUS Projector Comes with 3-Year Warranty and 200,000 Hours of Lamp Life
As mentioned above, you can enjoy longer lamp life of this WiMiUS 4K projector. According to the projector review, it has lamp life 5 times longer than others. It is also supported with 3 years of warranty and lifetime professional support for the projection.
Highlights of WiMiUS Video Projector
6D Auto Keystone Correction
4D Keystone correction
LCD Projector
Zoom Function
50 inches to 500 inches screen size
5G WiFi and 5.1 Bluetooth
1080P native resolution
Multiple connection methods such as USB, HDMI, Bluetooth, AV
WiMiUS brand name
K7 model number
Tabletop mounting
450 ANSI lumens brightness
SRS sound system
15000:1 contrast ratio
A carrying case included
100% to 70% zoom function
3 years warranty and lifetime customer support
By seeing the list of features, one can understand how powerful the WiMiUS projector is. According to the projector reviews, WiMiUS K7 has too many advanced features. Such advanced features are only found in high price projectors.
Pros of WiMiUS K7 4K Projector
A compact projector
Carrying case included
Video quality adjustable
4-point manual keystone correction
It is one of the lightest projectors
Important accessories are included.
Very easy to setup
Great Bluetooth capabilities
Responsive customer service
The prime pros are mentioned above. I can see that WiMiUS projector is a good looking projection devices. It has good Bluetooth capabilities. The projector allows 4-point manual keystone correction apart from the 6D auto keystone correction. You are able to adjust the video quality.
Cons of WiMiUS K7 Projector
Some users experienced focus related issues
The WiMiUS projector does not come with many disadvantages. I scanned numerous reviews by visiting various popular selling platforms to find pros and cons of this 4K projector. I found too many pros and just one con. Therefore, it is a good sign of a quality product.
WiMiUS K7 Conclusion
In short, WiMiUS K7 is a buyable 1080P projector. It has great auto keystone correction capabilities. Those who do not want to use the auto keystone correction feature, they can use the manual 4D keystone correction feature as well. The WiMiUS projector price is appropriate and it is supported by a great customer service team.
More Images of WiMiUS Video Projector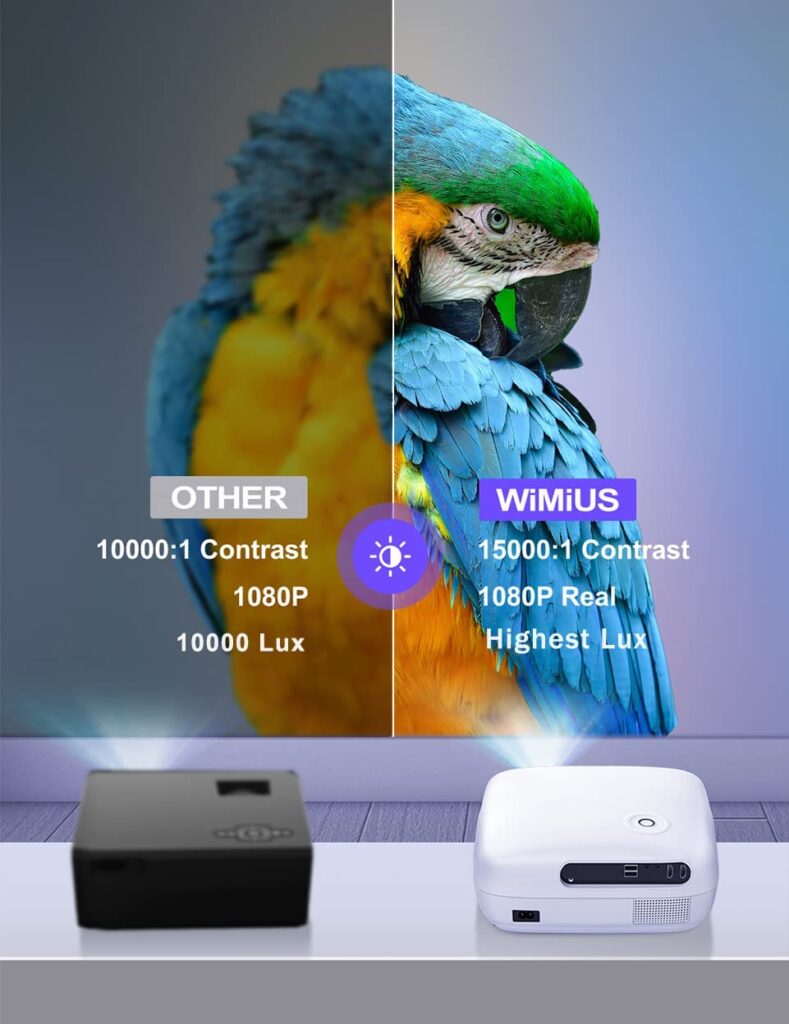 Others 10000:1 contrast ratio, 1080P, 10000 Lux – WiMiUS 15000:1 contrast ratio, 1080P real, highest lux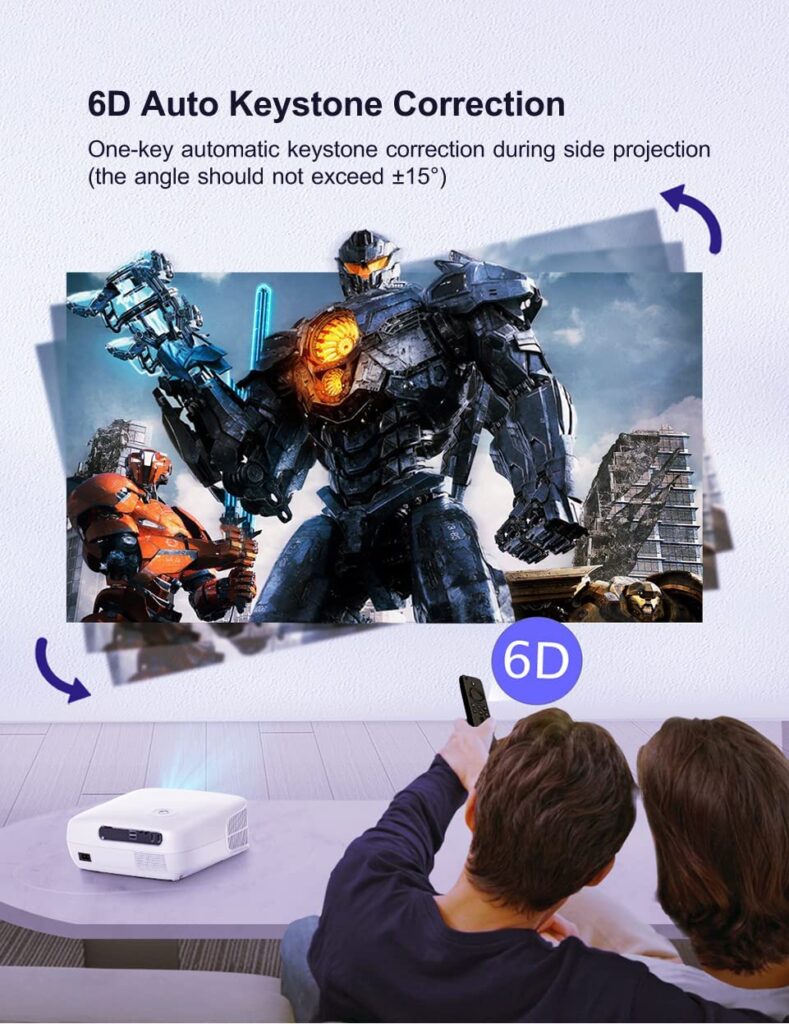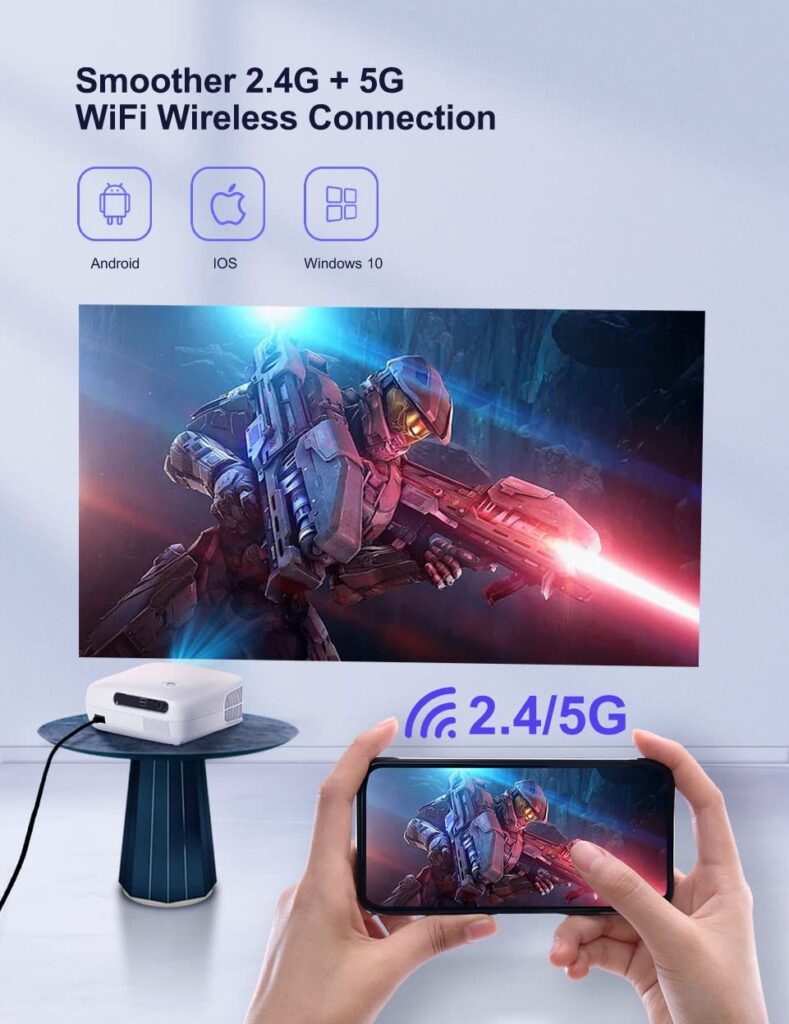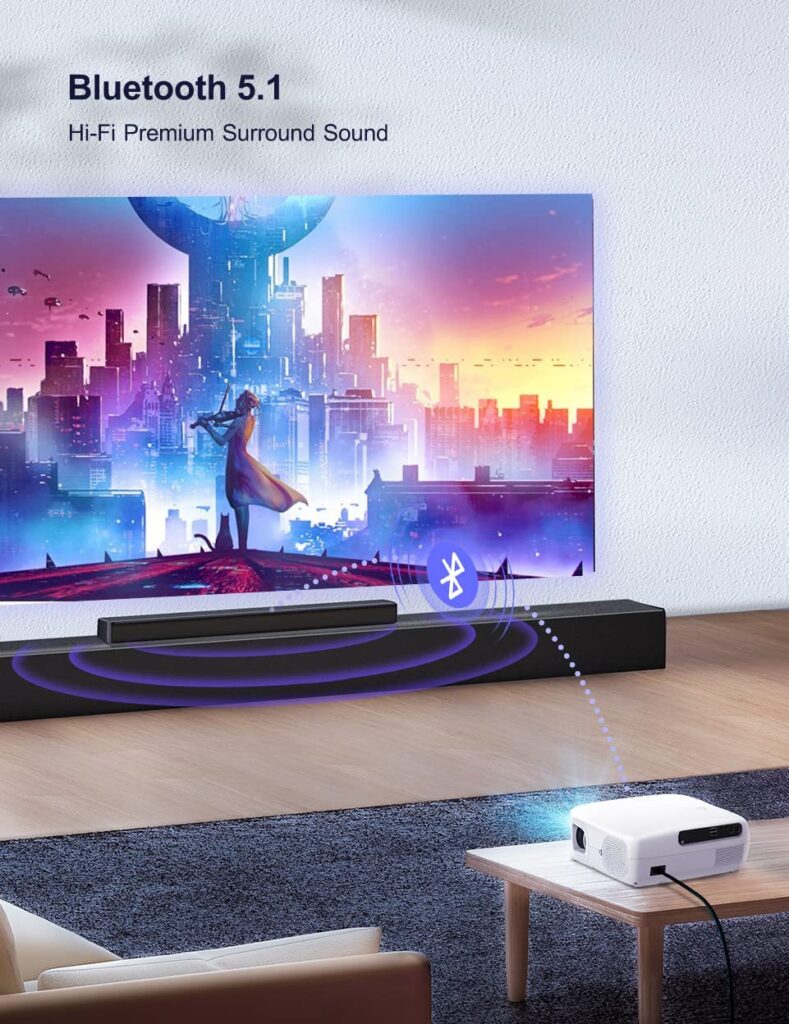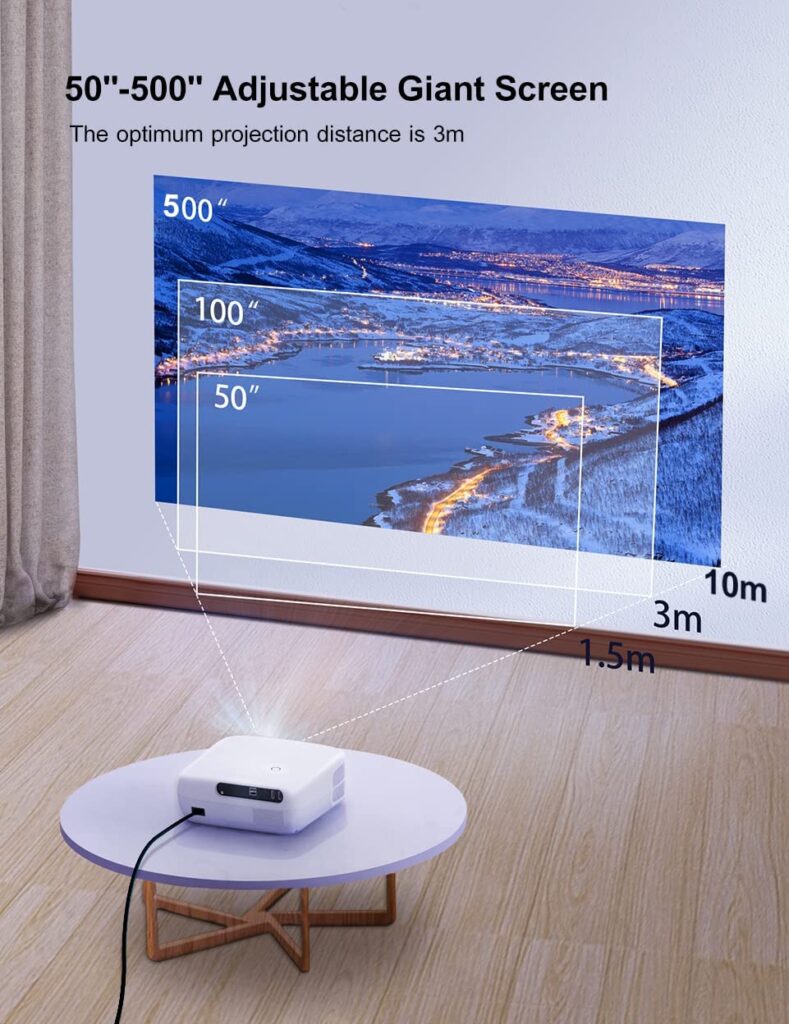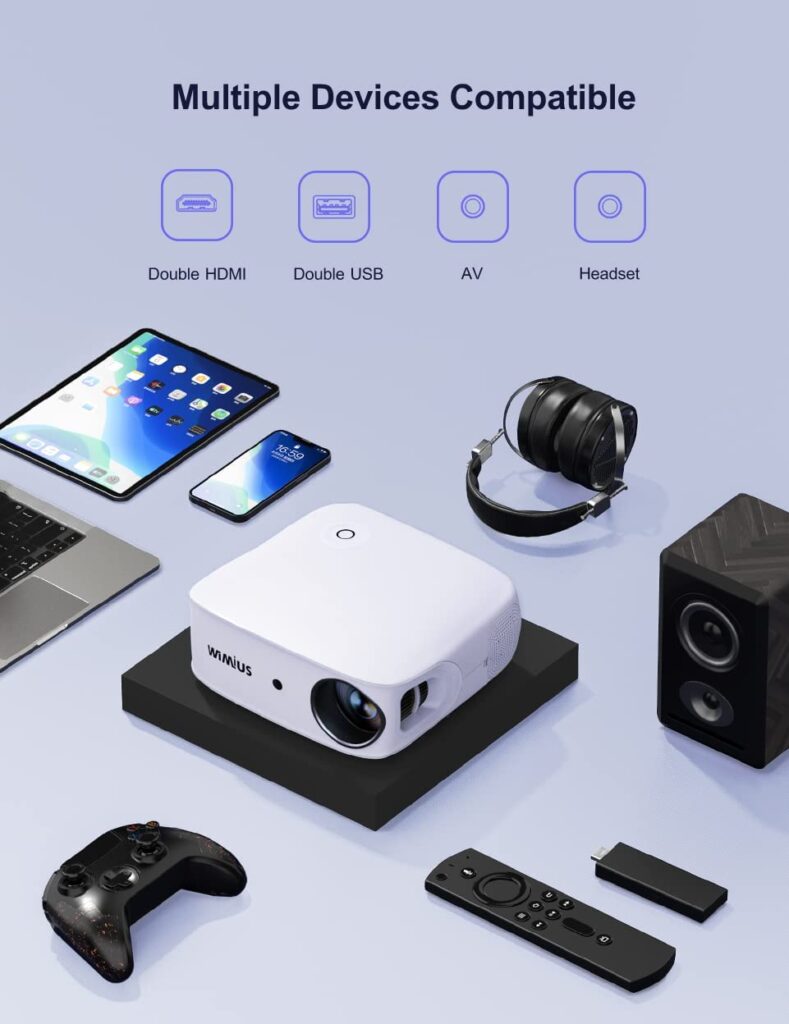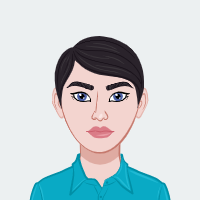 Nikita is a product reviewer who specializes in electronic products. She is an active member of several online forums and is always up-to-date on the latest products and research. Her reviews are detailed and honest, and her recommendations are always spot-on. If you're looking for a new electronic product, Nikita is the person to ask!