Who does not want a good product in a low price? The TopVision 7500L projector can be the best purchase because it comes at a low price and good performance.
The movie projector is full of advanced features related to connectivity, display, setup and flexibility. And, please know that a 100-inch screen is also included.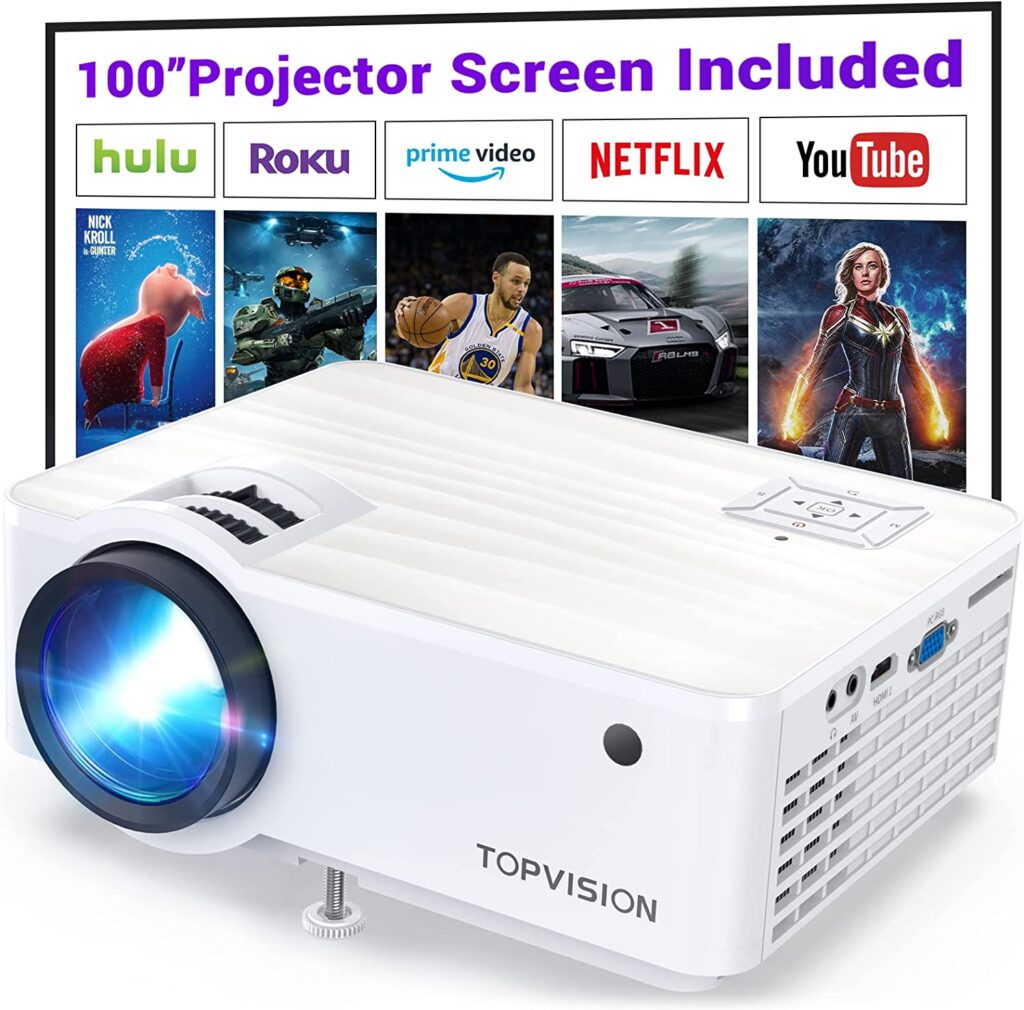 Large Display Entertainment
The TopVision 7500L projector gives you a display size from 72 inches to 240 inches. To watch your favorite content on a screen ranging from 72-inch to 240-inch, you need a projection range between 7 to 22 feet.
However, according to the product creator, the ideal projection range is 9.5 feet to get 90 inches picture size.
Therefore, the users should go with the recommended projection distance and picture size for the best visual and audio entertainment.
Most importantly, please do not forget that a 100-inch curtain is included with the product.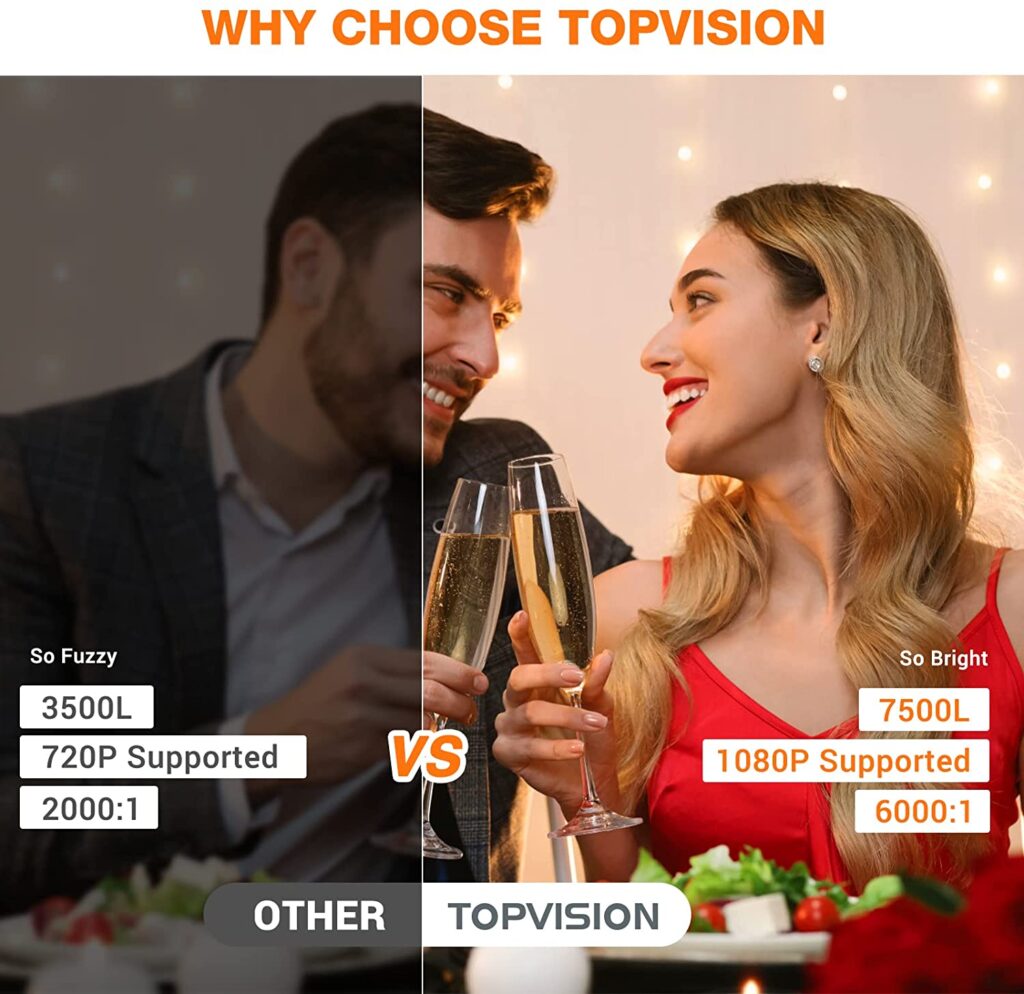 Cinematic Feel
The 7500L TopVision projector equips an elevated LED engine that has good brightness performance.
In fact, the manufacturer claims that their LED engine offers approx. 85-percent more brightness than their competitors.
Therefore, such advanced projector can be the best home cinema device because it has 1920 x 1080 resolution. Well, you can not only use it in your home, but also use it in parties, and traveling.
Please note that this TopVision projection device is not made for PowerPoint presentations so it may not be good as an office projector as it is mentioned by the product creator.
Audio Performance of TopVision Projector
The TopVision 1080P home theater comes integrated with HIFI stereo speaker. You can expect clear sound from the built-in stereo sound.
Moreover, users can connect to an external speaker as the projector features 3.5mm audio output option for the best sound experience.
To make sure, you enjoy clear and the best audio, the projector has two internal fans that help reduce noise. Well, the dual-fan system is not only for reducing noise but also for improving overall performance.
Ways to Connect with Your Mobile Phone
The users will need a lighting to HDMI adapter for the seamless connection with an iPhone. For the Android phone connection, users need to have a micro-USB or type-c to HDMI adapter. Well, these adapters are not included with the package, so you may have to buy them.
Please know that you do not have to install any app. The TopVision projector can mirror your phone display.
Multiple Connection Ports
The portable TopVision projector features various connection ports. Therefore, users will get connection flexibility to connect with almost any entertainment device.
The unit has connection ports like dual HDMI, VGA, USB, TF, AV and audio output.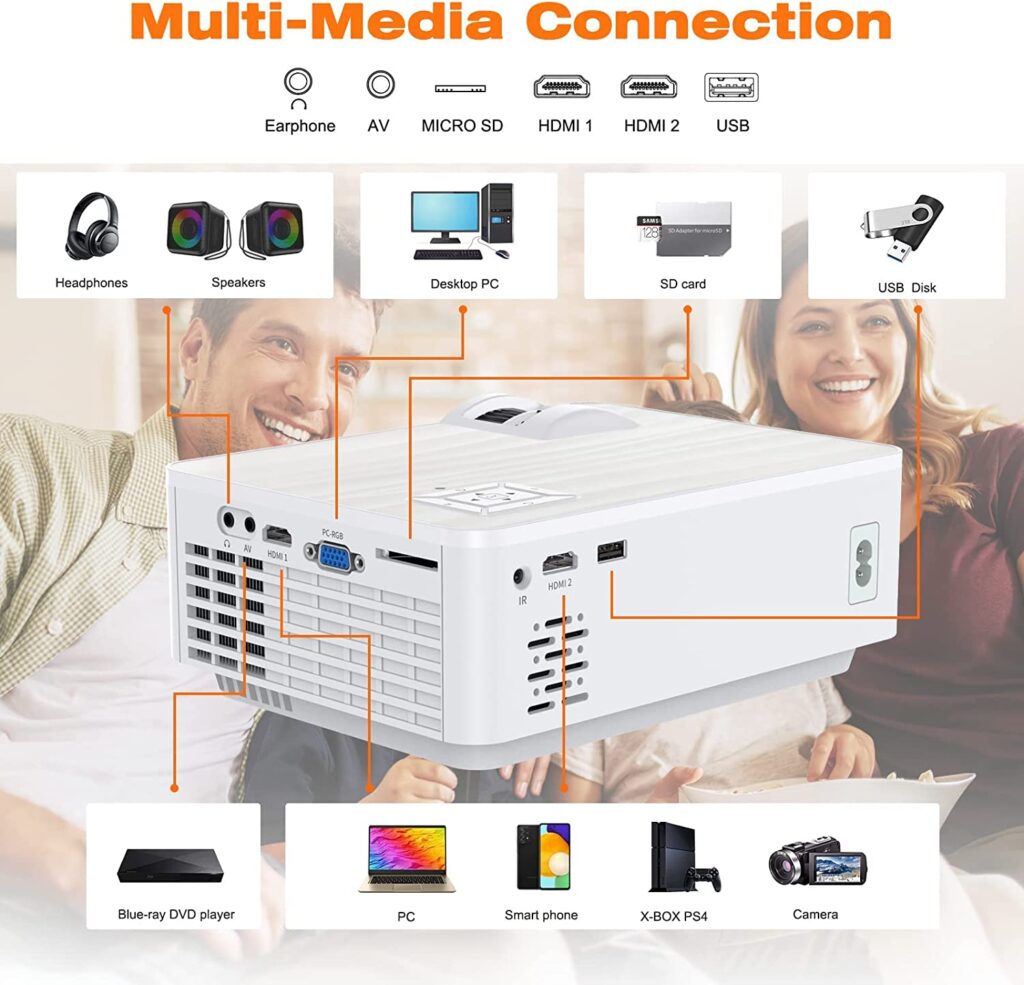 Therefore, the portable projector can work with many devices like laptops, personal computers, tablets, DVD players, SD card, USB flash drive, Blu-ray and media players etc.
Such powerful and advanced projection device is good for music, videos, pictures and text.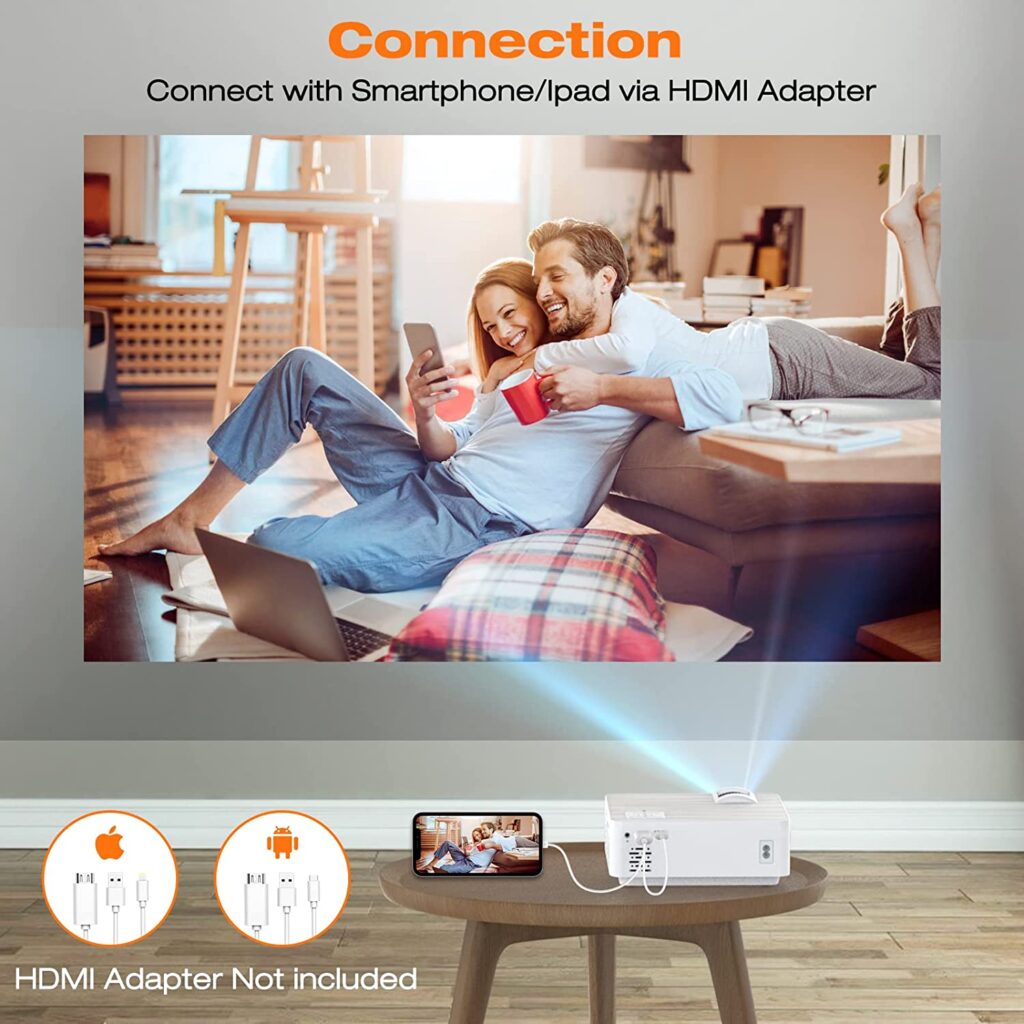 Color, Contrast & Zoom Functions
The TopVision 7500L projector is based on an upgraded color technology therefore it has improved brightness compared to others. It has high contrast ratio of 6000:1. So, the projector is capable to provide color-rich content. More importantly, it is highly protective to your eyes and you will be able to see every detail.
For more clarity, it comes with a zoom function. Using the zoom function, users can watch their favorite content in their preferred size as it is changeable from 40% to 100% without altering the projection distance. All these things can be controlled remotely as it comes with a remote control.
Limitations
Users of the TOPVISION T6 projector will not be able to use it for PPT presentations and other office file shows because it is not a business projector, instead it is a home theater projector.
The USB port is only for the USB flash drive therefore you cannot use the USB port for data transfer and other connections.
It does not support Dolby sound. Therefore, if you face any audio issue playing videos from Netflix and other channels, please turn off the Dolby sound. To turn off the Dolby sound, please use Settings > Display & Sounds > Audio > Dolby Digital Output > and then turn Dolby Digital Plus OFF.
Users will not be able to access some copyrighted content such as Amazon Prime Video, Netflix, and Hulu directly. However, you can access these channels via Roku, Fire Stick, Laptop and PC.
The TopVision 7500L projector has 3-month return policy and 24-month protection plan. Therefore, the customers will not be able to return this product after 3 months of the purchase.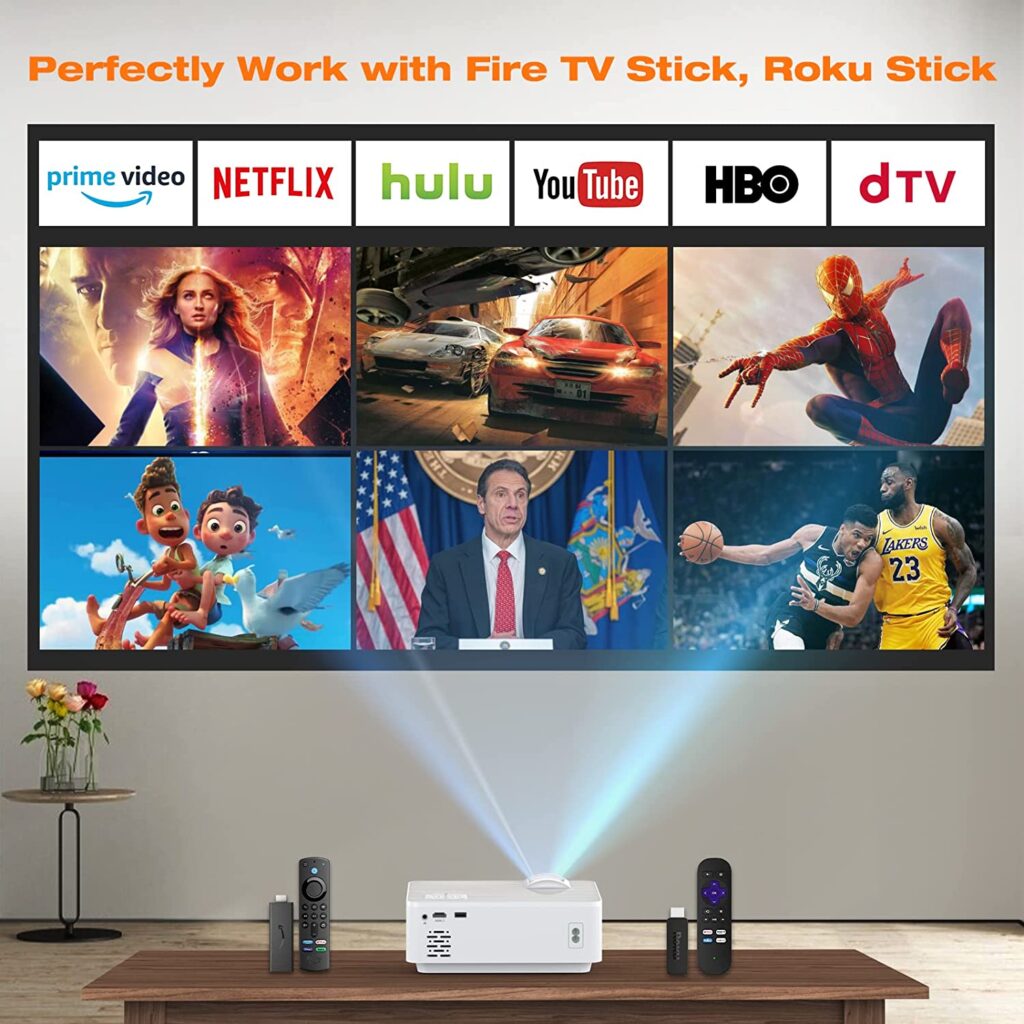 A List of Important Features and Capabilities
Up To 240-inch Display Size
Projection Distance: 7 to 22 Feet
1080P Supported Resolution
7500L Brightness
6000:1 Contrast Ratio
60,000 Lamp Life
100-Inch Projector Screen Included
Wide Compatibility: HDMI, USB, VGA, AV and Audio Output
Built-in 2 Speakers
Reduced Fan Noise Up To 50dB
The main capabilities and features are in the above list. To me, these features look very impressive. You can see the projector comes with 7500L brightness, it has dual speakers, 60,000 hours of lamp life and 6000:1 contrast ratio. With all these features, you will be able to enjoy the best quality content.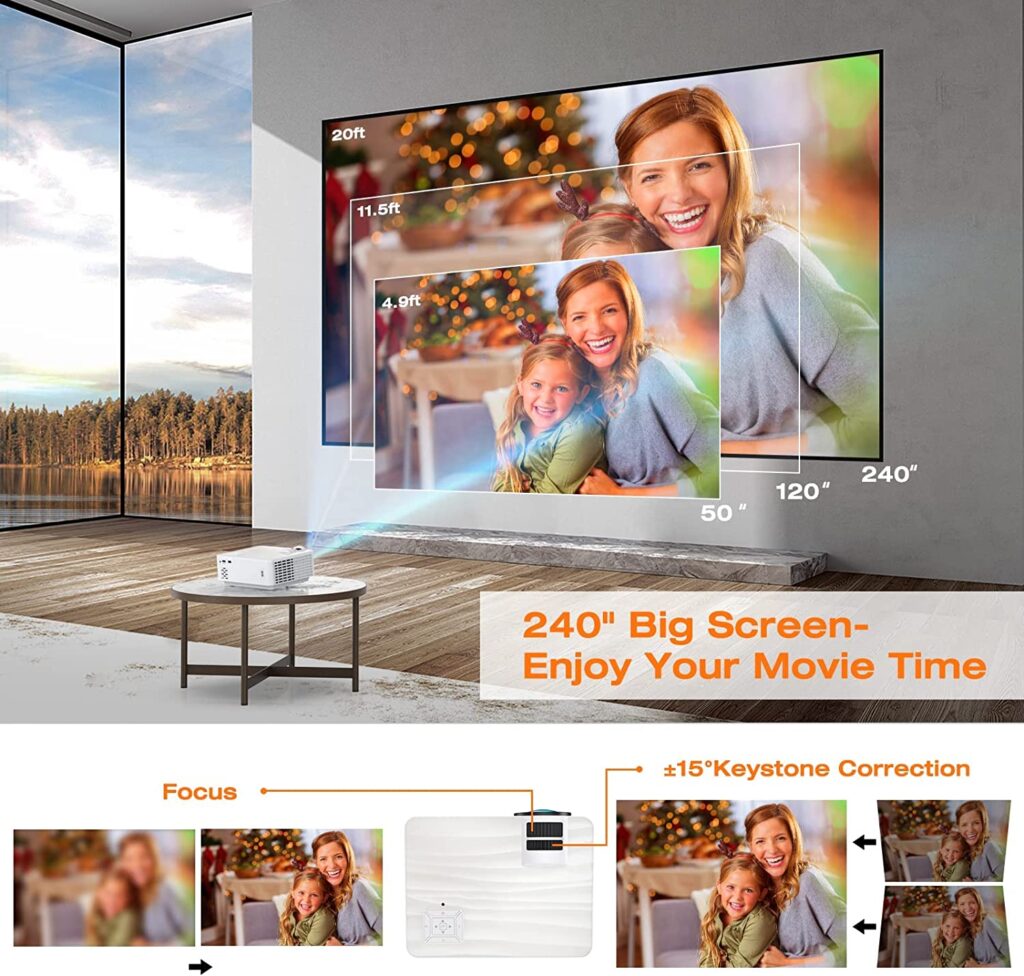 Pros:
Saves space
Easy to work with
Good picture quality
Can see in light
Crisp
Hooked up to Xbox easily
Good picture quality
Multiple ways to connect a portable speaker
Easy to set up
Inexpensive
Good for movie nights
Video streams are clear
Cons:
May distract from studying/working
Blurry on one side
Loud fan
Some users can't get the bottom left and right corners to focus
Words are blurry
Projection angle might be too sharp
Users won't be able to see clearly at noon with all the windows open
The TopVision 7500L mini projector has pros and cons, which are mentioned in the list above. You can read the pros and cons to have a better knowledge and overview about this projector.
These pros and cons are taken from users' reviews on various shopping websites, blogs, forums and other internet websites.
The main pros are low-price, easy to use, good picture quality, space saver and easy to setup. On the negative side, some users say that they are unable to see clearly at noon with all the windows open.
The texts are blurry and projection angle might be too sharp. According to a user, the projector may distract from working or studying and the fan is louder than expected.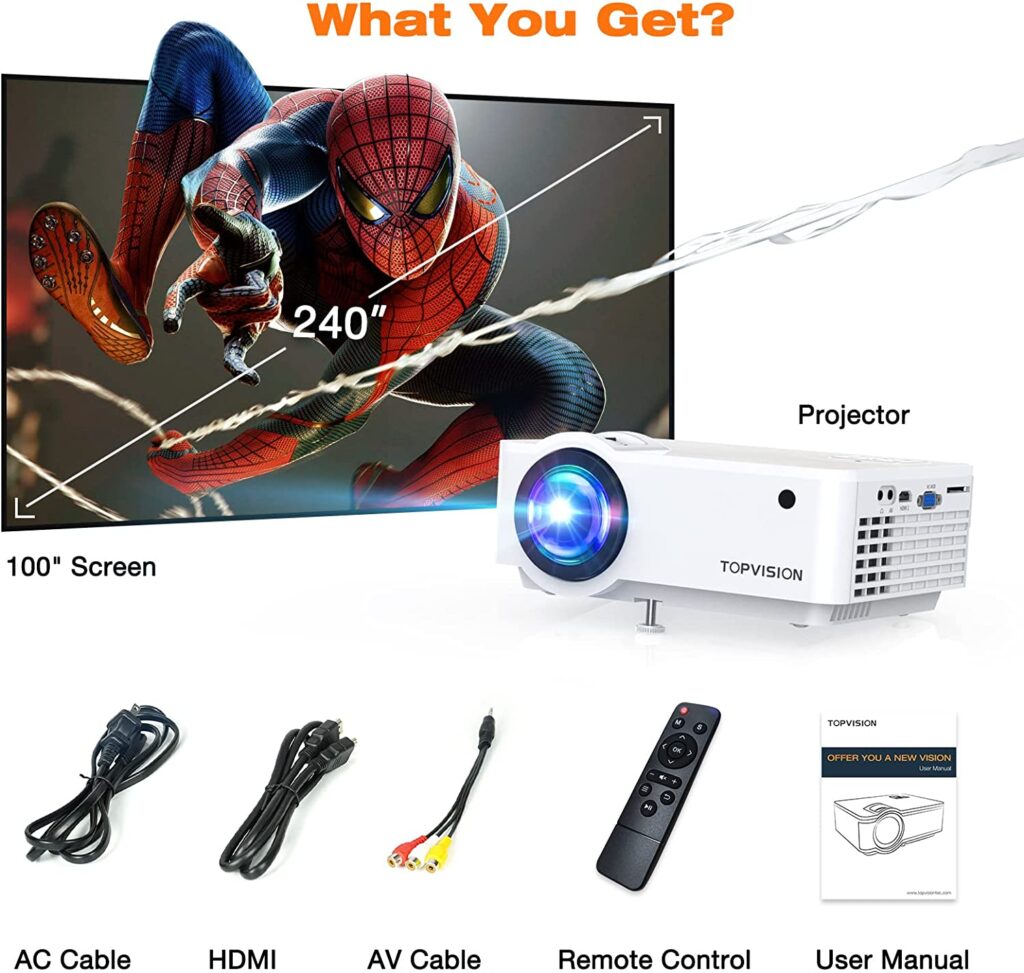 Conclusion
At the end, I will say that the TopVision 7500L projector is one of the best affordable projectors on the market.
Those people, who are looking to buy a budget projector with good features, they can buy it. The projector has 7500 lumens brightness that is awesome in a low-price.
The portable projector comes with various connectivity options so that you can connect a wide range of entertainment devices including phones, laptops, computers, tablets, audio devices and many others.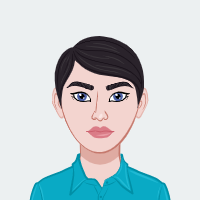 Nikita is a product reviewer who specializes in electronic products. She is an active member of several online forums and is always up-to-date on the latest products and research. Her reviews are detailed and honest, and her recommendations are always spot-on. If you're looking for a new electronic product, Nikita is the person to ask!