CiBest LED GM60 Movie Projector made in a portable design that is very easy to take and travel. It is made for multi-media support such as music, picture, video, txt etc. CiBest LED GM60 Movie Projector lets you enjoy watching movies and sports match at home.
You can easily use this project at many places such as courtyard, Halloween, party etc. It can also be a great Christmas gift for mother and children.
You are able to watch your favorite programs on a large screen via HDMI/USB/SD card, you just need to connect your desktop/laptop/DVD player to enjoy videos or movies. You can also enjoy games using PS3 PS4 or X-Box One Wii via HDMI port.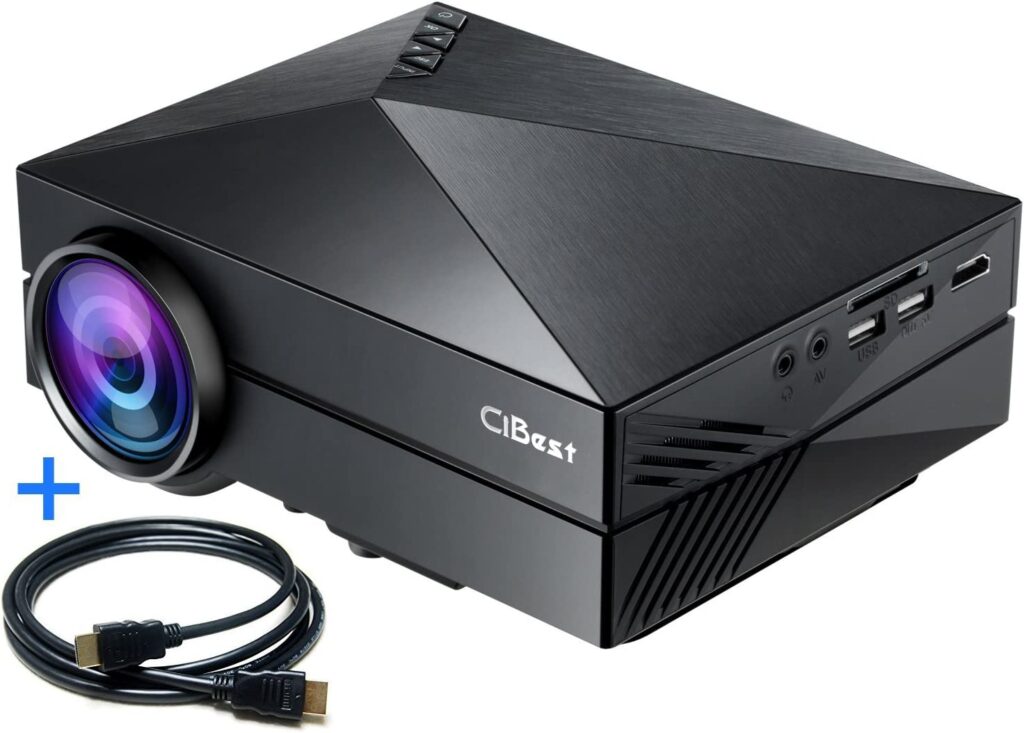 Highlights – CiBest LED Projector
CiBest LED Projector comes included with a user manual, 3-in-1 AV cable, US power adapter, HDMI cable and remote control
Supports various files (text, image, audio, video) for presentations
The OS languages are Spanish, English, Polski, Russian, Deutsch and Czech etc.
2.0W speaker
100V to 240V power voltage
Keystone option
Front projection mode
The projector can be manually or via a remote control
Input ports: USB, SD, VGA, HDMI and AV
LCD image system
LED lamp
16.7K color reproduction
800 x 480RGB resolution
1280 x 1080P support resolution
4:3 / 16:9 aspect ratio
1000 lumens brightness
1000:1 contrast
34 to 130 inches picture size
1 meter to 4 meters projection distance
The key specifications and features of CiBest LED projector have been written here. The LED projector produces 34 inches to 130 inches picture. It has display specifications such as 1000:1 contrast ratio, 4:3 aspect ratio, 1000 lumens brightness and 16.7K color reproduction. This projector is based on LCD image system and LED lamp.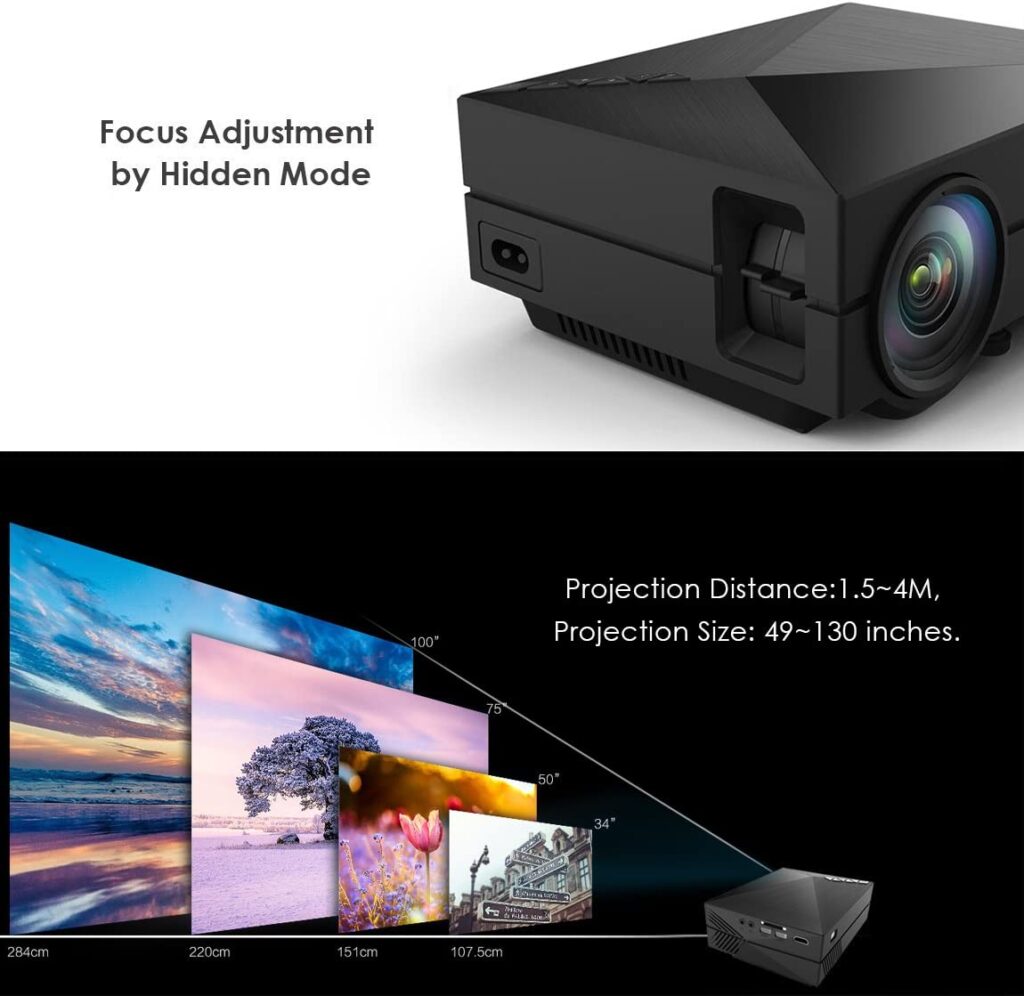 Pros
Low price, mini size projector
It comes with various input connection ports to connect various devices.
The projector gives you 120-inch large display area.
Easy to setup
Such LED projectors have a long life.
The focus works perfectly.
It is shipped to you timely.
Sleek design, mini projector, and perfect for going with it anywhere you want.
Cons
The projector lacks a replaceable bulb.
Loud fan sound
It has only 1000 lumens brightness so it will not work in a lit-up room.
The audio is not very loud.
The pluses and minuses of CiBest projector, you can see here. The low-price projector has limited capabilities so please read all the features and capabilities before you buy it.
This projector has attracted both positive and negative reviews. Some top positives are low-price, small size, easy to setup.
On the other hand, it has many negatives such as 1000 lumens brightness is not enough to watch videos in a lit-up room. The fan noise is very loud. The audio is not very loud. The bulb of this projector cannot be replaced.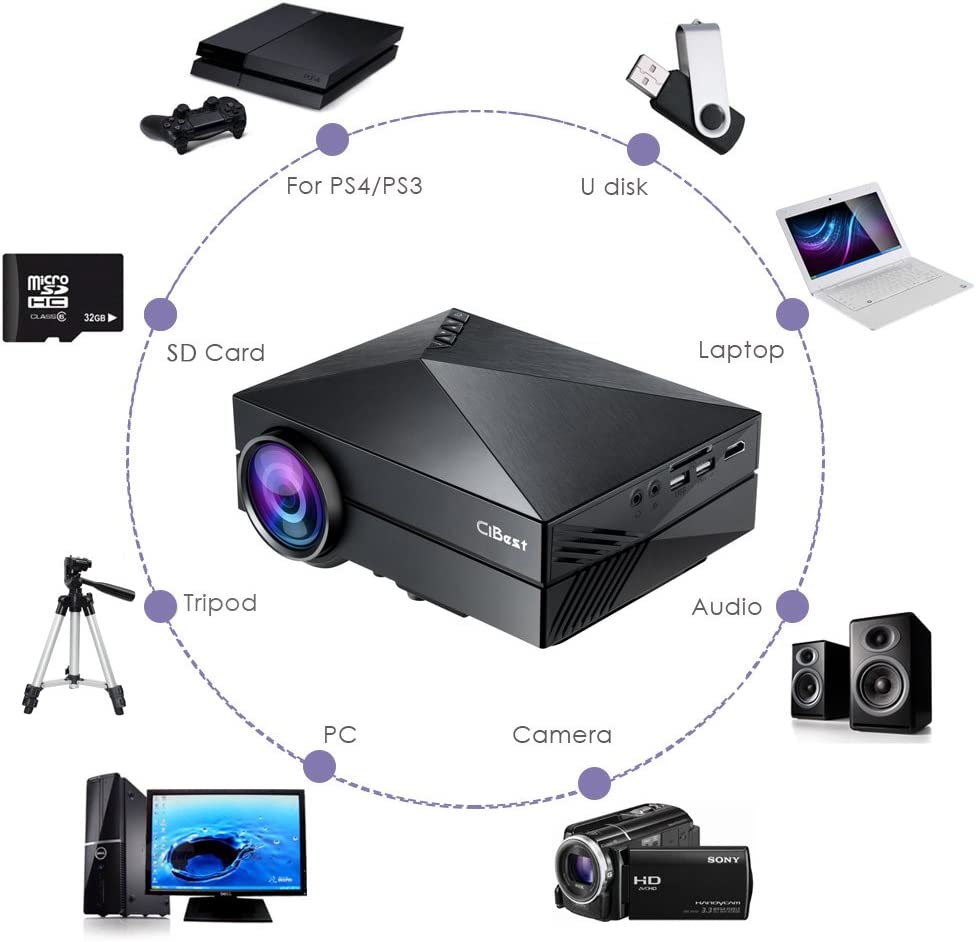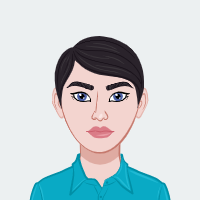 Nikita is a product reviewer who specializes in electronic products. She is an active member of several online forums and is always up-to-date on the latest products and research. Her reviews are detailed and honest, and her recommendations are always spot-on. If you're looking for a new electronic product, Nikita is the person to ask!