You are going to read about the EUG 1080P WIFI projector review. First, please let me tell you that EUG is not a new brand, it has passed years manufacturing projectors and other electronics. So, I assure you that you are going to purchase a Wi-Fi projector from an established brand.
Well, coming to the features, specifications, capabilities and users evaluation, I would say that it is one of those projectors that secured good marks on most of the aspects, be it price, usability, users' reviews and features.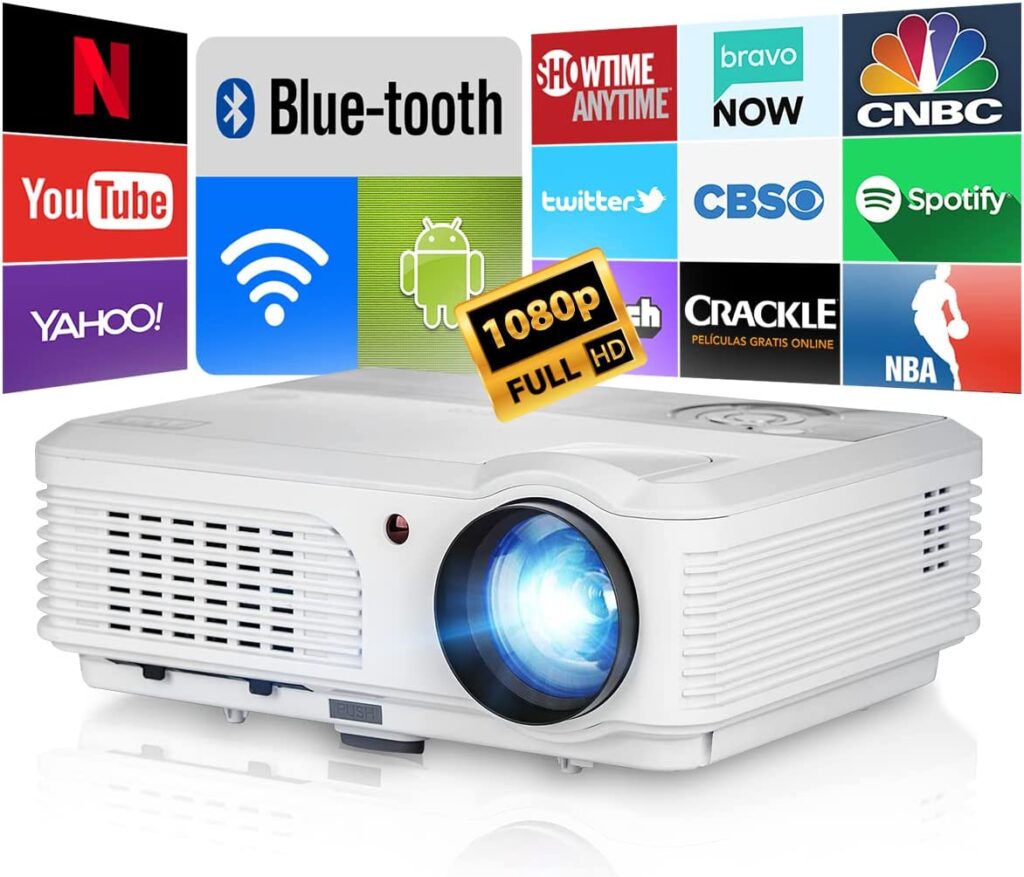 Let me talk about its Wi-Fi and Bluetooth capabilities
According to the EUG projector review, it is fully supported with the latest WiFi and Bluetooth capabilities. Therefore, the portable projection device works with Miracast, Airplay and DLNA and it provides amazing streaming and screen mirroring outcome.
Of course, taking benefit of its wireless function, users are able to pair their most of the entertainment devices like Android phones, iOS devices, laptops, tablets and many others.
Amazingly, the EUG 1080P projector can show content from an Android devices. Therefore, users are able to access YouTube, HBO, Netflix and other internet based channels.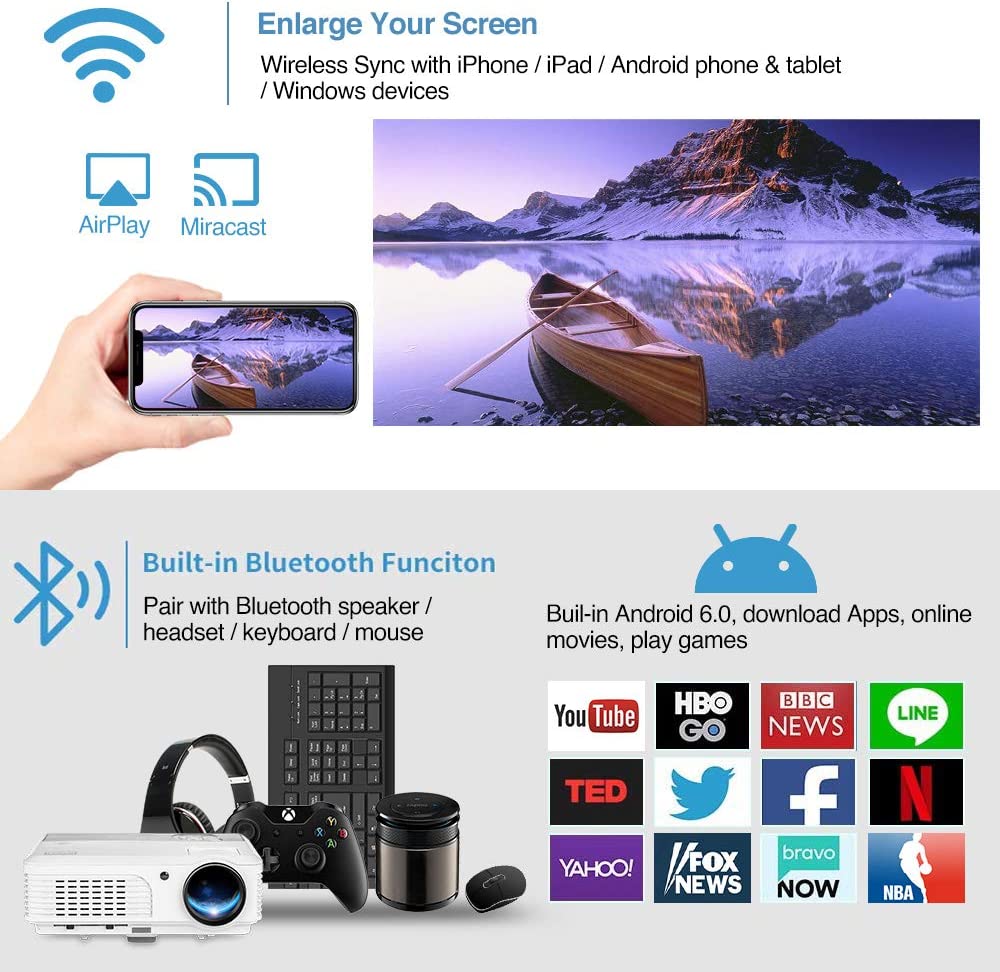 Of course, you can enjoy videos, play games and watch movies anywhere you want. Well, we are in internet age so web browsing is part of our life. Surprisingly, the projector supports web browser content without any lagging issues.
As it is a wireless movie projector so it works with Bluetooth speakers, Bluetooth mouse/keyboard for the ease of use.
After successful paring with your devices via the wireless connection, you will be able to enjoy better sound, better picture without any issues.
1080P, LCD, LED 5500 Lumens Brightness
As mentioned in the heading, the EUG portable projector has 1920 x 1080 native resolution, 5000:1 contrast ratio and 50,000 hours of long lamp life.
I can say that it delivers good brightness performance because it has TRUE 5500 lumens brightness and 5000:1 contrast ratio.
With these rich display capabilities, the LCD projector is capable to offer consistency in regards to the picture quality and picture performance. Of course, it provides detailed pictures for the superb viewing experience.
As stated above, the projector is based on the latest LED mechanism that consume less energy to increase the lamp life.
Consequently, the lamp will last for more than 50,000 hours. Therefore, you do not have to worry of replacing the projector bulb frequently.
Therefore, now is the time to enjoy your favorite content without any issues and worries.
Functions, User Friendly Design and Installation
The 2022 latest model works very fast. Therefore, to turn on/off the projector, viewers don't have to wait. It will hardly take just one second to turn on or off.
Further, the EUG advanced projector has an advanced keystone correction option. Yes, it allows 4-corner keystone correction (vertical and horizontal.
Therefore, users enjoy the great adjustability related to the keystone correction. Consequently, it gives you rectangular picture from any angles or any distance.
And, for the picture adjustability, the users can use features such as image flip, lens focus and different mounting options.
Wire & Wireless: HDMI, USB, WiFi and Bluetooth
You can see the EUG portable projector works with wired and wireless connections. Therefore, users will take benefit of these multiple connection options to connect their entertainment gadgets.
Of course, they will be able to connect a wide range of devices including DVD player, Xbox, Firestick, Mac, tablet, laptop, computer, TV boxes, Blu-ray, speakers and other devices.
So, I will say that it is a versatile projector because it not only has too many connection options, but also has compatibility with a wide range of video files, audio files, image files etc.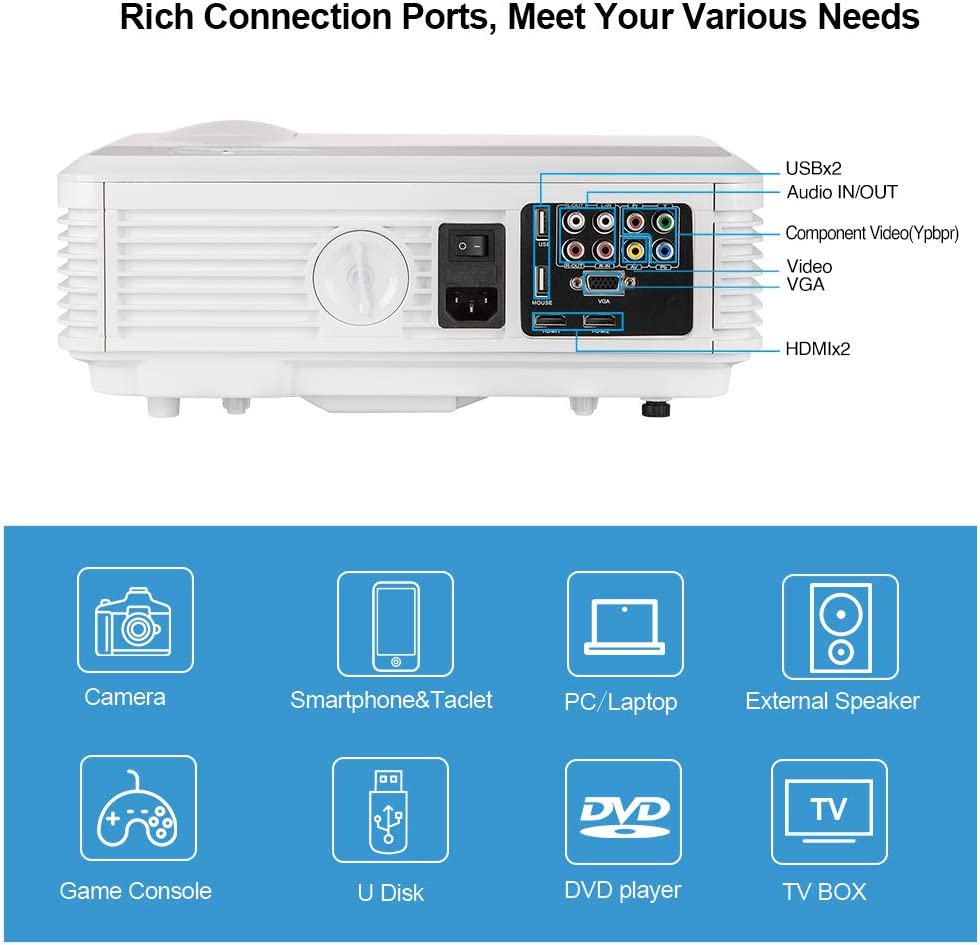 Certification, Warranty and Customer Service
To give you a safe electronic, ease of use and affordability, the EUG projector brand is certified from various institutions like CE, FCC, CCC, PSE, CB and Rohs.
On this projector, you get a 6-month of return warranty and 1-year warranty with dedicated customer service and technical support team.
Therefore, in case, you encounter any issue in your EUG projector, please do not hesitate to contact the customer service team.
More importantly, the LCD LED projector has 50,000 hours of lamp life and efficient light source. So, the projector bulb will last for years. The manufacturer says that the bulb will last for more than 16 years.
The package contains EUG 5500 Lumens projector, HDMI cable, VGA cable, AV cable, remote control, AC power cable and a user manual.
Main Features of EUG Projector
WiFi and Bluetooth capability
Dual-HDMI, dual-USB, VGA, AV and Video
5500 lumens brightness
5000:1 contrast ratio
1080P resolution
16.7 million Colors
5000:1 contrast ratio
50 to 200 inches projection size
7 to 22 feet projection distance
Built-in dual 5W stereo speaker
Front, rear and ceiling installation
Digital zoom
Vertical and horizontal keystone correction
Image flip function
Dual-fan cooling system for fast heat removal
According to the EUG 1080P projector review, all the important features, capabilities and specifications are mentioned above.
If you are a future buyer of this projection device then reading the list of features will be very helpful. I am able to see its good capabilities.
According to the features displayed above, the EUG 1080p projector can deliver the best viewing experience.
Well, it will not only deliver the best viewing experience, but also deliver ease of use, easy installations and easy projection.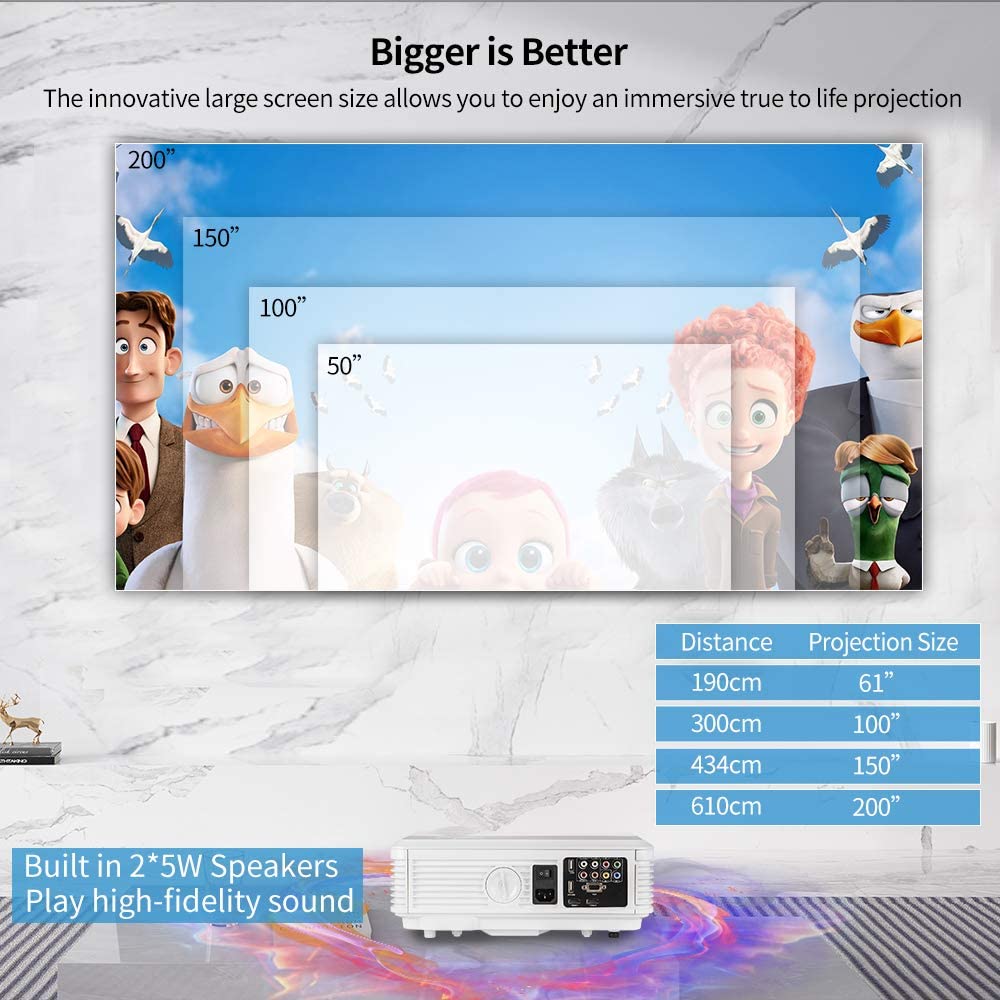 Pros:
Customer service is very responsive and understanding
The projector has good reviews
The picture is very good
Satisfied purchase
Can read small print
Can see images with background lights on
Keynote adjustment lever
Very bright
Provides a great image
Has pretty good keystone correction
Cons:
The instructions for the projector are difficult to understand
The projector is made in China
For your convenience, I tried to write the main pros and cons of this product. Well, the pros and cons are the part of the EUG 5500 lumens projector review.
Because a review is incomplete with the pros and cons. These pros and cons are taken from various users' reviews from various internet websites, forums, blogs and product selling platforms.
On the positive side, the EUG projector delivers the good quality picture and it has many advanced features including keystone correction.
Users of this projection device do not complain about the brightness as it has good brightness.
On the negative side, the EUG projector is made in China and the instructions are not clear as many users said that the instructions are difficult to understand.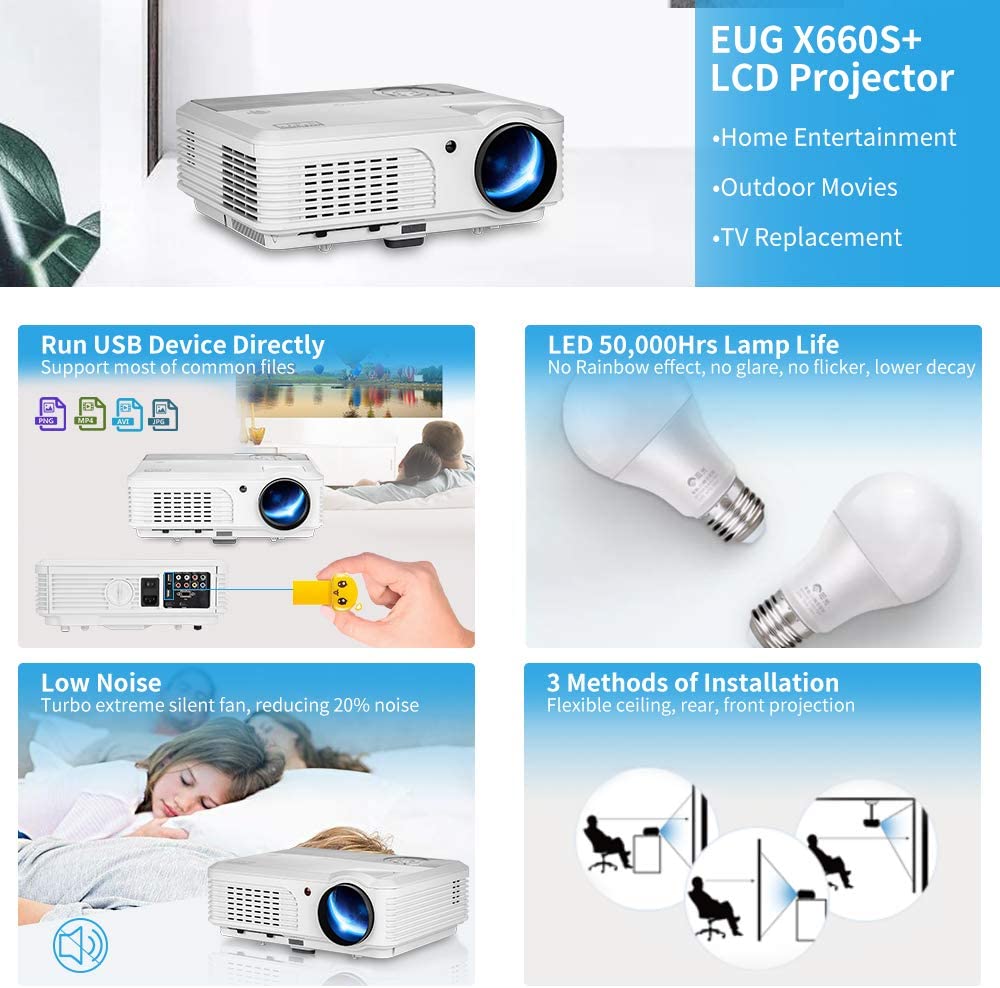 Conclusion
At the end of the EUG projector review, I will say it is one of the best low-price LCD projectors. It delivers quality picture, good brightness being a Chinese product.
From my side, this projector is highly recommended to buy because in a little price, you get many advanced features that are only available in a high-ticket item.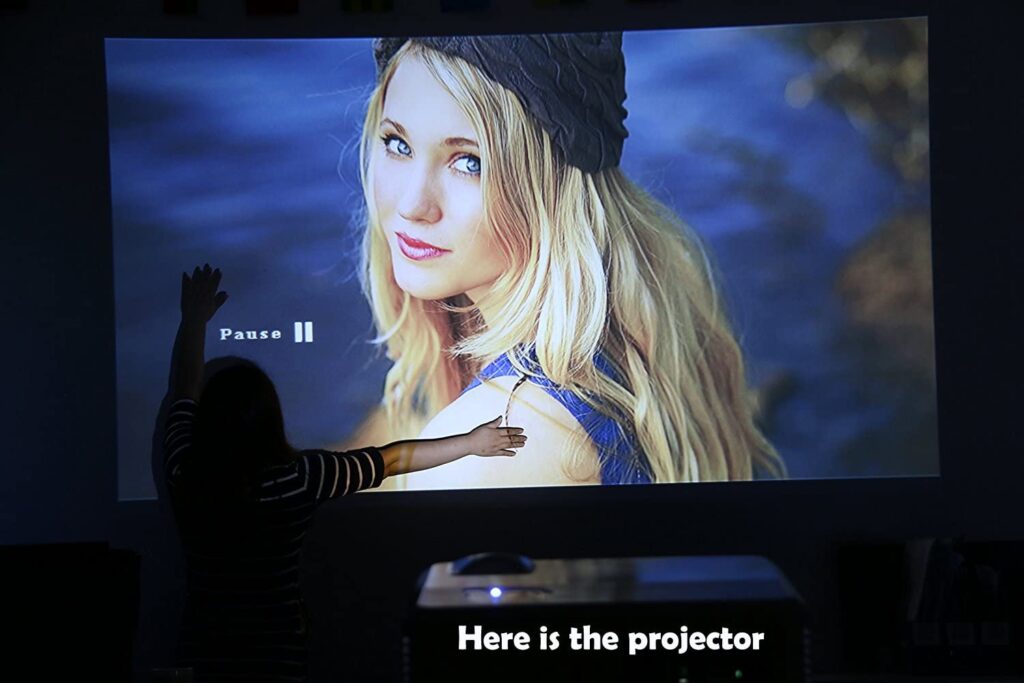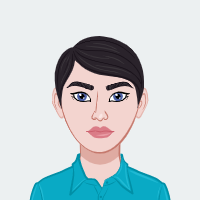 Nikita is a product reviewer who specializes in electronic products. She is an active member of several online forums and is always up-to-date on the latest products and research. Her reviews are detailed and honest, and her recommendations are always spot-on. If you're looking for a new electronic product, Nikita is the person to ask!