In a short period of time, TMY has gained huge popularity as a projector brand. I see TMY projectors are sold in all parts of the world. The main reason behind the popularity of TMY projectors is the low price and good quality.
In case, you are looking to buy a low-price portable projector, you can check TMY 7500 lumens projector. This projector comes included with a projector screen that means you do not have to buy a projector screen separately. It offers 1080P resolution, which is full HD resolution for the best quality entertainment at home, in camping, and in parties and anywhere else.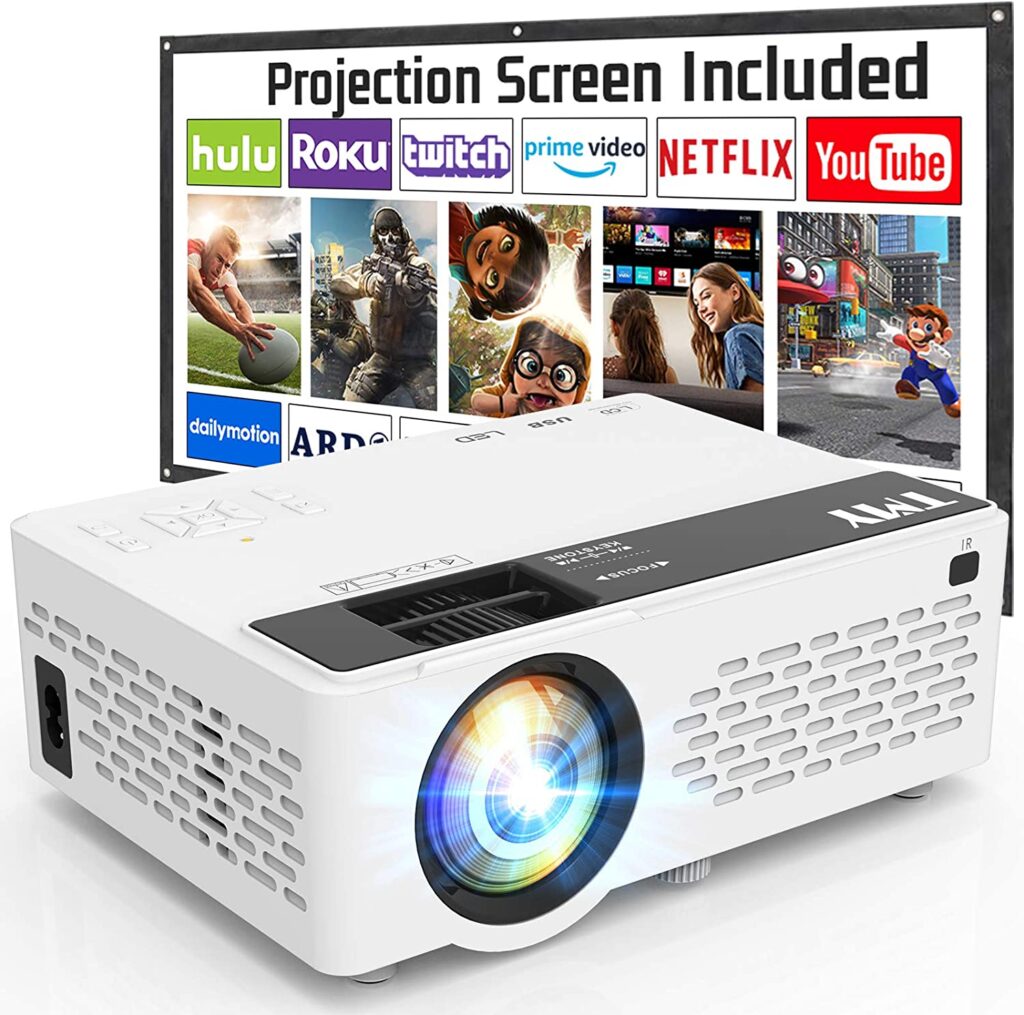 TMY Projector with Portable Design – Perfect for Home Cinema
The TMY projector provides projection size from 32 inches to 220 inches from 1.5m to 6m distance. That means you will be able to view your favorite content on a large 220 inches screen from 6 meter distance. From the TMY projector, you can expect good specifications. It has 60,000 hours of lamp life, 5000:1 contrast ratio and 4:3/16:9 aspect ratio. With these display attributes, one can receive the best quality images in most of the lighting environments. Well, the manufacturer says that the projector delivers great films, videos, games, images and other content. It is perfect for television shows, parties and other places according to your preference.
It gives you the best viewing experience because the latest projector is based on a constant illumination method. With this setting, you will surely receive optimum watching experience without the dark areas on the edges of the screen.
 7500 Lumens Upgraded Projector
The TMY projector now comes with its improved version. In this version, it has 7500 lumens brightness to give you a good viewing experience. The 7500 lumens brightness projector is based on LED light source and 1080P full HD resolution.
It has the latest 3LCD color calibrating and adjusting technology that has good color support and color details compared to ordinary portable projectors. The viewers will experience the real, dynamic and vibrant color that comes directly from this TMY video projector.
100-Inch Projector Screen Included
You heard it right. This TMY projector comes included with a 100-inch projector screen. Which means you do not have to buy a projector screen separately. Therefore buying this TMY projector means saving money spent on the purchase of a projector screen.
Therefore, you are free to setup your own home theater anywhere you want. After the successful installation, you will be able to watch your favorite TV-shows, images, slides, videos, play games and much more. The projector screen is portable, foldable and free from wrinkle. You can easily wash it. Well, the 100-inch projector screen is not a small size, it is huge and it is even free. With this projector screen, you would have wonderful watching experience with good quality picture details.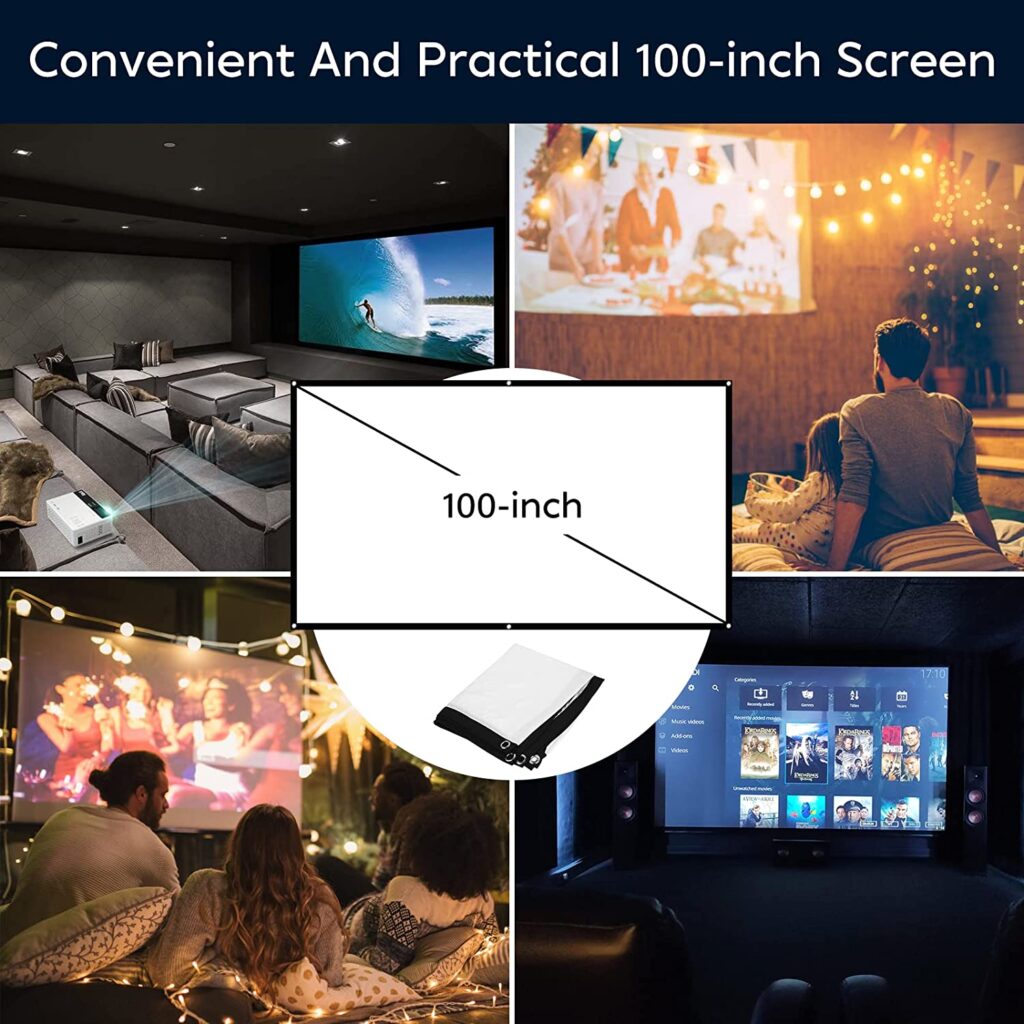 High Grade Projector – Highly Customizable
Other projectors come with too much noise. You will not experience such things in this TMY projector. Only high-grade components and materials have been used to make this video projector. It has efficient cooling system to suppress any kind of noises. As a result, the TMY projector users get stunning watching experience with 80% decreased fan noise.
The TMY projector has dual integrated speakers to deliver loud sound. Therefore, you will not need an external speaker for the loud sound. Of course, the sound comes from the TMY projector is high quality sound. And for this, you do not have to connect with an external speaker. Apart from good sound performance, the portable projector has easy to adjust focus and keystone correction function to adjust the picture as per your preference.
TMY Mini Projector Highlights
7500 lumens brightness
720P native resolution
Bright colors
100-inch projector screen
Enhanced color contrast ratio: 5000:1
NTSC color technology
Simple setup
Lightweight and portable
Wrinkle free
Connectable to a wide range of devices such as mobile phones, xbox, DVD player, PS3/4, PC, TV stick & box, speakers, U Disk / TF
60,000 hours lamp life
Built-in speakers
The box contains 1 x TMY V08 720P native projector, 100-inch portable projector screen, 1.5M HDMI cable, remote control, and AV cable
80% less noise compared to others
Connection ports: HDMI, VGA, AV, USB, headphone and TF card
Screen size from 32-inch to 220-inch
4:3/16:9 contrast ratio
3LCD color calibrating technology
7500 lumens brightness
The TMY video projector has good specifications. Most of the specifications have been mentioned in the highlight list. It has 80% less noises compared to others. The projector has 7500 lumens brightness and it is based on 3LCD color calibrating technology. It supports various input connections such as HDMI, VGA, USB, AV, TF card etc.
On the purchase of this TMY mini projector, you get required tools such as 100-inch projector screen, 1.5M HDMI cable, a remote control and an AV cable.
TMY Portable Projector Pros
Comes well-packaged from Amazon
Solid build quality
Various connection ports
Stunning sound performance
A budget projector undoubtedly
Sharp picture
Quick and smooth UI performance
High-responsive remote control
Cons
Some users received fake emails from the customer service team; it was miss-leading for them.
According to the list of pros, the projector has many good things that you may not find in other projectors in the same price tag. It delivers clear pictures, has stunning sound performance, various connection ports to connect your preferred devices and many other good features.
Conclusion
At the end, I will say that it is an awesome video projector. You can say it is a budget projector that is made by TMY. In case, you want to buy it now, please check the availability on Amazon.
The portable projector has various connection ports, you can easily connect with your preferred devices using HDMI, USB, AV ports. TMY portable projector comes included with a remote control and other required accessories.
More Photos of TMY Portable Projector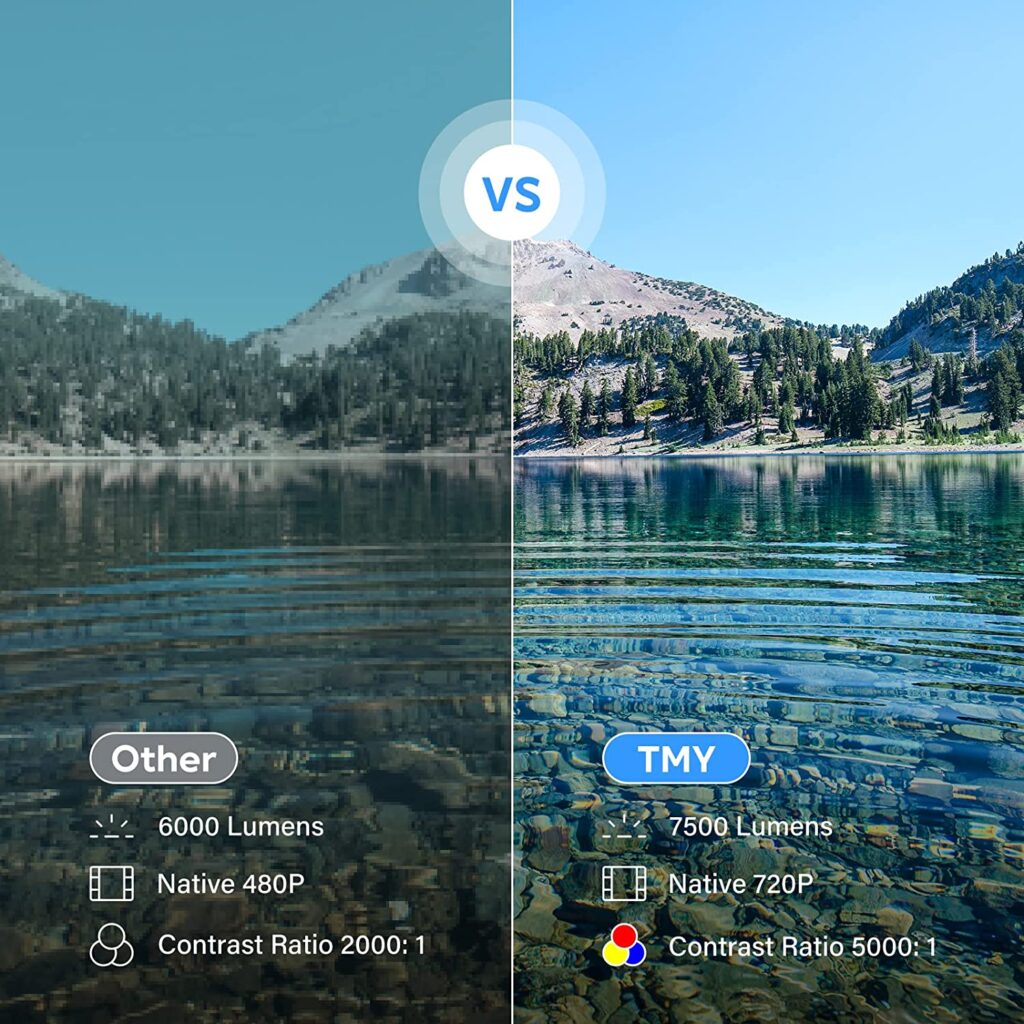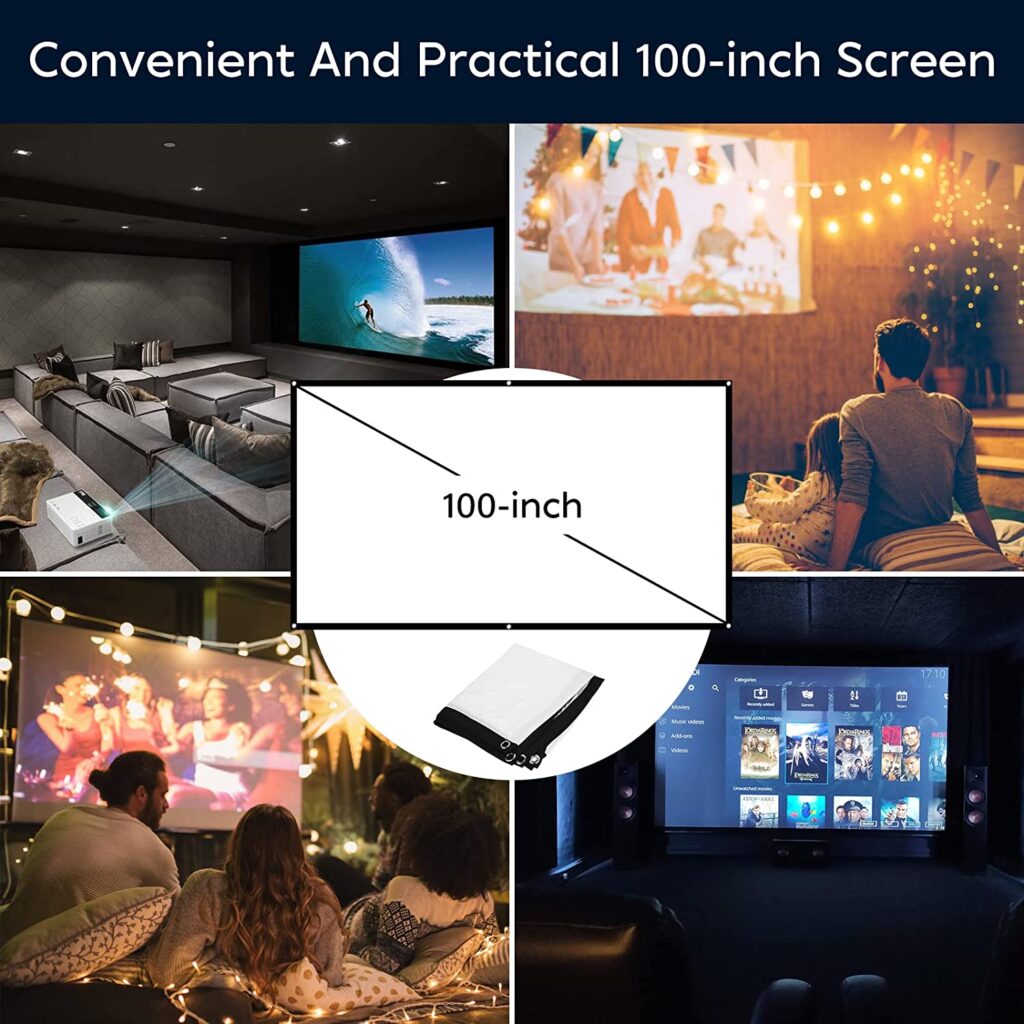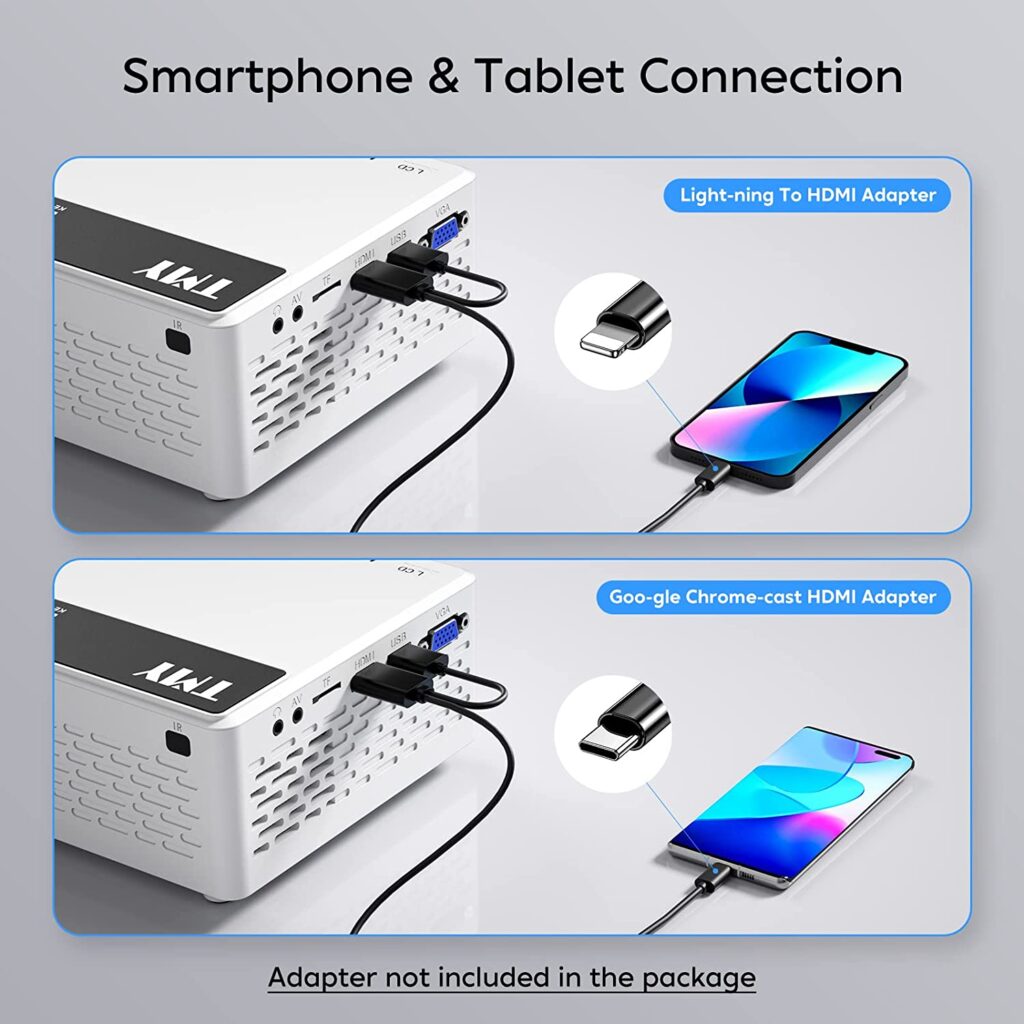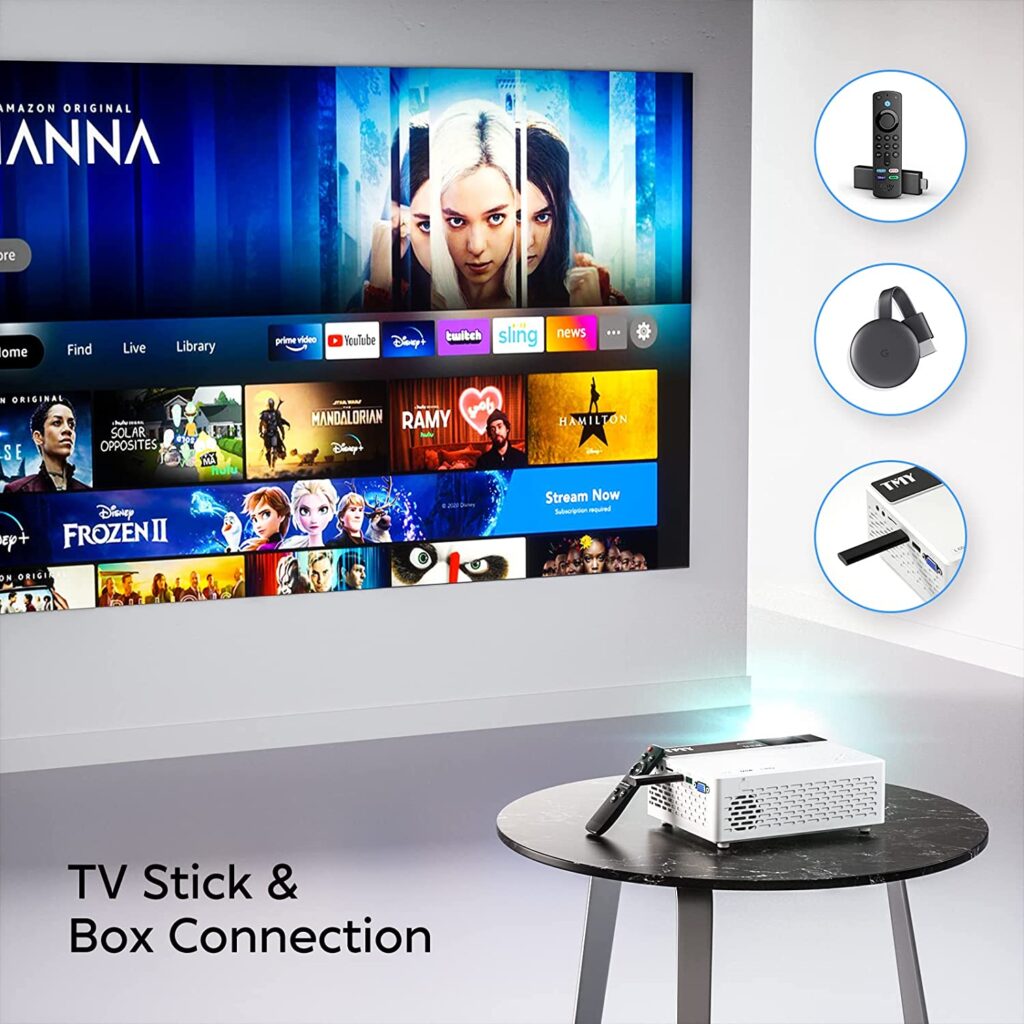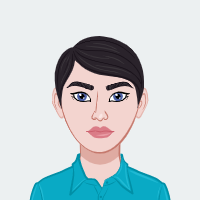 Nikita is a product reviewer who specializes in electronic products. She is an active member of several online forums and is always up-to-date on the latest products and research. Her reviews are detailed and honest, and her recommendations are always spot-on. If you're looking for a new electronic product, Nikita is the person to ask!