In case, you want to buy a flexible and durable projector screen, please check AZXRHWYGS projector screen. The versatile screen is perfect for front and rear projection. It comes included with a carry bag.
The inflatable projector screen is very good for clear pictures on both sides like front and rear. As soon as, you have this projector screen, you will start enjoying your moments with your friends and family. This projector screen comes with 160° wide viewing angle, 16:9 screen ratio and high color reduction.
According to the manufacturer, the projector screen will not look crowded. You can watch with your friends, neighbor and family. You can even put the projector on the opposite side and you do not have to worry of people walking around will affect the movie.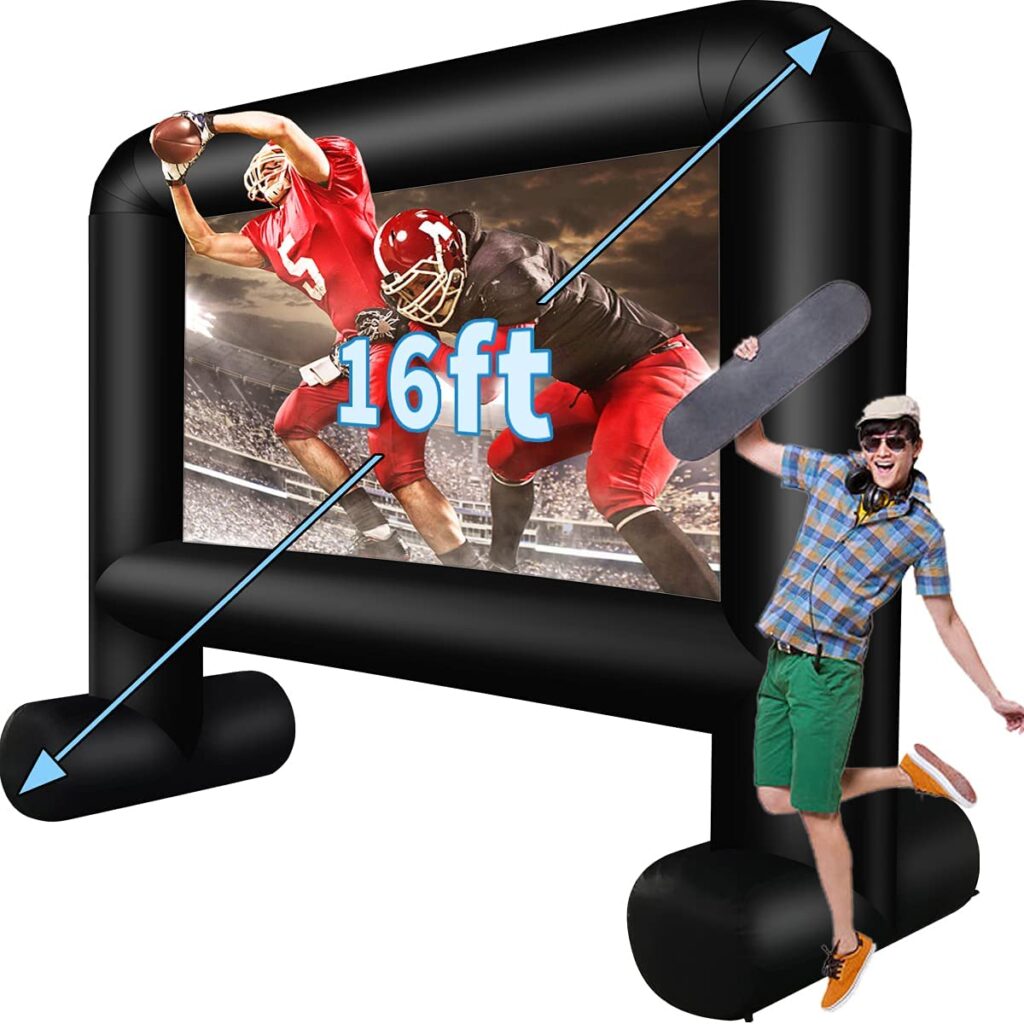 AZXRHWYGS Inflatable Projector Screen Is Made of Durable Material
The AZXRHWYGS projector screen is made of high quality polyester materials. From this projector screen, you can expect flexibility and smoothness without any doubts. Further, the screen will not give you any kind of traces and crease when folded.
Front & Rear Projector Screen Is Easy to Install
This projector screen comes with all the important accessories so that you will not face any difficulties for the installation. It comes with mounting frame (free standing style), yard stakes, tethers, an air blower (180watt) and 210D Oxford bag. With all these tools, the setup can be easy. In case, you have just purchased this projector screen, now is the time to test it. Please setup and configure your loudspeakers for the big event.
Various applications – according to the maker, the projector screen is very useful for most of the outdoor applications.  With this screen, you can receive the highest level of satisfaction, mainly for the outdoor projection needs.  It is highly suitable for backyard movies, commercial presentations, home theaters, education, gaming and much more. Further, this projector screen is supported with one-year manufacturer warranty. Therefore, if you encounter any problems, please call the manufacture for a refund or replacement.
AZXRHWYGS Projector Screen Inflated Fast
As mentioned earlier, this projector screen comes included with an 180W blower. The 110V 180W blower can blow up the screen within two minutes. According to the manufacturer's advice, the users need to keep it plugged in and inflated when using. At the time of inflating this projector screen, please do not forget to zip up the zipper. You will not have any issues from the blower because it is hardly noticeable. As soon as, you started the projector, you will have immersive movie-watching experience.
160° Wide Viewing Angle – you can see this projector screen has 160-degree viewing angle therefore you do not need to sit directly in front of the screen. You will receive clear images and vivid color without any doubts.
Installation Steps
Lay out the frame, close deflation zipper and attach to the blower.
Plug in and turn on the blower, inflate in two minutes
Attach the white screen to the black frame
Let it stand up, attach the wind cord.
Just open the zipper to deflate.
You can see the installation steps. It is very easy to install. It is like plug and play.
Main Features and Specifications
Front and rear projection
High color reduction
Stable and durable
Quick inflation
Crease free and washable
Easy to setup
16 feet inflatable movie screen for indoor and outdoor uses
Package includes an inflatable frame, a white screen, a blower (180W), a storage bag, 4 nylon tethers, 4 tether stakes and 8 base stakes.
Dimensions: 10.4ft x 12.4ft x 3.9ft
160° wide viewing angle
Easy to setup within two minutes
Perfect for watching matches, playing games, parties and movie night
Important facts on AZXRHWYGS projector screen have been mentioned above. You can see it is inflated quickly. The screen is easy to setup and it supports 160-degree wide viewing area.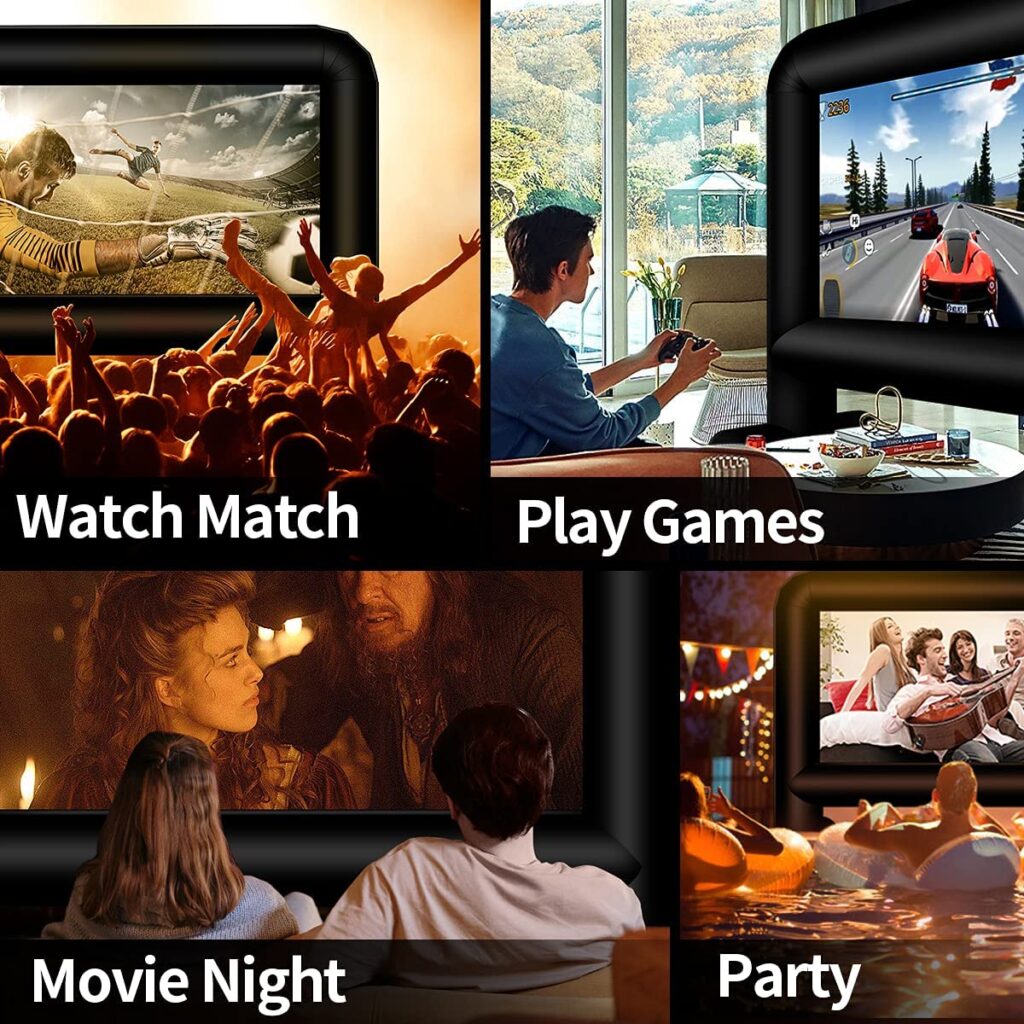 Pros of Durable Screen
Easy to install
Impressive picture
Easy to assemble
Very good quality
Silent pump
No heating issues
It comes included with all the accessories.
Good size
All the pros of AZXRHWYGS inflatable projector screen are mentioned above. You can see it is very easy to install. It comes in a good size. The pump runs silently and it does not have any heating issues.
Cons of Inflatable Screen
Some users did not like the placement of blower at the base.
I managed to find just one drawback on this product. This drawback is related to the placement of the blower, which was not liked by some users on Amazon.
Conclusion – Projector Screen (Front & Rear)
At the end, AZXRHWYGS projector screen looks impressive from all angles. Therefore, it is highly recommended to buy. The inflatable screen comes in a good size. It is very easy to setup and use. The good thing is that it offers dual-sided projection. So, you will be able to project on front as well as rear sides as per your choice.
Images of AZXRHWYGS Movie Screen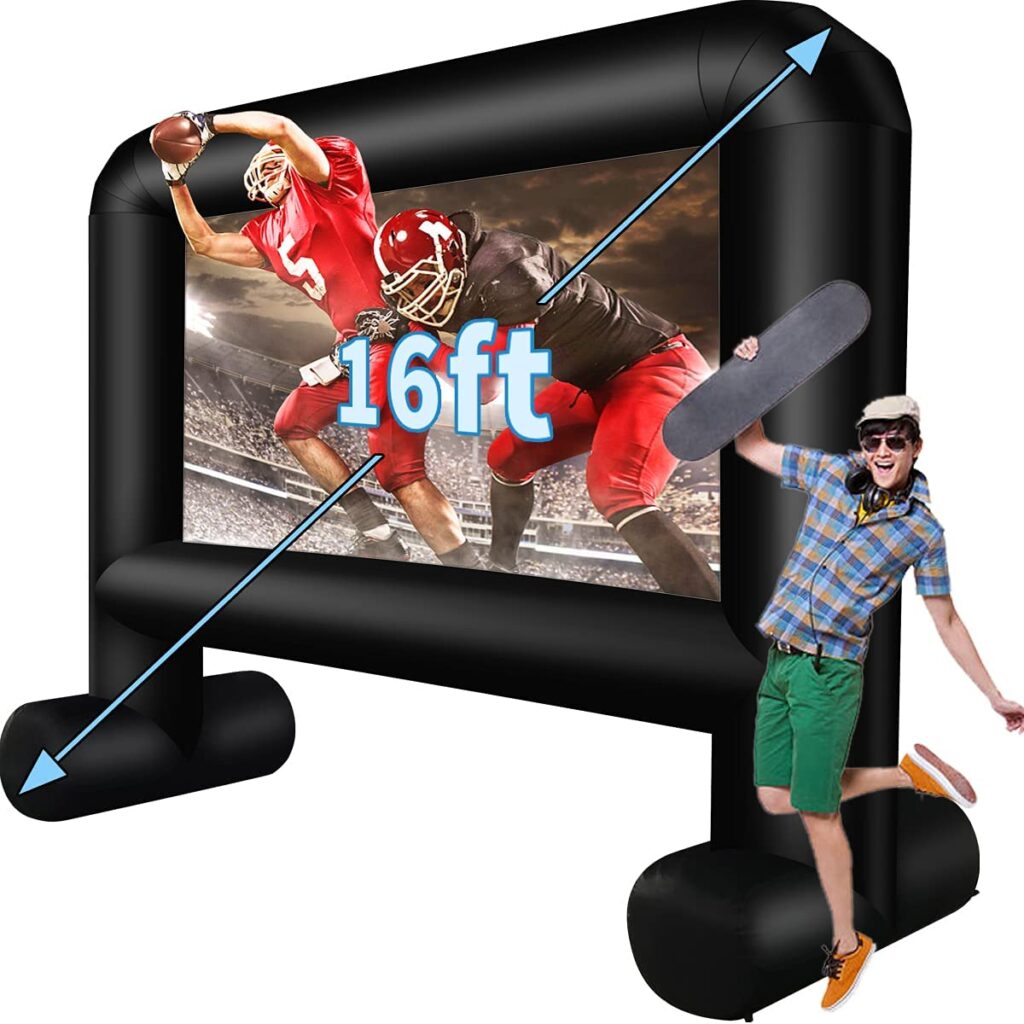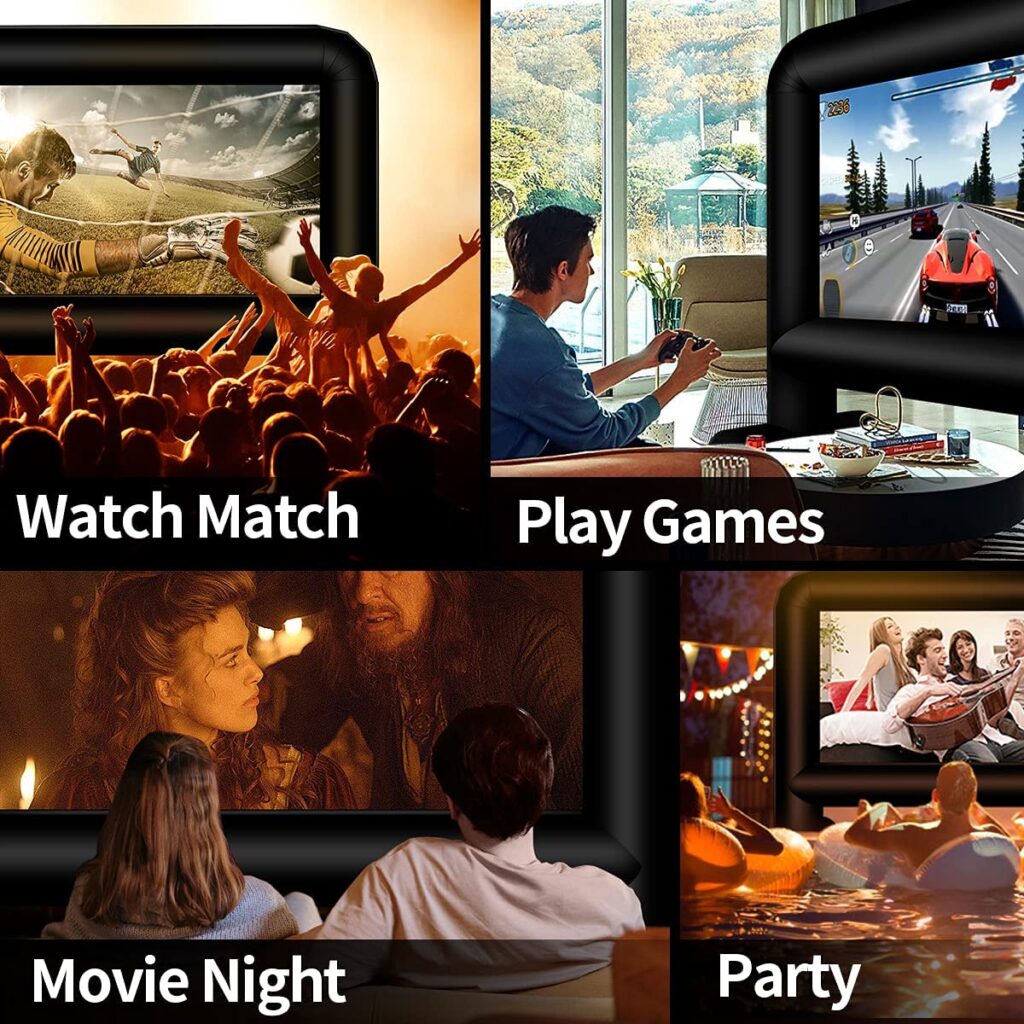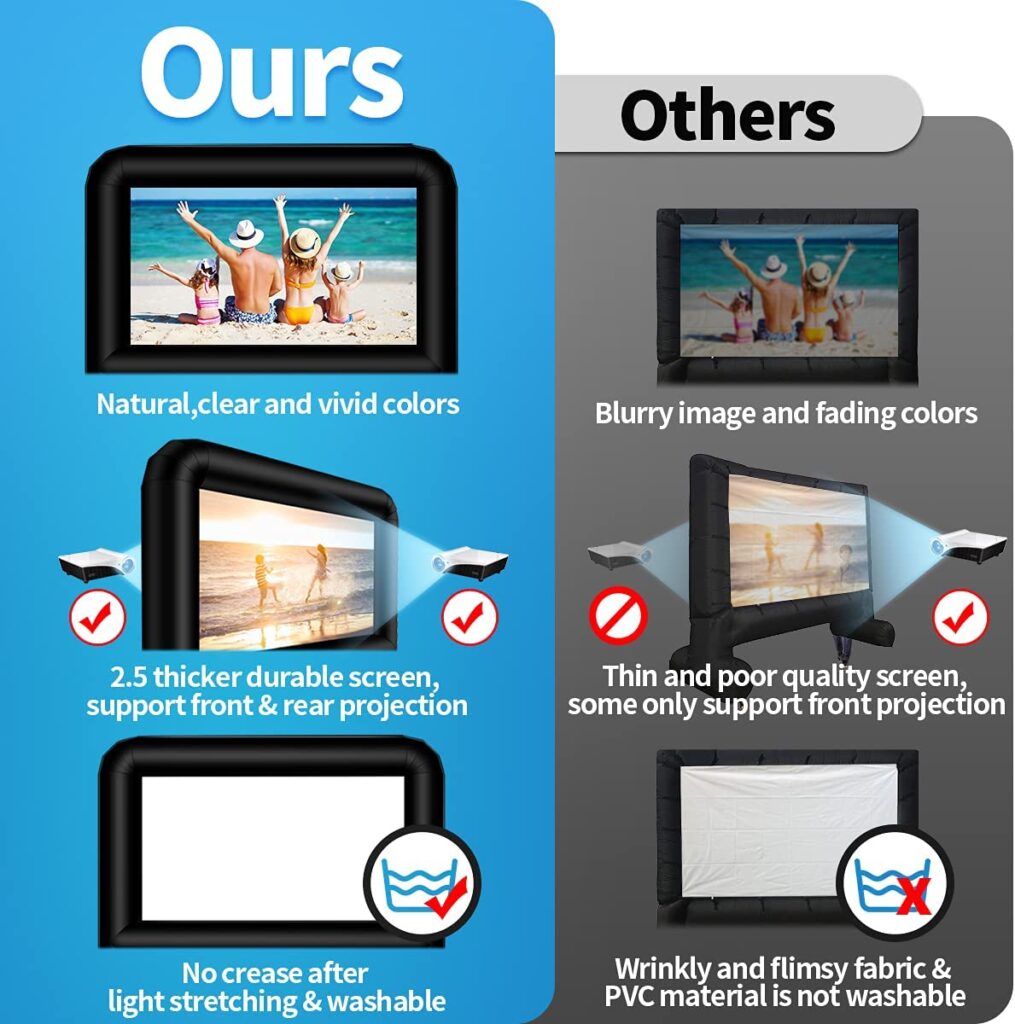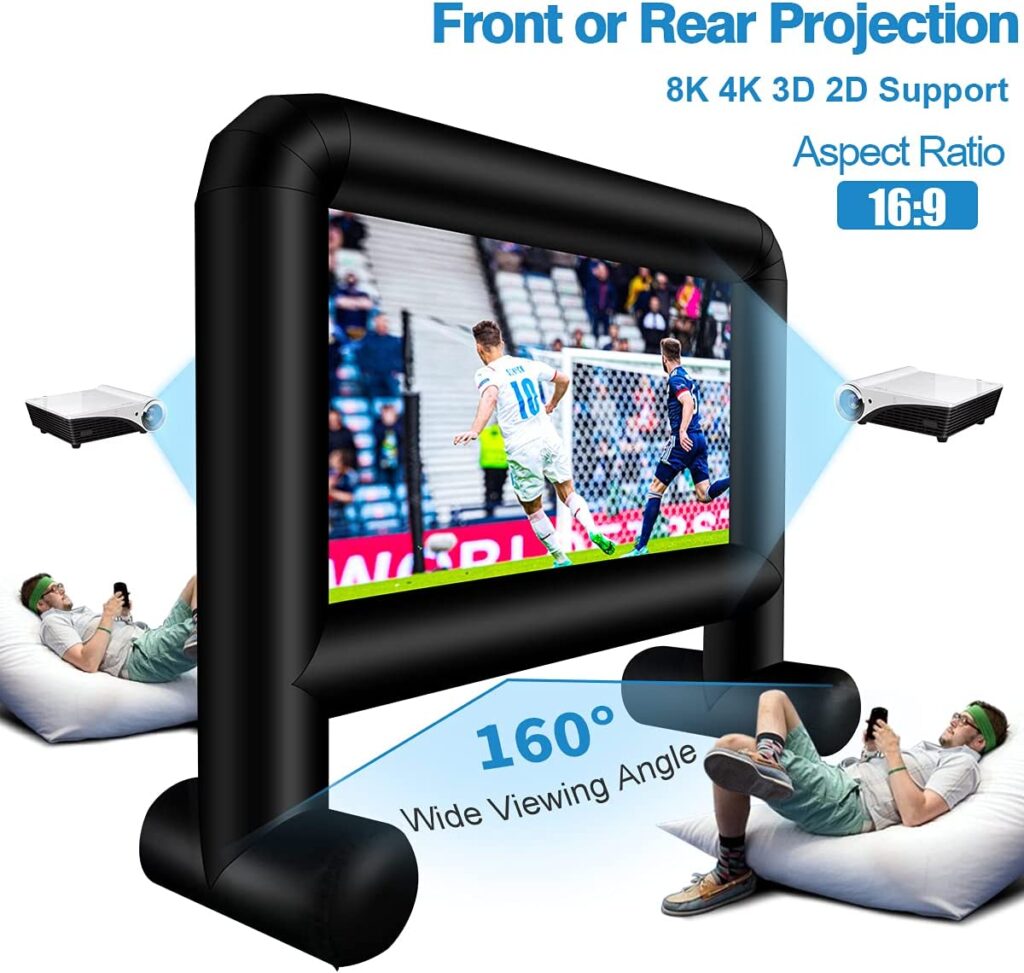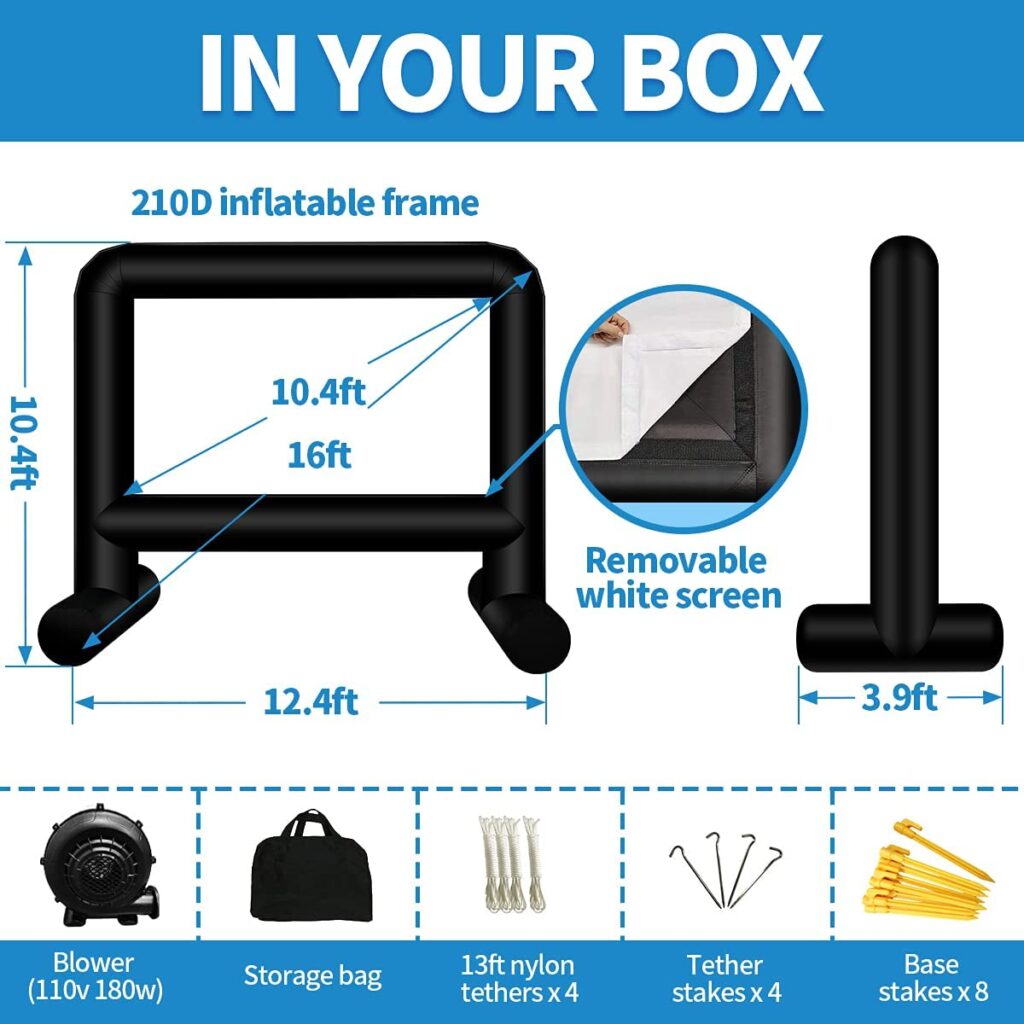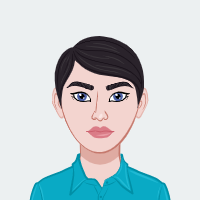 Nikita is a product reviewer who specializes in electronic products. She is an active member of several online forums and is always up-to-date on the latest products and research. Her reviews are detailed and honest, and her recommendations are always spot-on. If you're looking for a new electronic product, Nikita is the person to ask!