Pinci is a young brand so it is not very popular. Being a new brand, it has made a wonderful Pinci portable starry sky projector. This light is good for kid's room because it can decorate the room with the colorful lights. The little device throws colorful lights at 360° angles.
The portable light unit is made in a size of 5.1 inches deep, 5.1 inches wide and 5.7 inches high. It gives you 8 colorful lights for the decoration.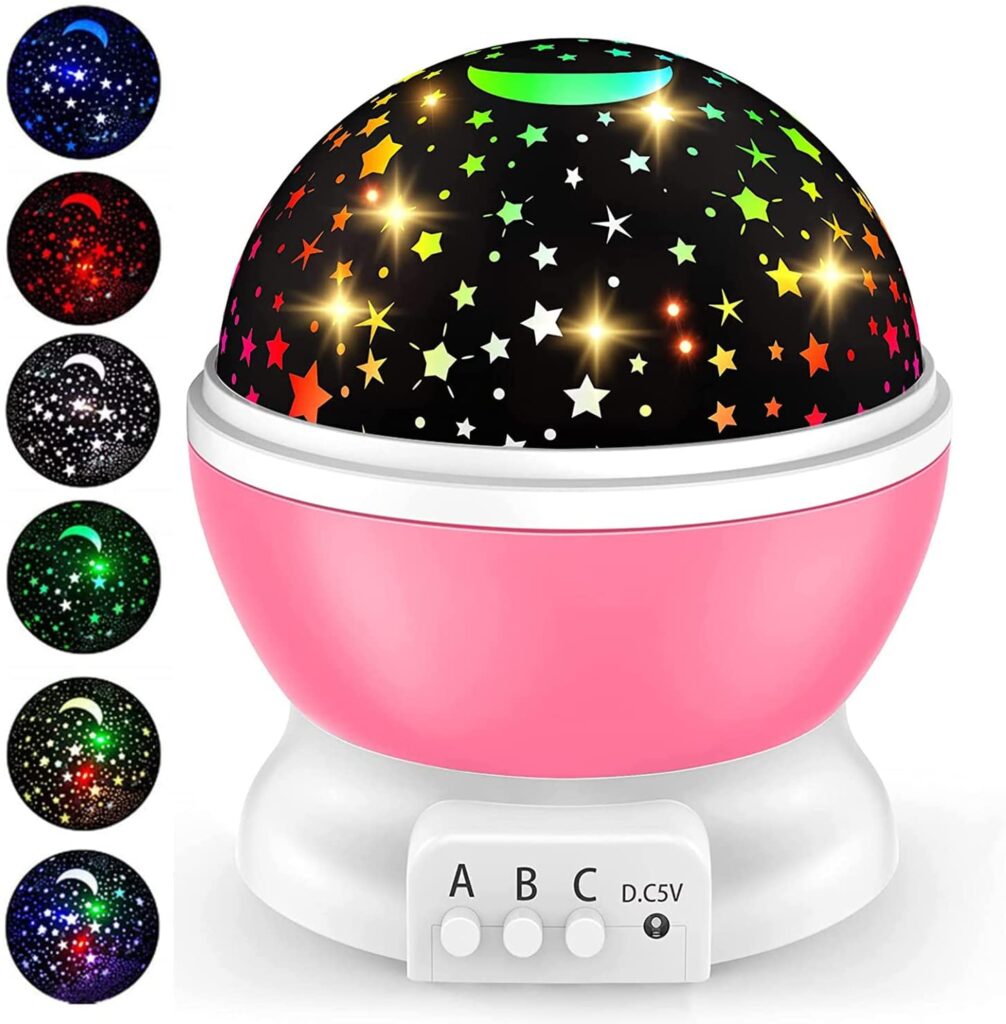 Star and Moon Projector with 15 Feet Projection Area
This product is perfect for kid's decoration because kids like colorful lights. It has 15 feet projection area, which is an appropriate size. The Pinci starry sky projector gives wonderful patterns of star and moon.  The colorful pattern coming from this starry light can fill up the whole living area where the kids live. Moreover, the colorful star and moon coming from this device can surely develop imagination and creativity skills in kids.
The Star & Moon Lighting Device Can Be the Best Gifts for Children
Children prefer to play with such lighting device more than any other toys. I will say that it is also a fun creating device for adult too. The portable starry light projector can easily be placed in a bedroom and you can go with it in parties and somewhere else.
As mentioned above, this product can be a great gift for children, babies and teens on various festive occasions such as Birthday Party, Christmas Day, Halloween and others.
Two Power Supply Methods
The Pinci Portable Starry Sky Projector can run on batteries and USB power supply. It requires 9 X AAA batteries. Please note that the batteries are not included with the purchase. Also, at one time, one power supply will work. So you will be able to run on either the USB charging or the batteries. Simultaneous power supplies are not supported by this device.
The portable starry light device is very convenient to carry and use. It is a portable unit that can work anywhere you want.
Various Light Modes of Pinci Starry Sky Projector
The colorful lighting device has three modes. These modes are starry sky projection, night light and rotation. Apart from the 3 projection modes, it has four amazing lamp beads in four colors. So, it is capable to provide 13 different lights. You can choose a lighting combination based on your choice.
Warm Light at Night to Create Relaxing Atmosphere
To get the night light mode, the user needs to press on the A button. As soon as the A button is pressed, the lighting device will start emitting soft white light. Also, you will not experience any kind of noises when it runs. It delivers silent operation all the times.
The soft light that comes from this starry light device will not hurt children eyes. The soft light is to remove the darkness of the room and to create a relaxing sleep atmosphere. With this soft light, babies will sleep deeply without any doubts.
Three Dedicated Buttons Such As A, B and C
These three buttons have different functions. The A button is for night light switch. B button is for switching colors: white, red, blue, green and multiple colors. To switch the color light off, the user needs to touch and hold the C button for 3 seconds. The C button is used to control the rotary switch. Using the C button, you will be able to rotate the lighting patterns.
Precautions
The manufacturer advises to use 5V 1A power adapter only. If you supply more than 5V 1A power, it may be harmful to the device.
It omits very bright light so looking directly in to the lights may cause eyestrain.
To operate it, please rotate the lamp cover and take the black lamp film out. After this, please press A button, it will start showing its magic. The starry light device can be operated as desk lamp or night lamp.
Highlights of Pinci Portable Starry Sky Projector
Pinci brand name
8 colors
360° rotation
Perfect for decorating children's room
LED light source
Size: 5.1 inches depth, 5.1 inches width and 5.7 inches height
Corded electric power source
15 feet area coverage
Omits romantic stars
3 light modes such as night lamp, starry sky and rotating mode
Soft white light
Easy to operate
Two power supply methods such as USB charging and AAA batteries
Perfect for Christmas day, Birthday, Children's day
360° rotation
Festival gift
Warm night light mode
Lampshade removable
Reading the above mentioned highlights will help you understand this Pinci Portable Starry Sky Projector. The product has good features such as 360° rotation, 15 feet area coverage, LED light source and many others.
Pinci Night Light Projector Conclusion
At the end, Pinci Portable Starry Sky Projector looks an impressive sky light device. It is highly recommended to buy. It comes at a low price if you purchase it from Amazon. The product is made by a new brand, other than this, you will not be able to find other cons in this product.
Images of Starry Light Projector Lamp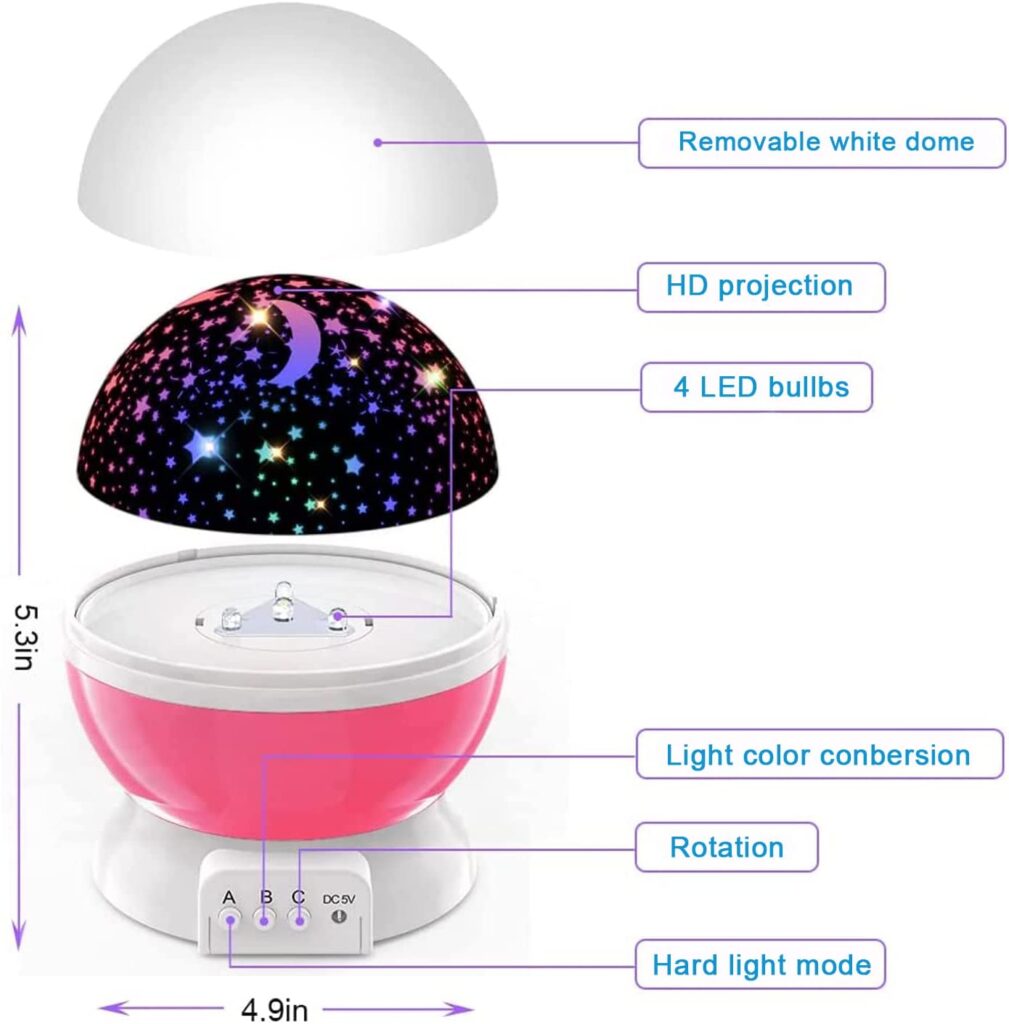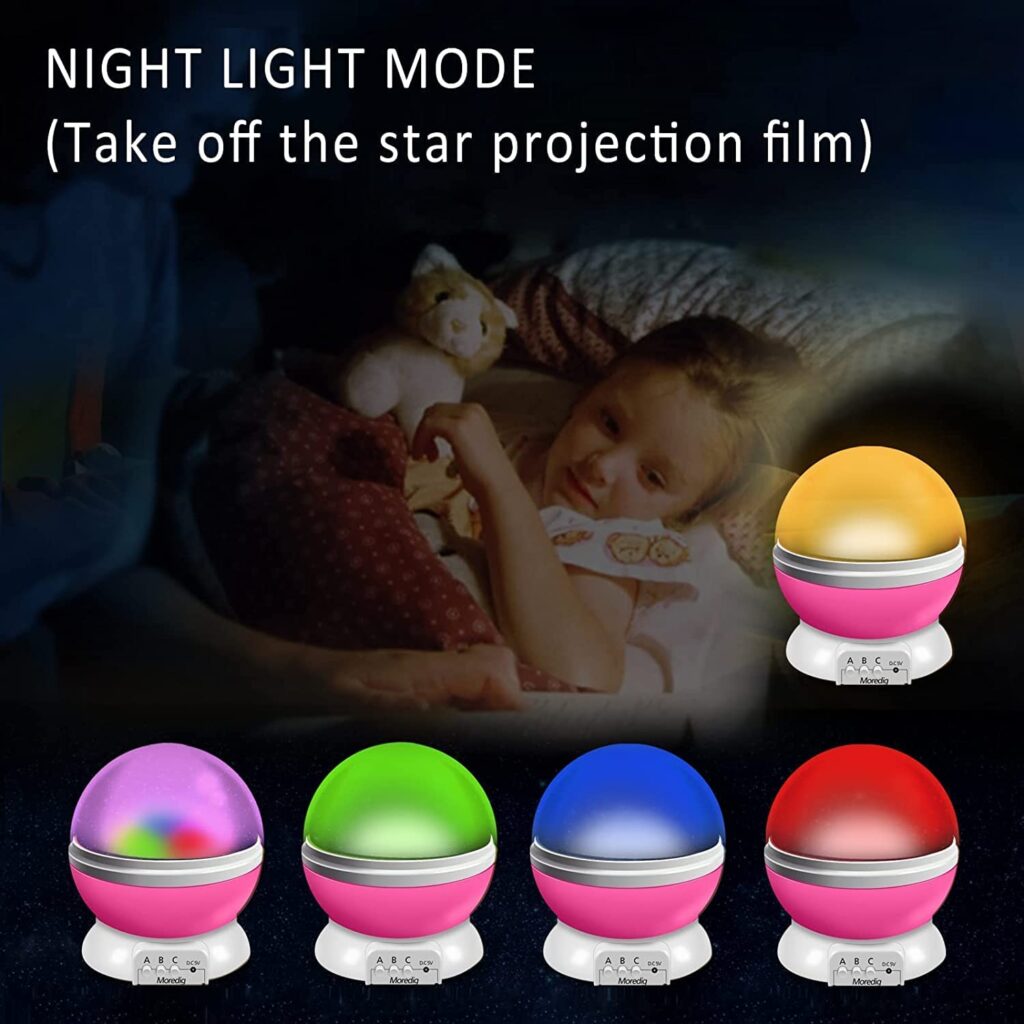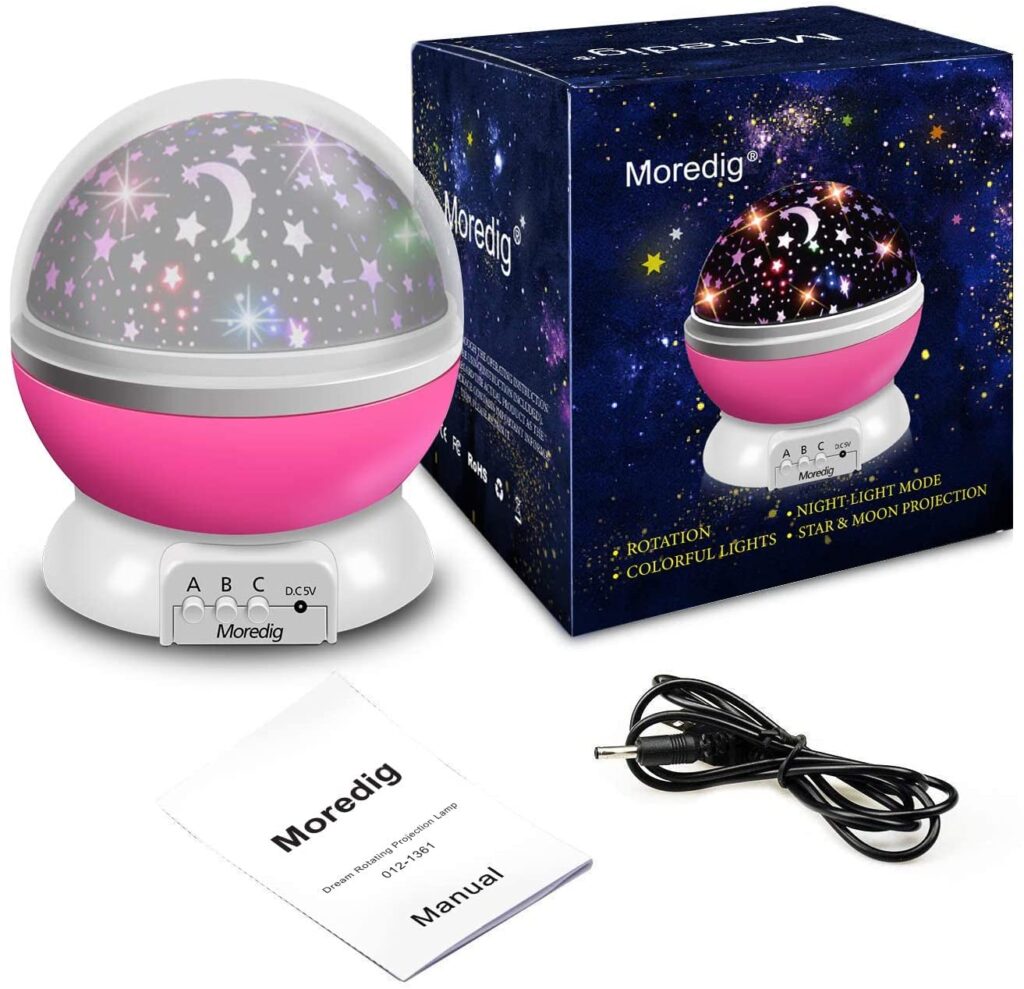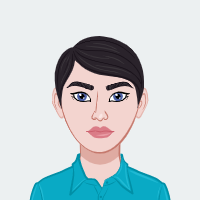 Nikita is a product reviewer who specializes in electronic products. She is an active member of several online forums and is always up-to-date on the latest products and research. Her reviews are detailed and honest, and her recommendations are always spot-on. If you're looking for a new electronic product, Nikita is the person to ask!