BenQ HT2550 uses CinematicColor technology and RGBRGB color wheel to provide the highest color accuracy. With such color property of this BenQ HT2550 will surely give the most accurate and true colors.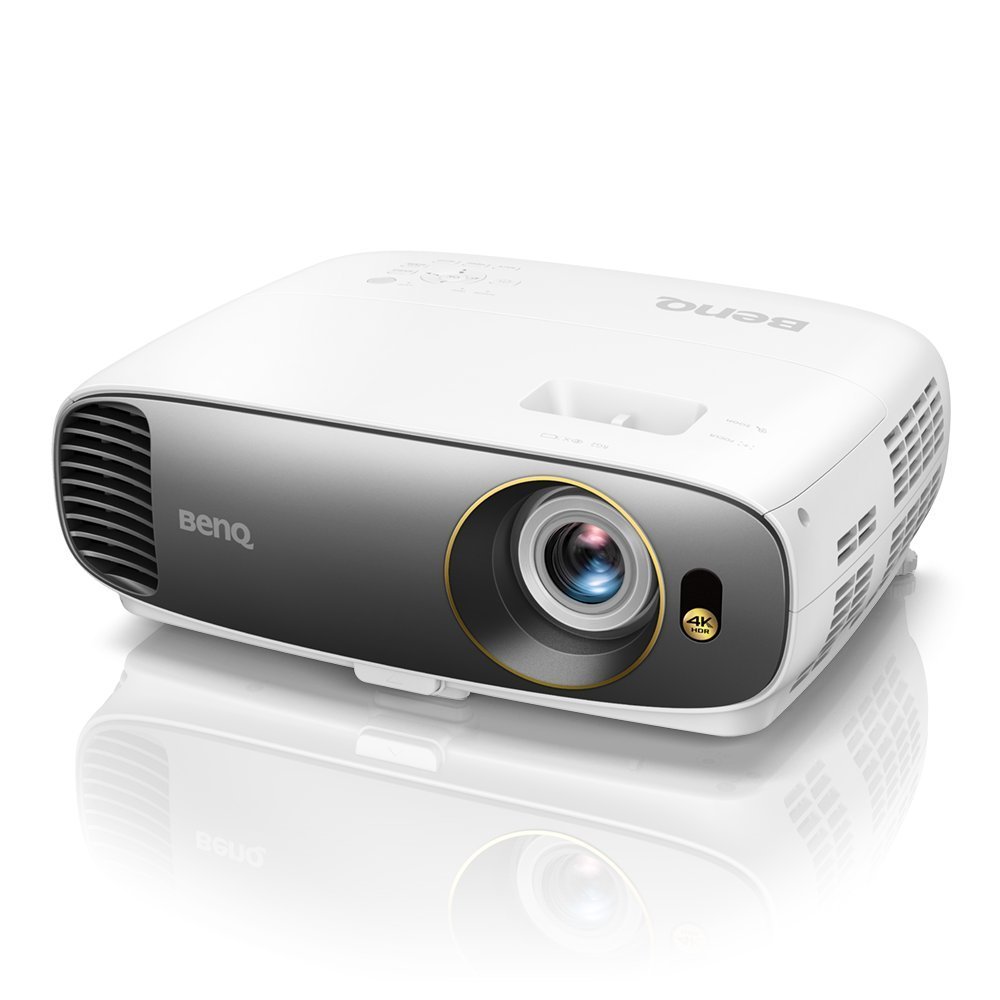 It comes with 4X resolution of full HD 1080p because it has 4K-optimized optical systems to produce to provide the highest accuracy.
Further, BenQ HT2550 produces 8.3 million distinct pixels for a pure 4K UHD performance with more than 96-percent coverage of the Rec. 709 color gamut.
8.3 million pixels
True 4K UHD
HDR10 support
2200 ANSI lumens
Vertical keystone
15,000 hours lamp life
Dual HDMI ports
RGBRGB color wheel
BenQ HT2550 is the smallest and lightest 4K HDR projector because it has a sleek and compact design. It also comes with auto vertical keystone and 1.2X zoom that makes the setup very easy.
On the other hand, the cinematic color technology impressively produces >96-percent of Rec. 709 color gamut for authentic cinema experiences.
Please note that BenQ HT2550 projector baught after 3/16/2018 comes with firmware update 1.0.3.
Also, the projector is supported with HDR10 (BenQ exclusive Auto HDR color rendition and cinema-optimized technology).
Further, BenQ HT2550 has true 4K UHD resolution that has 8.3 million distinct pixels to deliver impressive 4K UHD image quality. Of course, you receive stunning clarity and crisply defined details.

True 4K HDR – for grand cinema experience!
Theater-like Image Quality
HDR – For Reliable Video Performance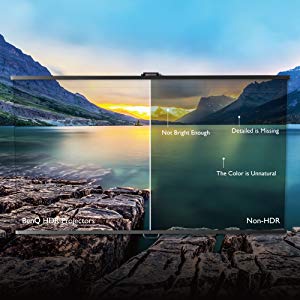 The projector is supercharged by HDR10 support (special auto HDR color rendition and cinema-optimized technology). Since the projector has dynamic range performance so it delivers impressive brightness and high contrast and so it is able to bring every detail in 4K video content for high grade cinema entertainment.
8.3 Million Pixel Perfection – True 4K UHD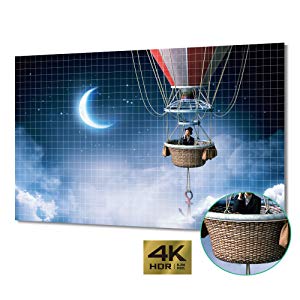 BenQ HT2550 has 4K UHD 3840 x 2160 resolution with 8.3 million distinct pixels for each frame. It uses latest 0.47 single-DMD DLP technology to minimize the projector's sleek, compact profile.
The 4K UHD projector minimizes pixel blur for the greatest clarity and fine details because it has 4X resolution of full HD 1080P.
Color Accuracy and Image Integrity
BenQ HT2550 gives you impressive image integrity and color accuracy because it is powered by DMD DLP technology that gets rid of inherent alignment issues of multiple panels. Of course, the projector creates sharp images with impressive clarity and color accuracy avoiding artifacting such as blur, shadowing and interference patterns.
Fast and Easy Installation
Cinematic Color Technology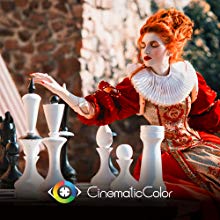 The CinematicColor technology gives you good color accuracy that is loved by all video lovers. BenQ says that it honestly produces the colors the directors intended to show. Further, it has more than 96 percent coverage of Rec. 709 and Delta E < 3.
Power Saver and Longer Lamp Life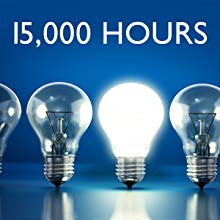 The BenQ projector uses SmartEco technology that is very good to manage lamp brightness according to the content to project richer blacks and high contrast for good image details. Also, it features LampSave Mode that increases the projector lamp life by up to 15,000 hours. This way, it gets rid of frequent lamp replacement and maintenance giving you a lower cost of ownership.
Automatic Keystone for Simple Setup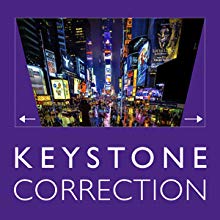 It has vertical keystone capability that manages the image for a business grade squared image. You should know that the keystone correction is very good to project aligned images from various locations.
1.2X Zoom for Large Pictures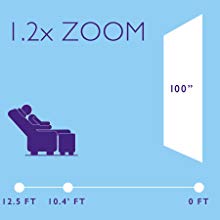 This capability can easily change any space into a home cinema without the issues of the complicated installation. It has 1.2X zoom that will surely increase available space with a range of throw distances for diverse mounting and placement options.
Display
Light Source Wattage: 240W‎
SmartEco 8000 hours
Projection System: DLP
Normal 4000 hours
Contrast Ratio (FOFO): 10,000:1 ‎
Economic 10000 hours
Native Aspect Ratio: Native 16:9 (6 aspect ratio selectable)
Light Source Life:
Brightness (ANSI lumens): 2200 ANSI Lumens‎
Light Source: Lamp
Display Color: 30 Bits (1.07 billion color)
Resolution Support: VGA (640 x 480) to 4K UHD (3840 x 2160)
Native Resolution: 3840×2160 (XPR pixel shifting technology)
LampSave 15000 hours
Picture
* ISF Disabled: Bright / Vivid / Cinema/ Sport/ User 1/ User 2
Color Wheel Segment: 6-Seg. (RGBRGB)
Rec.709 Coverage: >96%
Picture Mode:
** ISF Enabled: Bright / Vivid / Cinema/ Sport/ User 1/ User 2/ ISF Night/ ISF Day
Interface
DC 12V Trigger (3.5mm Jack): x 1
IR Receiver: 2(Front/Top)
Security Bar: 1
USB (Type mini B): x 1
PC (D-Sub): x 1
HDMI: 2 (HDMI 1: 2.0 / HDCP 2.2; HDMI 2: 1.4a / HDCP 1.4)
RS232 (DB-9pin): x 1
Audio in (3.5mm Mini Jack): x 1
Audio out (3.5mm Mini Jack): x 1
USB Type A: 1(2.0/Power Supply)
Special Feature
HDR: Yes
ISF Night/Day: Yes
Compatibility
3D Compatibility‎:
HDTV Compatibility: 480i, 480p, 576i, 576p, 720p, 1080i, 1080p, 2160p
Top Bottom: Up to 720p 60Hz
Frame Sequential: Up to 1280×720 120Hz
Frame Packing: Up to 1080p 24Hz
Environment
Power Supply: VAC 100 ~ 240 (50/60Hz)
Standby Power Consumption: 0.5W
Operating Temperature: 0~40℃
Acoustic Noise (Typ./Eco.) : 33/29dB
Typical Power Consumption: 330W
Dimension and Weight
Net Weight (lbs): 9.2 lbs
Dimensions (W x H x D)(in) :13.9 x 5.3 x 10.7 in
Optical
Horizontal Frequency: 15K – 102KHz‎
Image Size: 30"~300"
Zoom Ratio: 1.2X
Vertical Scan Rate: 23 – 120Hz‎
Throw Ratio: 1.47 – 1.76 (100″ @ 3.25 m)
Clear Image Size (Diagonal): 60″ ~ 200″
Keystone Adjustment: 1D, Vertical ± 40 degrees
Projection Offset: 110%
Lens: F/# = 1.94 – 2.06, f = 15.57 – 18.67 mm
Accessories Included (Standard)
Carton: Color carton
Remote Control w/ Battery: x 1 (RCV015)
Power Cord (by region): x 1 (3m)
User Manual CD: x 1 (27L)
Quick Start Guide: x1 (21L)
Warranty Card (by region): x 1
Lens cover: x 1
Connection Interfaces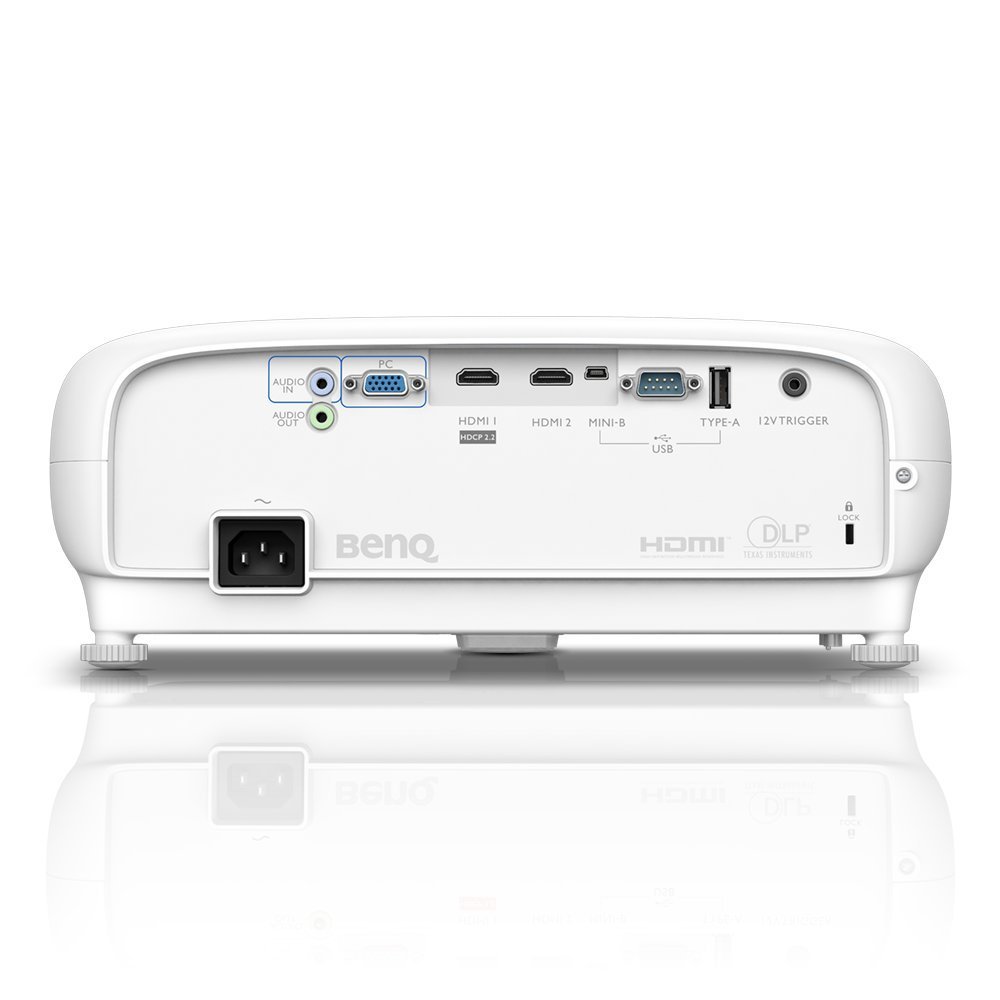 DC 12V Trigger (3.5mm Jack): x 1
IR Receiver: 2(Front/Top)
Security Bar: 1
USB (Type mini B): x 1
PC (D-Sub): x 1
HDMI: 2 (HDMI 1: 2.0 / HDCP 2.2; HDMI 2: 1.4a / HDCP 1.4)
RS232 (DB-9pin): x 1
Audio in (3.5mm Mini Jack): x 1
Audio out (3.5mm Mini Jack): x 1
USB Type A: 1(2.0/Power Supply)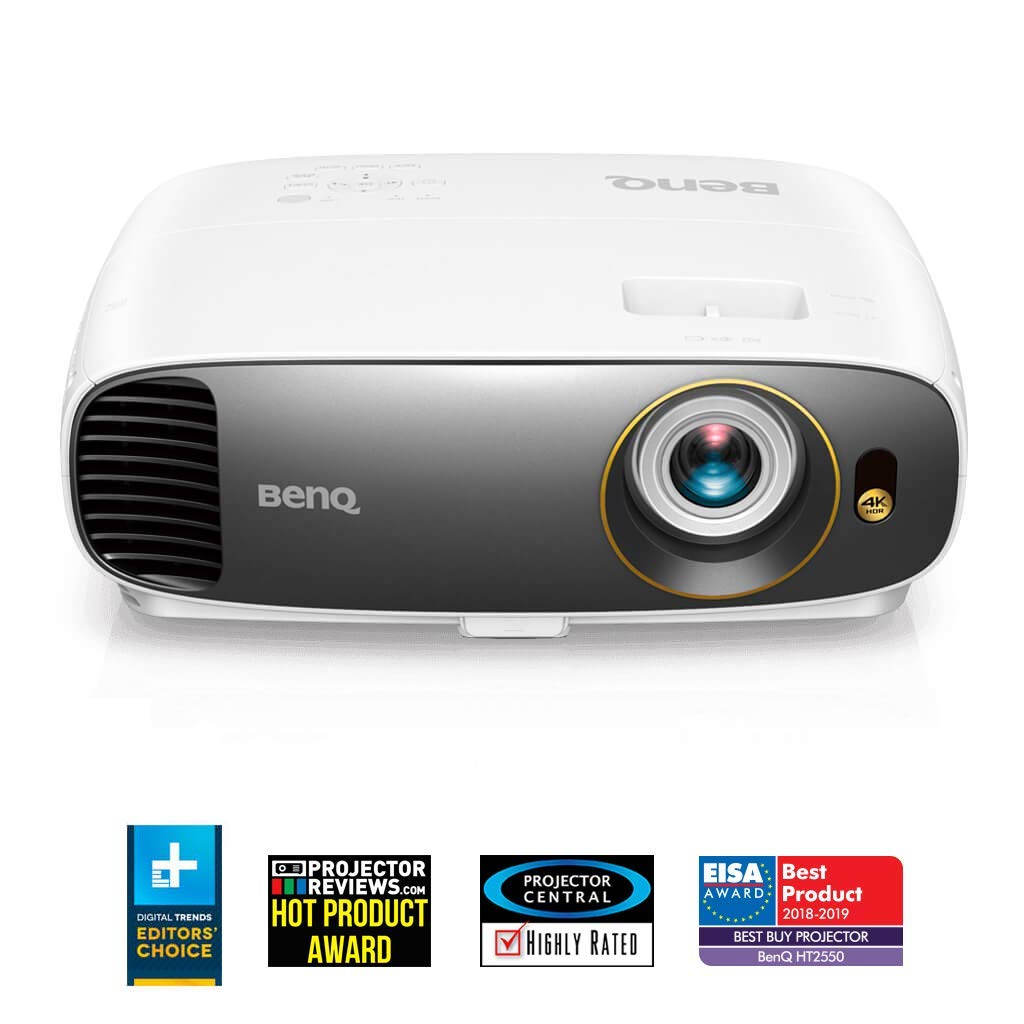 BenQ HT2550 4K UHD HDR Home Theater Projector is awarded by Hot Product Award on ProjectorReviews.com, highly rated on ProjectorCentral.com, Digital Trends Editor Choice and awarded by EISA Award Best Product of 2018-2019. Best Buy Projector – BenQ HT2550
[home]