If you are looking for an impressive projector with impressive specifications that is also popular among its users, you can check BenQ HT2050A. This is an HD 3D 1080p projector with 2200 lumens brightness. The contrast ratio is 15000:1 with RGBRGB color wheel. This is a popular ISFCCC certified BenQ projector for day and night projection.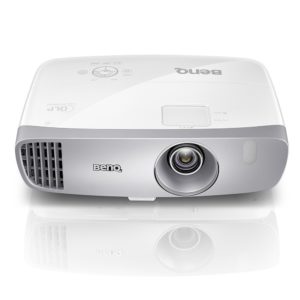 It comes with short throw distance that can easily be installed to get screen size from 60 inches to 180 inches bigger screen from 1.15 to 1.5 meter throw ratio. You can get a 79 inches screen from just 6.6 feet distance.
It has low input lag that is 16ms for the best gaming experience and 2D keystone for the side projection.
Most importantly, this is from the trusted projector brand that is BenQ. It has become the number one DLP projector brand on the globe. Most of the BenQ projectors come with three years of warranty and this BenQ HT2050A also comes with a 3-year of warranty.
You can also adjust the focus of the lens with the help of focus ring for the clearer picture.
Fast Response for the Good Gaming Time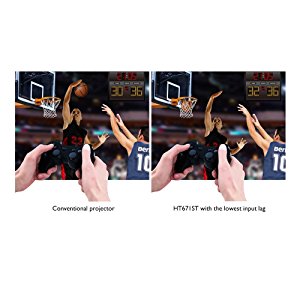 BenQ HT2050A has low input lag in micro seconds that is good for heart pounding game action. You will surely enjoy very smooth gaming time without annoying motion blur and image lag.
Rec. 709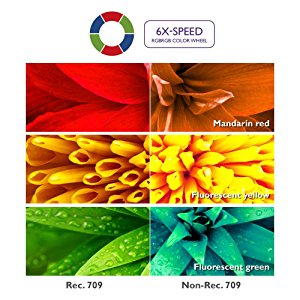 For the color accuracy rec. 709 plays very important role here. It is an international HDTV standard that shows the colors of director choice. Further, it has a 6X speed RGBRGB color wheel so it opens the door of more than 96-percent coverage to Rec. 709 for the accurate color. And so, the projector is able to give you refined colors without any doubts.
Ultra Short Throw Projection (100 Inches Screen at Eight Feet)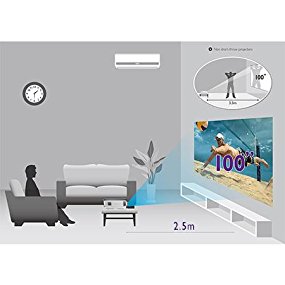 The BenQ HT2050A is able to give more thrills in less space. Because it projects a stunning hundred inches image from just 8.2 feet. With the help of such impressive capability of HT2050A, you can enjoy a big-screen theater entertainment in your own home.
Side Projection with 2D Keystone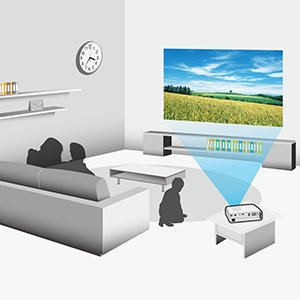 BenQ HT2050A has 2D keystone correction for horizontal and vertical keystone correction that gets rid of effects when the projector is placed at an indirect angle.
Optical Specifications:
1.3X zoom ratio
1.15 to 1.5 meter throw ratio
100 inches screen at 8.2 feet distance
+10% (vertical) lens shift
2D vertical and horizontal + / – 30° keystone correction
60 inches to 180 inches diagonal clear image
15 to 102KHz horizontal frequency
23 to 120hz vertical scan rate
30 inches to 300 inches image size
Lens: F/# = 2.59 – 2.87, f = 16.88 – 21.88 mm
Display Specifications:
DLP projection technology
VGA (640 x 480) to WUXGA_RB (1920 x 1200) resolution support (RB = reduced blanking)
1080P (1920 x 1080) native resolution
2200 ANSI lumens
1.07 billion colors
15,000:1 contrast ratio (FOFO)
16:9 native aspect ratio
7000 hours SmartEco
5000 hours Economic
3500 hours normal
240W light source wattage
Lamp light source
Picture Specifications
Picture mode: bright / vivid tv / cinema / game / user 1 / user 2 / ISF day / ISF night / (3D)
6-segment (RGBRGB)
6X (50Hz), 4X (60Hz) color wheel speed
96% Rec 709 coverage
Audio
Special specifications:
ISF Day/Night
CinemaMaster Audio +
Interface
One security bar
Two (front / top) IR receiver
One DC 12V trigger (3.5mm mini jack)
One RS232 (DB-9pin)
One audio out ( 3.5 mm mini jack)
One audio L/R in (RCA)
One USB (type mini B)
USB: Type A: 1 – USB- 1 (2.0 / power supply)
HDMI: 2 – HDMI – 1
One component video in
One composite video in (RCA)
PC (D-sub) : 1
Environment Specifications
AC100 to 240V, 50 to 60 Hz power supply
0~40°C operating temperature
< 0.5W standby power consumption
353W / 110 V typical power consumption
Compatibility Specifications
Up to 1080p top bottom
Up to 1080i/p side by side
Up to 1080p frame packing
720p frame sequential
3D compatibility
NTSC, PAL, SECAM, SDTV video compatibility
480i, 480p, 576i, 567p, 720p, 1080i, 1080p HDTV compatibility
Dimension and weight
380.5mm by 121.7mm by 277mm
7.27 lbs net weight
Standard accessories included
RCV012 remote control with battery
One power cord
One user manual
Quick start guide
Battery
Lens cover
Warranty card
[home]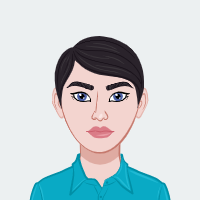 Nikita is a product reviewer who specializes in electronic products. She is an active member of several online forums and is always up-to-date on the latest products and research. Her reviews are detailed and honest, and her recommendations are always spot-on. If you're looking for a new electronic product, Nikita is the person to ask!