Please read ultra-short throw projector review before you buy any projectors. There are many brands that make short throw projectors. Some of them are: Sony, LG, Philips, Optoma, NEC and many others. Before you buy an ultra-short throw projector, reading reviews, comparing features of these projectors will really be helpful. Because these top brand projectors are expensive, you may have to pay from one thousand to several thousand dollars! Also, a clear understanding of warranty protection of these projectors can also be good here.
There are many popular short throw projectors. These projectors are Sony LSPX-P1, LGPF1000UW, Philips HDP1690 and many others. All the above mentioned projectors have minimum 100 inches screen. To read reviews on these projectors, please visit ProjectoReviews.com that is a leading projector review website. To find some discounted projectors, ProjectoReviews.com will help you a lot.
You can check warranty information of any product on Amazon; usually the warranty information is located below the feature lists of the product. Since, your main purpose is to buy an ultra-short throw projector. So you have to understand the important features such as screen size, projection distance, etc. Normally, 100 inches screen at 12 inches distance can be good for an ultra-short throw projector.
Ultra Short Throw Projector Review: Sony LSPX-P1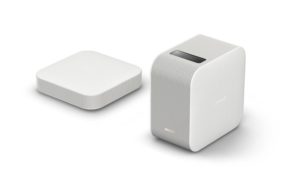 Sony LSPX-P1 ultra short throw projector delivers pictures from 22-inch to 80-inch anywhere you want. It uses laser projection technology from SXRD panel to deliver higher brightness. You can enjoy high contrast, 720 pixels HD image. Sony LSPX-P1 has built-in battery for the portability. The battery delivers 2 hours of back-up that is good to watch a full movie without power. The battery can be charged within 4 hours with the help of a charging cable included.
Sony LSPX-P1 short throw projector comes with built-in speakers (0.98-inch Bass Reflex Speakers) for powerful sound. Amazingly, it lets you project a wide range of contents such as images, movies and data. It lets you project content on the floor or table in 22-inch with the help of an ultra-short throw lens. It is good to project videos from your devices onto the table and enjoy in a group of friends and relatives. Read more…
---
LG PF1000UW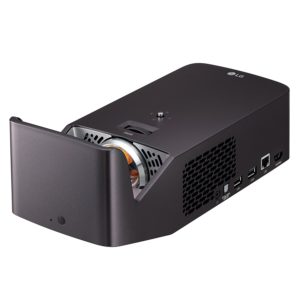 LG PF1000UW projects full HD content in 1920 x 1080 pixel resolution with projection distance of 15 inches for 100 inches image. This LG PF1000UW ultra short throw projector is compatible with LG Smart TV (WebOS 3.0) with magic remote. Also, LG PF1000UW has wireless screen share and Bluetooth sound out capabilities. LG PF1000UW delivers high quality images within short distance. You can receive 60 inches pictures from 5 inches away. LG PF1000UW ultra short throw projector delivers cinema-like viewing experience with 100" images in full high definition property.
And, it gives more room for customization of picture quality with 150, 000:1 contrast ratio and 1000 lumen brightness. Further, LG PF1000UW comes with 30,000 hours of LED light life that displays natural colors throughout its life. Moreover, you can stream sound directly from this projector to a Bluetooth compatible devices (big sound for big pictures). Read more…
---
Philips HDP1690 Screeneo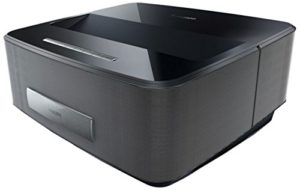 Philips HDP1690 Screeneo delivers big screen experience without extra mounts or speakers. The ultra-short throw projector lets you place few inches away from the wall and enjoy content up to 100 inches of screen size. Amazingly, you will get 50-inch screen size with 4-inch distance from the wall, 100 inches screen size from 17 inches distance from the wall. Philips HDP1690 Screeneo has ProGleam engine and NaturaColor technology for the best quality images in life-like colors.
When it comes to connectivity, Philips HDP1690 Screeneo uses smart connectivity options such as Wi-Fi, DLNA home network to surf internet, stream videos and view images. Further, it has HDMI port to connect to any set-top box, Blu-ray player, game console or media server. Well, Philips HDP1690 Screeneo also comes with integrated loudspeakers and sub-woofer for deep 26W sound. Read more…
---
OPTOMA GT5500+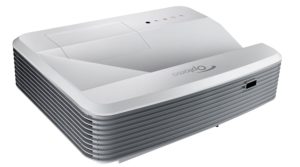 OPTOMA GT5500+ is 1080p lumen ultra-shot throw projector that has 18000:1 contrast ratio, 3500 lumen brightness and a host of connectivity options including dual HDMI, Audio-in and VGA-in. OPTOMA GT5500+ delivers big crisp 100 inches image at the distance of 13 inches from the wall or ceiling.
This is a high definition ultra-short throw DLP projector for movies, videos and gaming. Now is the time to enjoy big screen games in life-like color. Please make sure that the largest image you will get is 100 inches, going beyond 100 inches may decrease the quality of images.
It comes with too many connectivity options including 2 x HDMI, 3D sync port out, VGA1-in, VGA2-in/VGA-out, analog RCA, mini USB etc. Read more…
---
LG Electronics PF1000U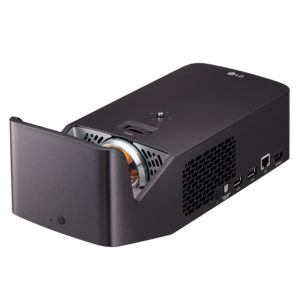 LG Electronics PF1000U comes with 100 inches of projection image at 15 inches of distance. It supports wireless connections such as DLNA, Miracast, WiDi, and Bluetooth Sound Out. LG Electronics PF1000U has 30,000 hours of lamp life and delivers 1920 x 1080 HD images with up to 1000 lumens.
This ultra-short throw distance projector lets you view videos and other content from premium content providers such as Netflix, Hulu Plus, Amazon and Vudu. On the other hand, it supports magic remote letting you just scroll and click to change the channel. It has wireless connectivity options that supports Windows and Android OS devices like Android Ice Cream, Sandwich, Jellybean and Kitkat. Read more…
---
Optoma EH320UST Ultra Short Throw 3D 1080p Projector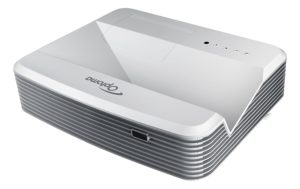 Optoma EH320UST Ultra Short Throw 3D 1080p Projector delivers bright projection of 4000 ANSI lumens. It has full high definition 1080 pixels resolution with contrast ratio of 20, 000:1 with the support of 3D content as well. Optoma EH320UST Ultra Short Throw 3D 1080p Projector comes with 2 X HDMI inputs, powered USB port and 16W built-in speaker.
Optoma EH320UST has 6500 hours of long lamp life and can project content on 100-inch screen size from just 21 inches of distance. With many connection methods such as HDMI inputs, USB port, 16W built-in speaker, you are able to connect your preferred devices to stream content. Amazingly, Optoma EH320UST Ultra Short Throw 3D 1080p Projector comes with a completely new mounting system for a fast and simple set-up. Read more…
---
NEC NP-UM351W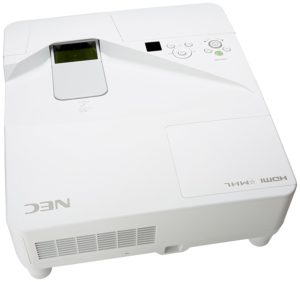 NEC NP-UM351W ultra short throw projector comes with a host of features delivering a short throw distance for education and corporate applications. Also, It features 20W speaker, RJ-45 for remote management over a network and many input interfaces such as HDMI, VGA and a microphone input. NEC NP-UM351W uses ECO Mode technology that is very helpful to increase lamp life and to lower power consumption. It allows parallel and perpendicular keystone adjustment to ensure that the image will fill the screen every time. The maximum throw distance is 33 inches and maximum screen size is 105 inches. Read more…
[home]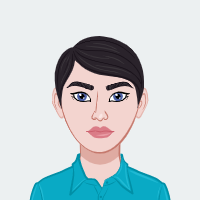 Nikita is a product reviewer who specializes in electronic products. She is an active member of several online forums and is always up-to-date on the latest products and research. Her reviews are detailed and honest, and her recommendations are always spot-on. If you're looking for a new electronic product, Nikita is the person to ask!