Tontion 2400 Lux Video Projector is claimed as 30% brighter than other ordinary projectors. It is sharper and brighter than comparable projectors in the same price range on the market. With Tontion video projector, you will be able to receive the best home cinema experience.
It gives less noise than other comparable projectors because the projector is equipped with an advanced cooling system that is good at providing efficient heat dispersion. Consequently, it is able to minimize the fan noise a lot so you will have less distraction at the time of watching videos and playing games.
Amazingly, Tontion 2400 Lux Projector comes with 37-inch to 50-inch display size from the distance 1.5M to 5M. The best projection distance can be 2 to 2.5 meters to get a super clear and bright 130-inch image. Please make sure that this projector is only made for home entertainment so it is not recommended for PPT or business presentations.
When it comes to connectivity with various devices, the Tontion projector comes with multiple connection interfaces so that you can easily connect with smartphones, iPads, USB drives, cable box, computers, laptops, Amazon Fire Stick and gaming consoles. Please note that you will need a Wi-Fi display dongle for the smartphones and tablets connection. The Wi-Fi display dongle is not included with this purchase, you have to buy it separately.
Also, the Tontion HD video projector is supported with one-year of money back guarantee with lifetime professional customer service and technical support.
This Tontion projector is very popular because it comes with upgraded LEDs with thirty-percent higher lumens output that can be brighter than other projectors on the market. It also comes with upgraded cooling fan giving you reduced fan noise same as laptop fan noise. Also, it supports larger screen relaxing your eyes from glare of the TV. Amazingly, it comes with Keystone function so that you can achieve the right image. In case you need a projector case, please send an email to Tontion customer support.
Specifications of Tontion 2400 Lux Video Projector:
2400 LUX LED
1500:1 contrast ratio
16:10 Aspect ratio
800 x 480 pixels native resolution
1920 x 1080 pixels supported resolution
±15° (manual) keystone correction
5 to 5 meters projection distance
37-inch to 150-inch screen size
TFT LCD Imaging technology
Connection inputs are:
TF cards
AV in and out
HDMI
USB
VGA
Support audio file types are:
MP3
WMA
ASF
OGG
WAV
AAC
Supported image file types are:
PNG
BMP
JPEG
Other supported file types are:
AVI
3GP
MKV
FLV
MOV
MP4
MEP
VOB
MPG
RMB
RM
More images of Tontion 2400 Lux Video Projector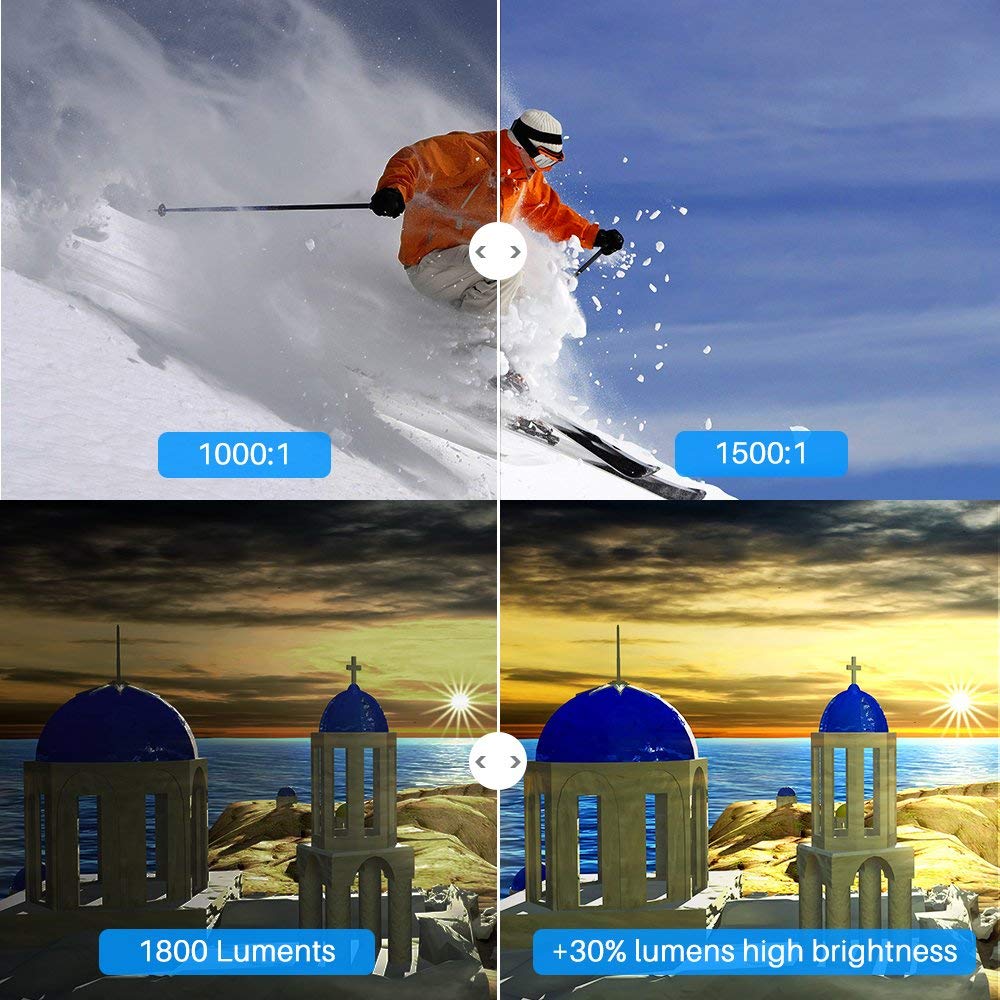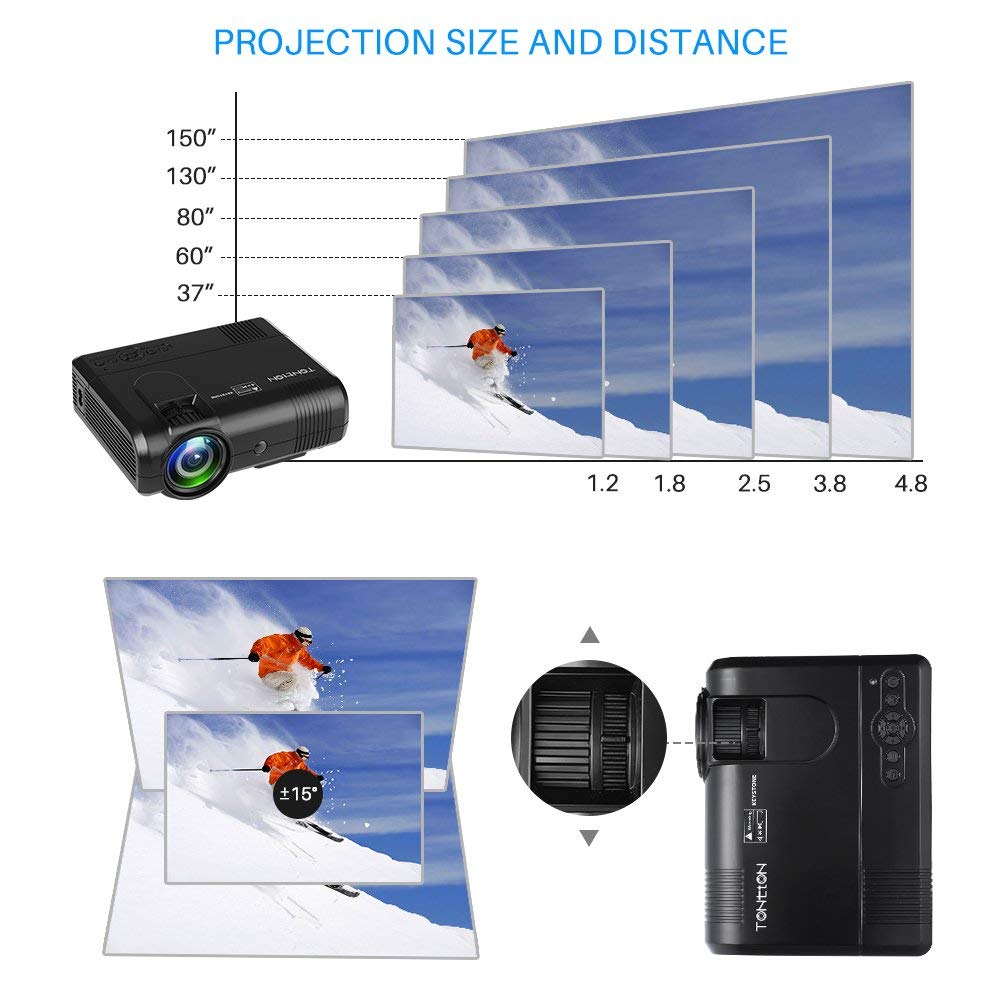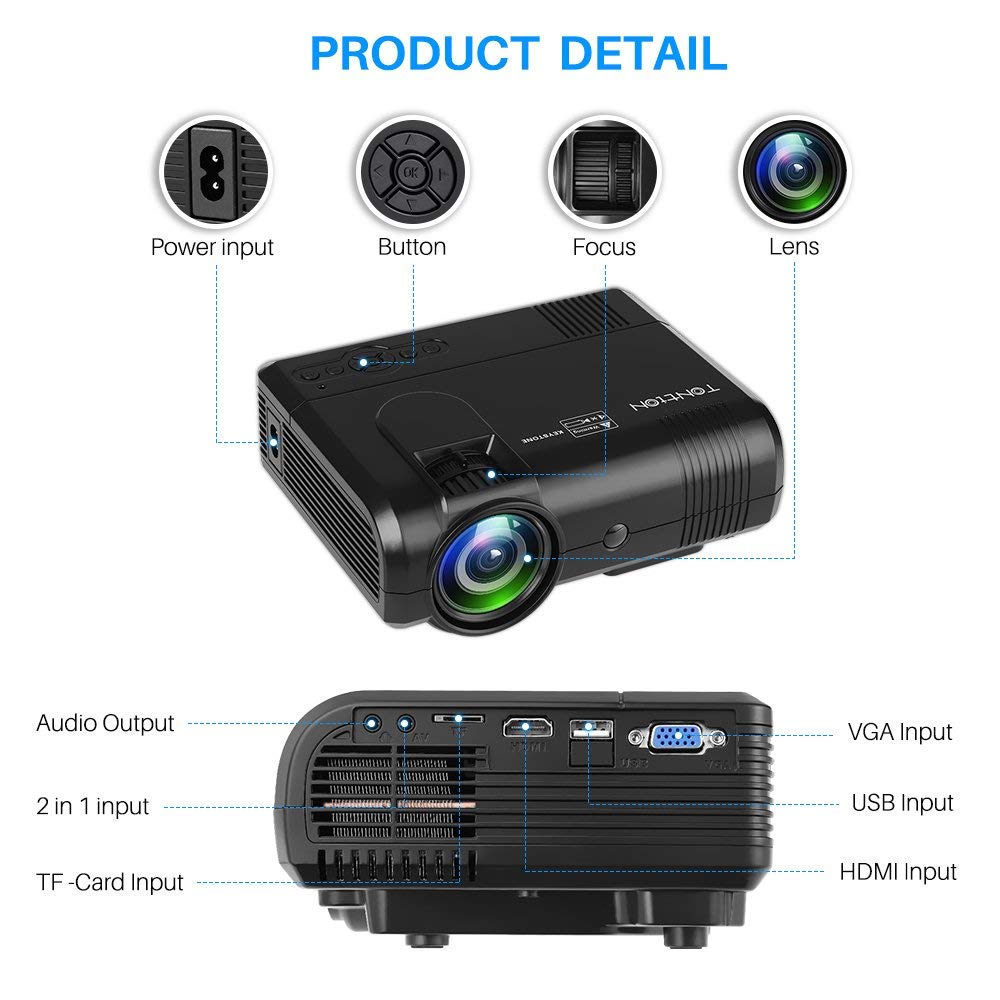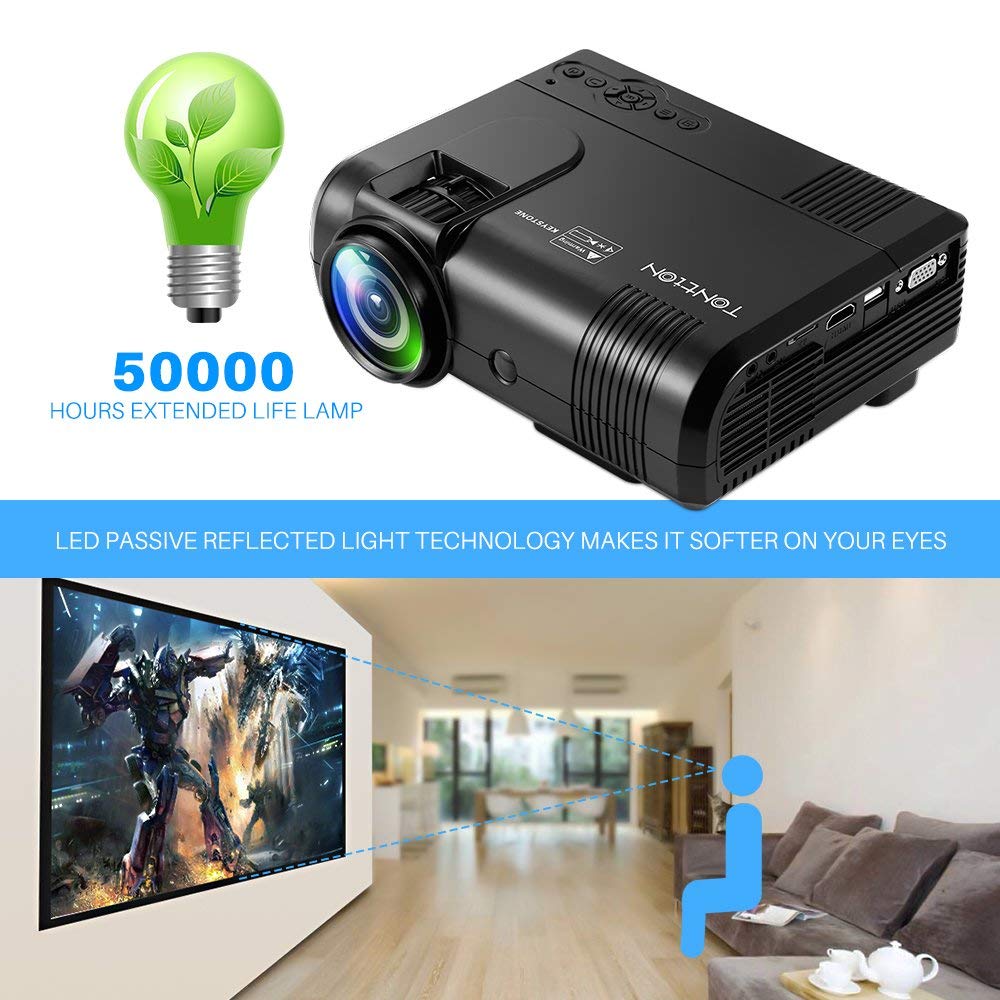 [home]