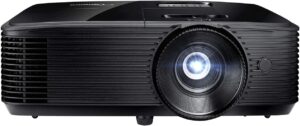 In this Optoma H190x review, you will learn about its key features, performance, pros and cons. Well, according to various reviews, it is good for the moderate lighting conditions so if the light is on in your room, you will still watch on this projector. Well, it is good for lights-on viewing because it has brightness of 3900 lumens. Apart from good brightness, it has a long lamp life of up to 15,000 hours.
720P HD Projector
Well, I admit that 720P resolution is less seeing today's requirements because people like to buy at least 1080P projector or more than 1080P projectors such as 4K. However, this 720P projector is a well-made unit that delivers good performance as it has 1080P support. Which means, it takes 1080p input and gives 720p output. More importantly, it has a great color gamut of Rec. 709 so users are able to enjoy vivid color based content. According to Optoma H190x review, it is good for cinematic color experience. >>> View on Amazon <<<
Key Features & Specs
Product name
Optoma H190X
Resolution
720P native, 1080P Supported
Contrast ratio
30,000:1
Color
HDTV color quality with REC.709
Screen size
up to 300-inch screen, perfect for large-screen gaming
Brightness
3900 lumens
Throw distance
120-inch image from 13.6 feet distance
Lamp life
Up to 15,000 hours
Installation ease
1.1x zoom & +/- 40° vertical keystone correction
Connectivity
HDMI v1.4a, VGA, Composite, Audio-in, USB-A (5V / 1.0 amp), Audio-out, RS232
Built-in 10W Speaker and 15,000 Hours Lamp Life
The Optoma projector comes with a powerful lamp that can last for more than ten years as it has 15,000 hours of lamp life. Therefore, if you operate this projector 4 hours daily, it will last for more than 10 years.
Apart from the longer bulb lifespan, this projector has integrated sound. It features 10W speaker that deliver pleasing sound. However, according to some users, the internal speaker is not enough, you may need to attach an external speaker if you need a loud audio.
HDMI & VGA, USB, Audio In/Out Connection Options
As per the Optoma H190X review, this unit has all types of connection ports to support most of the devices. Therefore, with the robust connection ports, you will be able to attach your preferred devices such as Blu-ray players, laptops, ChromeCast, Amazon Fire Stick, Roku, personal computers, TVs and other entertainment devices.
All the above mentioned connections work very well according to many reviews so you will not face a problem related to the connectivity. >>> View on Amazon <<<
Pros
Very clear picture
Good brightness
Overall quality is better than expected as per many users.
No lag
It works well with PS5, cable box and Firestick.
Very easy to setup
It delivers good performance in even low-light rooms.
Optoma is a famous brand name for high quality projectors.
Cons
The remote coverage range could be longer.
You need an external sound system for the better audio.
The pros and cons look good to me. The Optoma H190X has many pros like clear picture, good brightness, good overall quality, no lag, compatibility with various devices and good performance even in a low-light rooms.
3D Content Support
The Optoma projector is a 3D compatible projector therefore it can show 3D pictures from varieties of devices. It can take 3D content from devices like 3D Blu-ray players, the newest gaming machines, 3D broadcasting devices and many others.
Well, users can expect good refresh rate at the time of viewing the 3D content. According to the product description, the Optoma projector has 120Hz fast refresh rate for the smooth picture production.
Please know that a 3D glass is not included. Therefore, you need to purchase a compatible 3D glass separately. This projector supports 3D DLP Link glasses so please buy one externally to enjoy the 3D content.
Projection Size and Distance
This unit gives you a ratio of picture size and distance that may not be very good for some people. Well, users are able to enjoy a large 120-inch screen from 14 feet distance. I assume that 14 projection distance is longer so it may not be very good for a small room but it is good for a large room or a hall. I see, people tend to buy a short-throw projector but sadly it is not a short throw projector. You can say it a long-throw projector as well.
Watch Bright, Color-rich Images Anywhere
According to the Optoma H190X review, users are able to enjoy rich-color pictures in good brightness as it has huge 3900 lumens brightness. Therefore, you can leave the light on and enjoy your favorite content on a large projector screen to have a cinematic experience. Well, such projectors are perfect for both indoor and outdoor entertainment. It may be the best projector for the backyard movie nights as well.
FAQs – Optoma H190X Review
Which 3D capability does this projector support, active or passive?
It has an active 3D capability as it is based on DLP link technology.
Can I connect devices via Bluetooth?
No, you will not be able to use the Bluetooth function as this projector does not have a Bluetooth option.
Does this projector support tripod mounting?
No, Optoma H190x does not have a tripod mounting option but it has a universal mounting option.
Can this unit read image files such as png, jpg, jpeg etc.?
No, H190X model does not have a media player so it cannot read an image file.
The frequently asked questions have been answered above. From the list of FAQs, I can see that this projector does not have a Bluetooth capability and image reading capability. Users are recommended to read the complete list of FAQs to get answers on some of the questions that you may want to ask. In case, your questions are not answered here, please contact the projector manufacturer for more details. The contact information, you can easily get from the Optoma website or Amazon.com as well.
Conclusion – Optoma H190X Review
On short and according to the Optoma H190X review, it looks like a high-quality projector. However, it does not have too many functionalities that are found in the latest projectors. According to the review, it lacks wireless functions. And, it is only a 720P projector, however, it supports 1080P device input as well. >>> View on Amazon <<<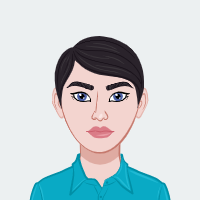 Nikita is a product reviewer who specializes in electronic products. She is an active member of several online forums and is always up-to-date on the latest products and research. Her reviews are detailed and honest, and her recommendations are always spot-on. If you're looking for a new electronic product, Nikita is the person to ask!