According to my research, the HOPFROG 1080P projector is one of the cheapest projectors on the market. The low price projector offers average display quality to its viewer. Therefore, this portable projector is very good for those who are looking to buy a budget projector.
When it comes to connectivity options, it has many hardware interfaces like HDMI, VGA, USB and AV ports. To control this projector, you can use the provided remote controller. After successful connection with your preferred device, you can easily operate it using the provided remote control.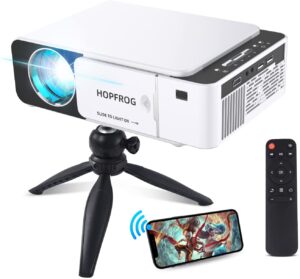 HOPFROG Portable Projector Comes with Screen Mirroring Capabilities
For screen mirroring, you can use the built-in screen mirroring feature. You can easily connect this projection device to your preferred devices using the wireless or wired connection and start mirroring your phone content. As soon as the mirroring connection is established, you will be able to watch TV shows, movies, play games and many others.
1080P High Definition Home Theater
The portable video projector has various multimedia functions. One of them is YouTube to watch videos, listen to music, news, sports events and countless others. It comes with the WiFi function to connect a wide range of devices wirelessly. After successful Wi-Fi connection, you have unlimited options to watch your favorite content on the internet.
From the HOPFROG projector manufacturer, it is suggested to use this 1080P projector in a shady atmosphere to receive A1 watching experience.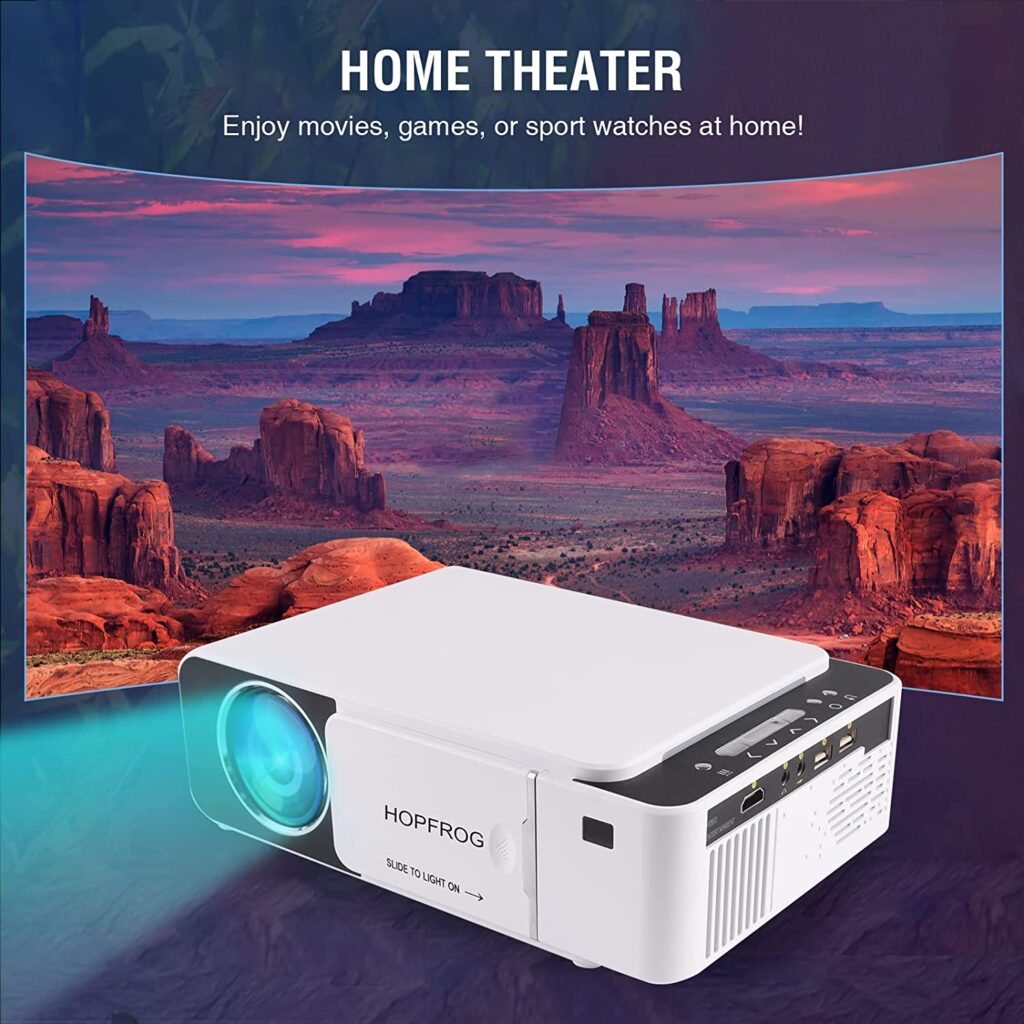 HOPFROG Outdoor Projector Works with Numerous Devices
At the beginning, I mentioned that this projector comes with too many hardware interfaces for the ease of connection with your preferred devices. This 1080P home theater works with all those devices that have interfaces such as HDMI, AV, VGA and USB. Of course, you can connect the devices wirelessly also as it is a great WiFi projector. As a result, you will be able to connect with laptops, PCs, TV boxes, phones, tablets, cameras, USB flash drives, iPads, various Android devices and Windows devices, Apple devices and may be other equipment with specified ports.
User Friendly Projector Shape and Size
Well, lens is an important part of a video projector. Therefore, the manufacturer has given much importance to design the projector that protects the lens as well as the users. The lens is placed at an appropriate place so that the dust and other similar substances will not touch it. Moreover, users are able to slide the cover left and right to control the projector switch. To increase the life of the projector and to improve the heat dissipation, the HD projector has a roomy vent design.
HOPFROG HD Projector Comes with a Versatile Tripod
The product description says "Boy One And Get Two", it means the projector comes with a versatile tripod. You know that a tripod is a required item for a projector. It provides great installation flexibilities. The included tripod is adjustable at 280° angle. Therefore, you will be able to turn the projector at your desired angle with the help of this flexible tripod. Moreover, you have the option to use the tripod as a camera stand to take selfies and to click pictures of anything you want.
You can buy this HopFrog mini projector confidently because this projector comes at a satisfaction service guarantee. Therefore, you do not have any risk. In case, if you faced any problems related to operations and quality, a friendly technical support team is available to help you out.
Now is the time to enjoy cinematic experience with the help of this HOPFROG HD projector. The home theater has an integrated YouTube player that can be connected via WiFi. Therefore, you do not have to watch movies and other favorite content on a small screen of your mobile phone as the mobile phone content can be mirrored to watch on a projector screen.
HopFrog Projector's Highlights
Built-in YouTube App
New UI interface design
Wireless connection support
User friendly design
Built-in HiFi speakers – stereo speakers for impressive audio – multi-functional audio, video player
Zoom function – adjust the image between 75% to 100%
200 inches large size
Numerous connection interfaces such as HDMI, VGA, USB, AV and 3.5mm headphone
Included components such as tripod mount, AV cable, remote control, power adapter and user manual
Projector screen included
1080P resolution – works with full HD images
The prime highlights of the HopFrog HD projector are listed above. You can see it comes with a built-in YouTube app, has the latest UI interface design including wireless capability. The projector has user-friendly design and a good look. It has built-in Hi-Fi speakers for the greatest level of audio experience.
You can use the zoom function to adjust the images from 75% to 100%. This projector gives you a large 200 inches viewing area to enjoy your multimedia content. It supports a wide range of connectivity options such as HDMI, VGA, USB, AV and 3.5mm headphone jack. The 1080P video projector delivers stunning images (full HD images), a projector stand is also included with the purchase so you don't have to buy it separately.
Pros – Full HD Home Theater with Tripod
Very large viewing area
Users liked the design of this projector.
Sliding cover for the lens protection
Low price
Users appreciate its quality and price.
It is easy to setup and disassemble.
The key pros are mentioned above. As per the list of pros, the HOPFROG projector is easy to setup and disassemble. The quality and price are appropriate. It comes with sliding cover to protect the projector lens.
Cons – HOPFROG projector
Some users have difficulties with the VGA port.
It comes from a new brand.
The fan is very loud as mentioned by many users on Amazon.
The projector sound is low, user need to use a speaker for loud sound.
I scanned various reviews on Amazon and other websites and found some cons. These cons are related to the VGA port, fan noise and projector sound. Please note that this projector comes from a new brand so people do not trust it.
Conclusion – 1080P HD Projector by HOPFRG
In short, the HOPFROG HD projector looks like an average quality projector. I will say again that the price is very good and you get the performance according to the price you pay. Well, HOPFROG is not very popular so it may be a negative thing about this projector but overall it is a good projector to deliver average performance. In case, HOPFROG projector review written here does not answer your question, please read on Amazon where you will be able to find countless reviews and rating.
More Images of HOPFROG Home Theater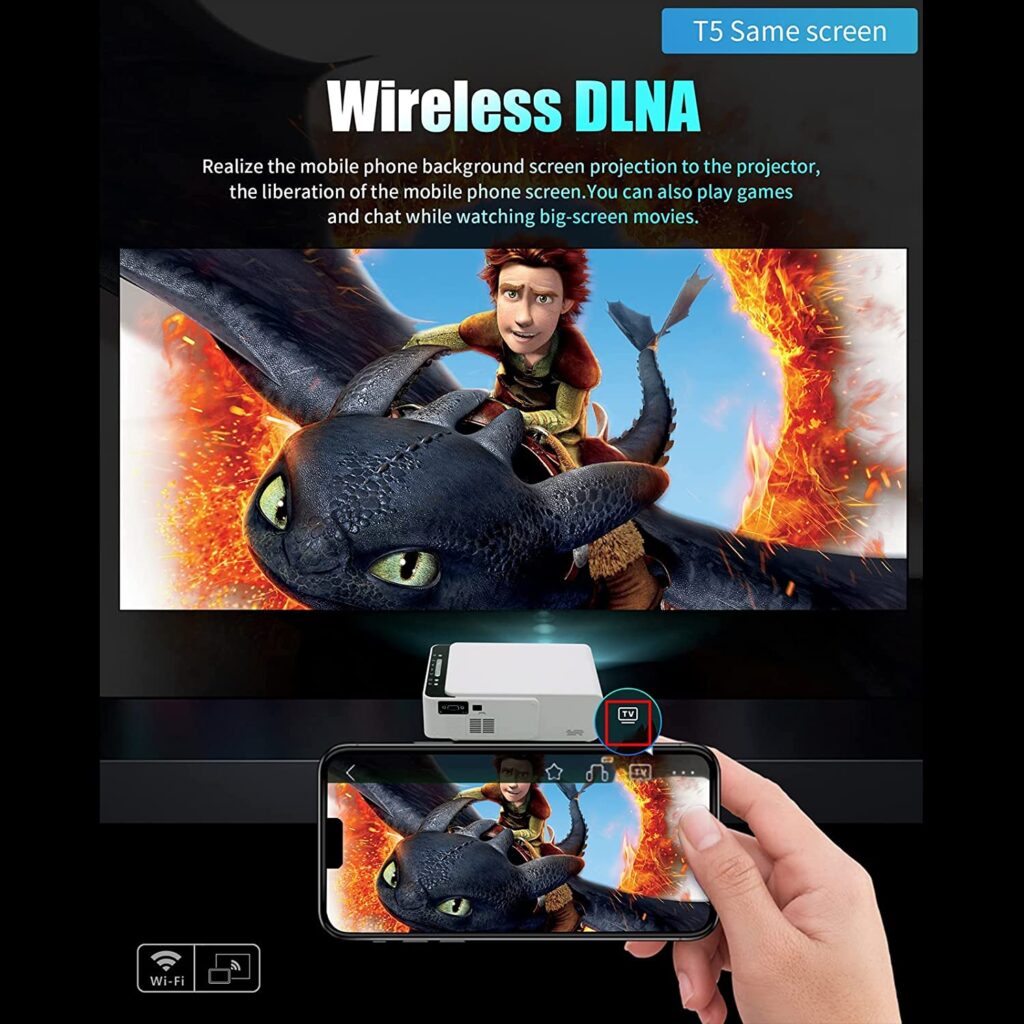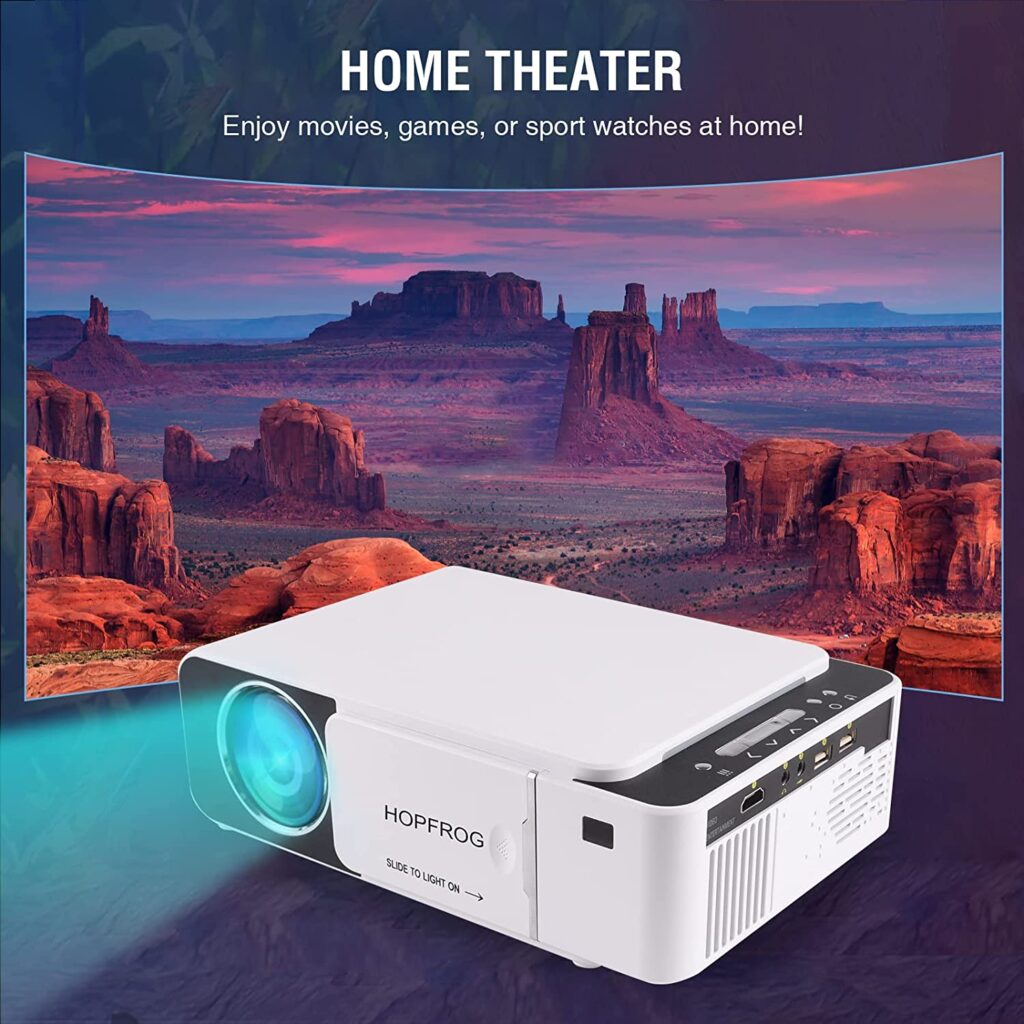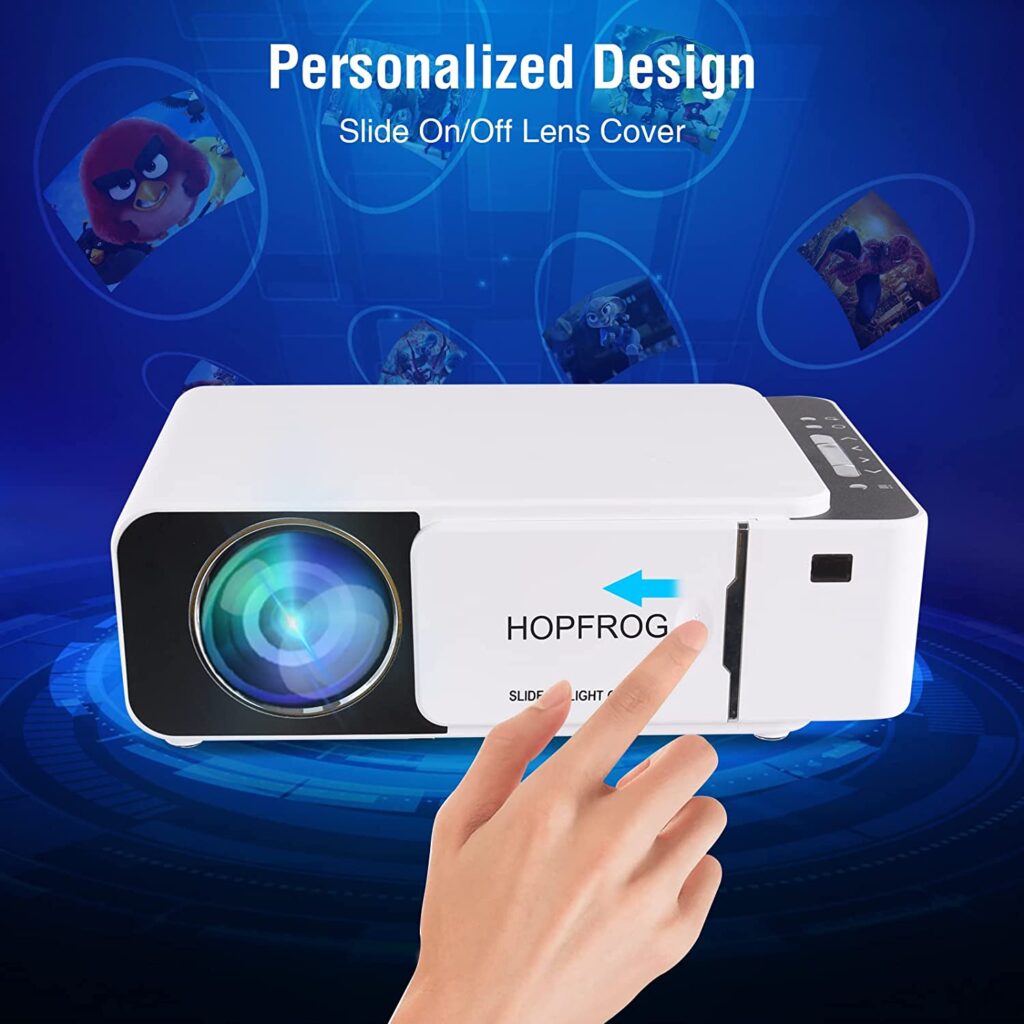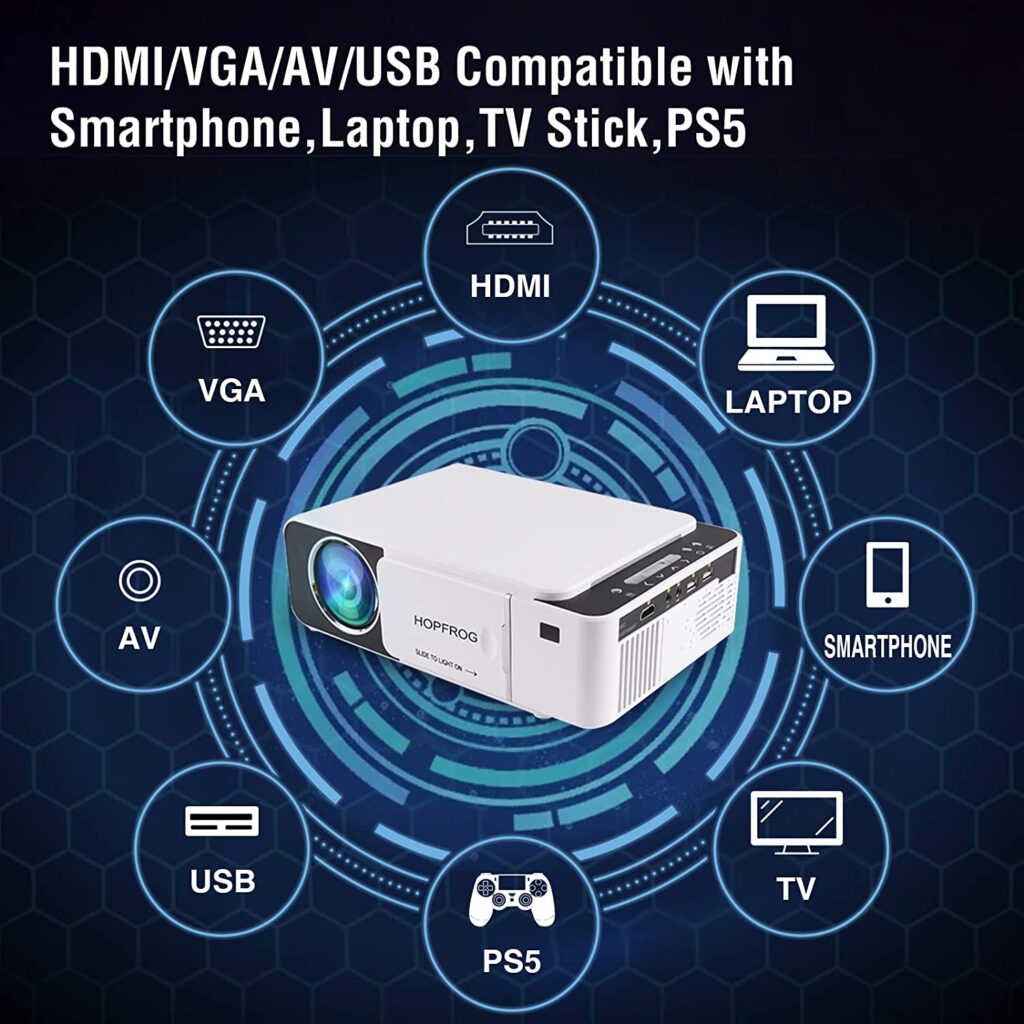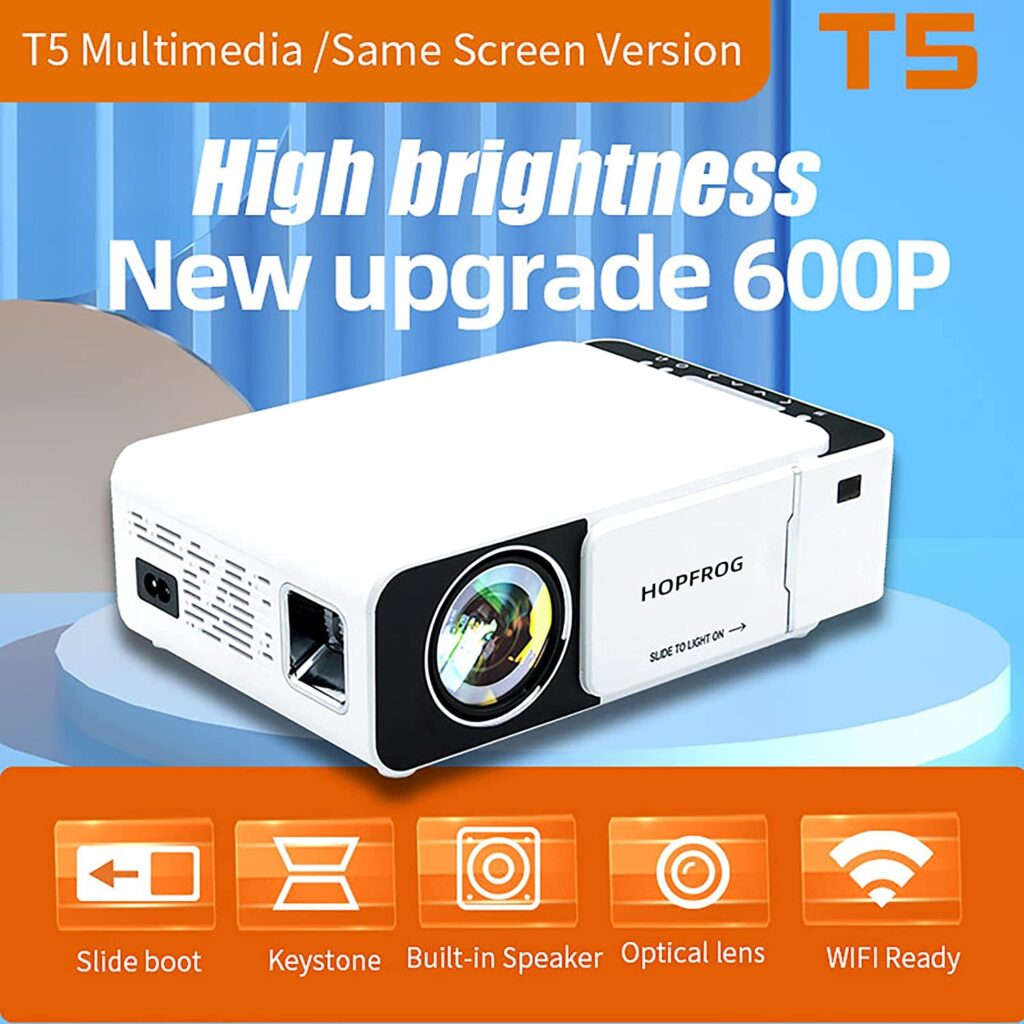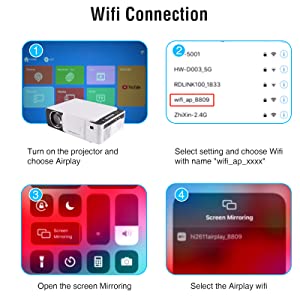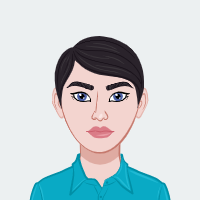 Nikita is a product reviewer who specializes in electronic products. She is an active member of several online forums and is always up-to-date on the latest products and research. Her reviews are detailed and honest, and her recommendations are always spot-on. If you're looking for a new electronic product, Nikita is the person to ask!