You can see a wide range of projectors available on the market. In case, you want to buy a full feature video projector, going with Bigasuo HD projector can be the best choice because it is affordable and a feature-rich video projector.
The main features such as built-in DVD player, 1080P support and a wide array of connections ports will surely deliver the ease of use. That's said, you can easily connect this projector with your preferred devices because it comes with connection ports such as HDMI, VGA, USB, TF, SD card and many others.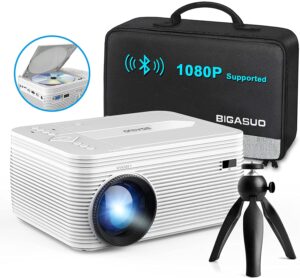 Two-In-One DVD Projector
This projector has a built-in DVD player so it is not only just a projector, but also a DVD player. Therefore, you will not have to buy a separate DVD player because it is both a DVD player and a projector. Of course, you are going to save money on the purchase of your additional DVD player. The projector is designed very well to include the DVD player and at the same time, it is a small size projector. Of course, you would be playing movies and other content from your preferred discs directly on a large screen.
Brightness and Color Details
Bigasuo 2021 upgraded projector comes with 6000:1 contrast ratio and 720P native resolution so you can expect good color and image performance. Additionally, the projector lens is a premium quality lens. From this projector lens, you will experience good picture quality with rich color. Most importantly, the Bigasuo projector gives you the decoding ability so you will be able to enjoy good quality picture without any doubts.
A Wide Range of Device Support
Since BIGASUO Pro302 comes with too many connection ports so you will not face any issues for the device connections. It has input connections such as HDMI, AV, VGA, Micro SD so you can easily connect devices such as laptops, computers, USB drives, gaming consoles. Additionally, the built-in DVD function is perfect for playing CD, DVD, CD-R/RW and other similar devices. Please note that the projector does not support Blu-ray discs.
HI-FI Sound
The Bigasuo video projector has two integrated speakers. From these speakers you can hear HIFI quality sound. So, you will be able to pass your good moments with good quality videos and pleasant sound on a 200-inch screen.  Please note that the mini video projector has Bluetooth function so you can easily connect wireless speakers using its Bluetooth capability. Therefore, now is the time to enjoy at the fullest with this Bigasuo Bluetooth projector that comes at an affordable price.
Carry Bag and Tripod are Included
To reduce a little expenses, the Bigasio HD projector comes included with a carry bag and a tripod so you do not have to buy them separately. Since it is a tripod mountable projector so you can use the included tripod for the effortless projection anytime and anywhere. And, you can use the free carry case to store the projector when it is not in use and carry it anywhere you want to travel. Most importantly, BIGASUO is always at your service. In case, you detect any problems in this mini projector, please do not hesitate to contact Bigasuo customer service team.
The Complete Package Contains
DVD player
Carry bag and tripod
Remote control
HDMI cable
AV cable
VGA cable
AC adaptor
User manual
You can see all the accessories are included so you would not find any difficulties to operate this projector. Also, you do not have to buy the accessories separately.
Important Details
Two-In-One DVD projector
Improved cooling system – low fan noise
LCD display technology
Bluetooth 5.0
720P native resolution
6000:1 contrast ratio
200 ANSI brightness
65000 hours lamp life
Recommended view size from 35-inch to 100-inch
Recommended projection distance from 3 feet to 9 feet
±15° keystone correction
You can check the above mentioned features. With these features, you will be able to operate the projector flexibly and enjoy the great entertainment at home our outside the home. The projector delivers best performance on screen size ranges from 35-inch to 100-inch from 3 feet to 9 feet distance.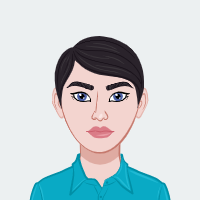 Nikita is a product reviewer who specializes in electronic products. She is an active member of several online forums and is always up-to-date on the latest products and research. Her reviews are detailed and honest, and her recommendations are always spot-on. If you're looking for a new electronic product, Nikita is the person to ask!