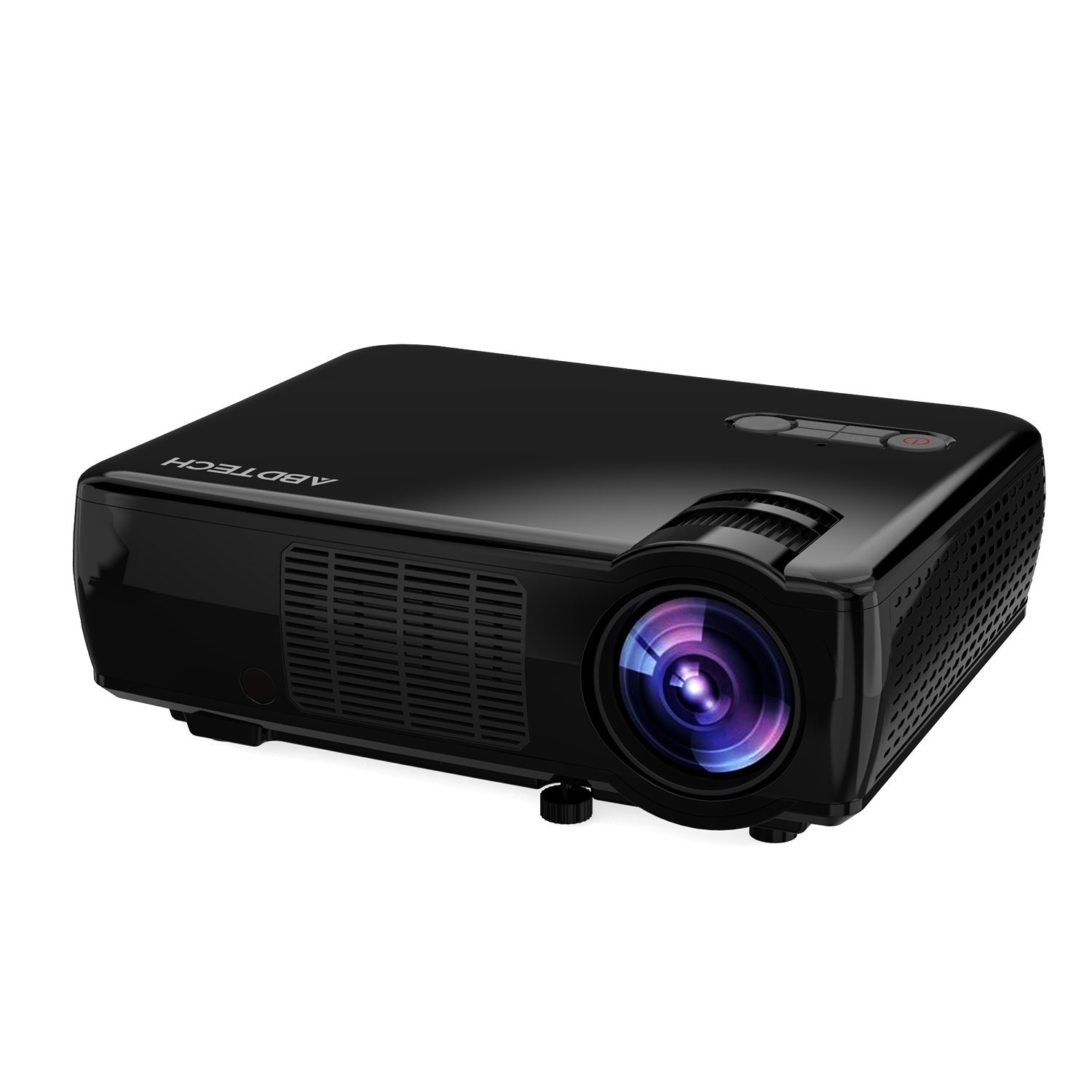 Abdtech LCD Portable Projector Home Theater is updated in 2017 with great features. Using its enhanced image focusing function, you can easily adjust the lens to focus for a clearer picture and text.
It features 2600 lumens LED Luminous efficiency (300 ASIN) LED light source, 854 x 540 high definition, 1000:1 contrast that deliver great picture from 1.2 – 3 meters away. With these amazing features, you will enjoy a home cinema with clear images.
The projection screen size 32 to 200 inches from 1.2 to 6 meters projection distance. For the best project screen size, please use 32 to 120 inches projection size.
Pros
Easy to set up
Exceeds expectations in quality and price
Portable
Higher lumen output than older model
Can project from shorter distances
Inexpensive
Can be hung from a shelf
Cons
The sound is terrible and echos if you try to use external speakers
Difficult to use in well-lit rooms
Unclear text
Difficult to adjust angles and focus
Picture is blurry
Keystone correction results in blurry bottom half of image
Limited keystone
Built-in speaker is not great
Abdtech LCD Portable Projector Home Theater supports multi-function input such as integrated speakers, AV/VGA/USB/HDMI interface and you will be able to connect the projector with your PC, laptop, DVD, U-disk, iPhone, Android phone and many other devices.
It also has two USB ports and two HDMI ports that make more connection. You can say that Abdtech LCD Portable Projector Home Theater is a new generation projector that comes with great cooling system with heat dispersion and the fan sound cut in half with noise suppression.
Abdtech LCD Portable Projector lets you enjoy one year warranty on limited parts and labor and 90 days on lamp and free first year exchange.
This 2600 Lumens LED projector is not good for PPT or business presentations but it is perfect for home theater movies and video games etc.
---