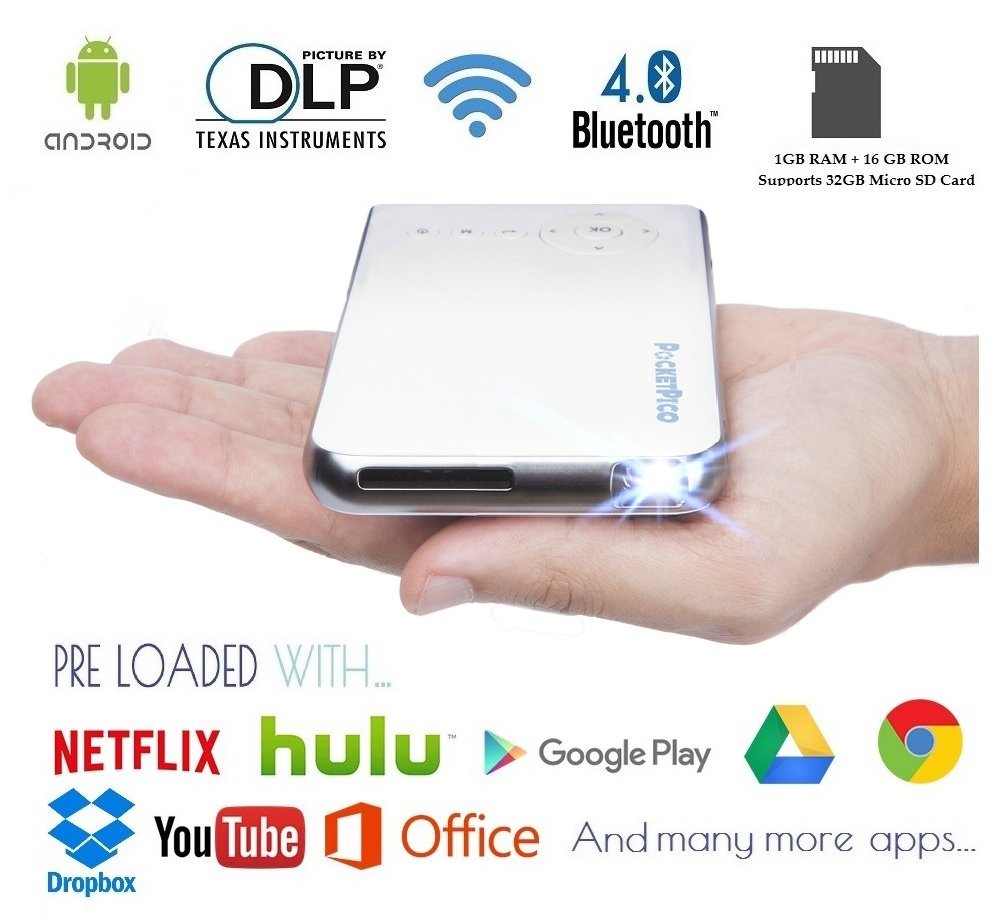 PocketPico Mobile Projector is based on Android system, this is a DLP projector that is compatible with iPhone and Android devices.
This PocketPico mobile projector delivers the best multimedia experience with the help of rich features such as 5G Wi-Fi, vertical keystone correction, HDMI, Bluetooth and 16GB of inbuilt storage.
This PocketPico projector comes with too many apps such as Netflix, Hulu, HBO, YouTube, Polaris Office and Google drive. PocketPico projector lets you enjoy fast speed multimedia content.
The mobile projector comes with 16GB if input storage to enjoy uninterrupted streaming and it can be enough space for all your videos, games and multi-media files.
In case if you want to install an app, you can easily download it from Google Play Store directly from the device.
This mobile projector from PocketPico brand comes with fast start capability, just need to power your projector, select your preferred application and enjoy fast projection.
It features 500 lumens brightness, 2000:1 contrast ratio, 854 x 480 pixels native resolution and 120 inches of projection size, with all these advanced projection features, you can sit in a room and watch latest content from Netflix, YouTube very easily.
Further, it comes with HDMI connection to connect with HDMI supported devices such as desktop/laptop, Xbox One, Playstation for high speed content processing.
This mobile projector also features keystone correction to make adjustment to viewing angles for symmetric display up to ± 45°. With the purchase of Pocket Pico Android OS Mobile Projector, you also get some projector accessories like wireless mouse, soft carry case, HDMI cable, charger cable (USB/DC), expandable pivot tripod, and a rechargeable battery (two hours of backup).
This is a perfect mobile projector for travelers as it is a lightweight projector weighing just 230 grams, you can easily put in your travel bag, laptop bag or suitcase.
---