Mdbebbron 120 inch Projection Screen is a 16:9 HD foldable home theater screen. It is perfect for outdoor and indoor projection that supports double sided projection.
The foldable projector screen is very easy to store because it is compact, lightweight and foldable. When the screen is folded it becomes very small so that it can be put in your carry bag or suitcase very easily.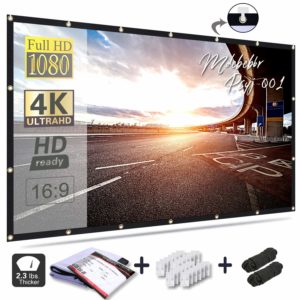 This Mdbebbron projector screen has many uses because it is perfect for home theater movies, educational projection, business presentation, outdoor movie and public presentation as well.
The projector screen has 16:9 screen format, diagonal 120 inches size gives you 104 inches X 58 inches viewing area.
Most importantly, the Mdbebbron projector screen is very easy to set up because it can easily be joined with the help of hooks, brackets, ropes and nails. You can also use double side tape on the wall as well.
Black Border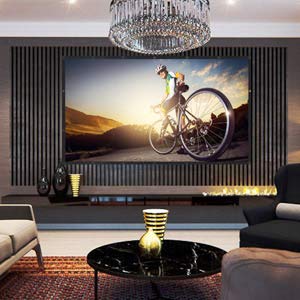 The projector screen by MDbebbron has a surrounding black-side tension structure so that the surface of the screen will be more flat. On the other hand, the black side is straight (no sagging). The rectangular effect is perfect with crease-free fabric.
Foldable Projector Screen by MDbebbron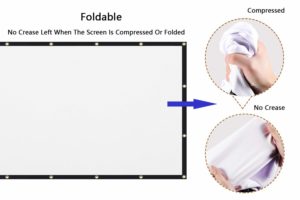 At the time of folding there will not be any crease and don't worry of the wrinkles. You just need to fold it for the portable use or outdoor use. Now you will be able to save your time as you will be able to leave the screen hung for many days as per your preference. Just hand the screen and start your home theater.
Please note that there are some wrinkles due to the folding screen shipping. Please put something heavy on it or you can also use iron but it shouldn't be too hot.
Removing Stains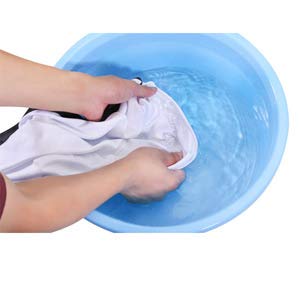 The Mdbebbron 120 inch projector screen requires both hand and machine wash. Or you may directly clean the dirty parts of the screen and dry it. After that you will be able use it again. It is really very easy to clean without any doubts. Now say goodbye to stains and related stuffs.
Portable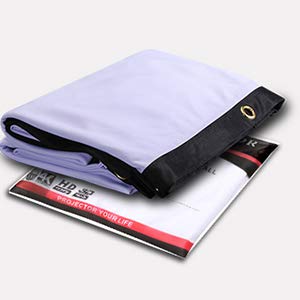 There will not be any crease when the projector screen is folded because it is made of high grade polyester material. It can surely withstand wrinkles.
Say Goodbye to Crease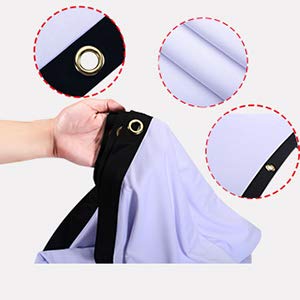 Since it is made of high quality polyester material so it greatly prevents wrinkles, no crease left when the projector screen is compressed.
Easy Setup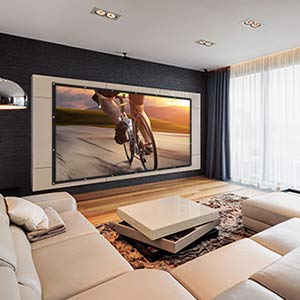 Sinche the Mdbebbron screen can easily be fastened with the help of hooks, nails, bracket or ropes so it is really very easy to set up.
Installation Notes
The Mdbebbron 120 inch projector screen comes with hooks and seamless double-sided adhesive. Firstly, you need to cut the seamless double sided adhesive with scissors then stick it with the hook. Select the appropriate position of the wall then press the hook on the wall for approx. 10 seconds then hand the metal hole on the hook. Please note that the installation sequence is from right to left and from top to bottom.
Specifications:
120 inches size
104 inches by 58 inches viewing area
Support 160 viewing angle
1080p full HD
Front projector
Rear projector
16:9 HD format
MDbebbron Projector Screen is well suitable for:
Business meetings
Home theater
Propose marriage
Conventions
Exhibitions
Education
Presentations
The package contains:
20 seamless hooks
24 seamless double-sided adhesive
Packaging bag
2 packs or ropes
[home]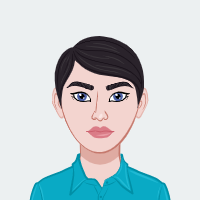 Nikita is a product reviewer who specializes in electronic products. She is an active member of several online forums and is always up-to-date on the latest products and research. Her reviews are detailed and honest, and her recommendations are always spot-on. If you're looking for a new electronic product, Nikita is the person to ask!