First of all, let me tell you something about the brand name. Asnish seems like a new projector brand. I am not sure of the origin of this product but product or name like this are mostly from China.
Well, why would anyone buy the Asnish movie projector? Let me answer your question. There are many reasons such as affordability, giving a chance to new manufacturer to prove its product's performance and quality and may be some other reasons as well.
Now please let me describe main features and capabilities of the Asnish HD outdoor projector.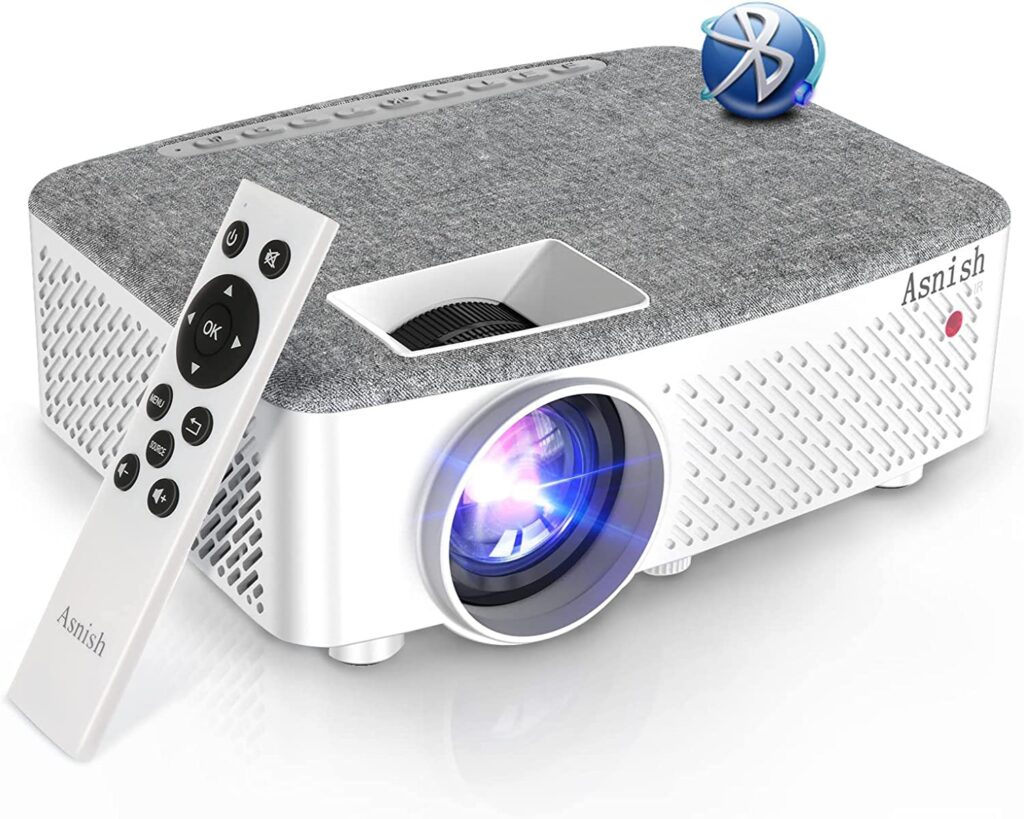 Home Theater like Viewing Experience
According to the product description, users of the Asnish projector is able to enjoy home theater experience because this projector is based on the latest 2022 technology. As a result, the viewer get high color contrast in the picture. This projector is a 720P projector to deliver sharp and bright images.
200-inch Display Size – viewers will be able to enjoy their multimedia content on a large 200-inch screen. For the great visual and audio experience, the Asnish video projector comes with 10W speakers with unique fidelity stereo. Therefore, the HD 720P projector is capable to offer a perfect movie night and great cinematic viewing experience.
Good Visual Performance – LED Light Source, LCD Display
NextGen LED Bulbs – the HD projector uses the latest LED blubs that are capable to throw impressive light. The high-class projector bulbs not only delivers impressive light, but also balance the brightness and contrast very well.
Display Characteristics – the Asnish HD projector has 200 ANSI brightness that equals to 7500 Lux brightness. The projector is based on the state-of-the-art LED light source and 4.0 LCD display. Therefore, the visual performance is very good. You can play video games, watch favorite movies, TV shows with rich-color and impressive contrast and brightness.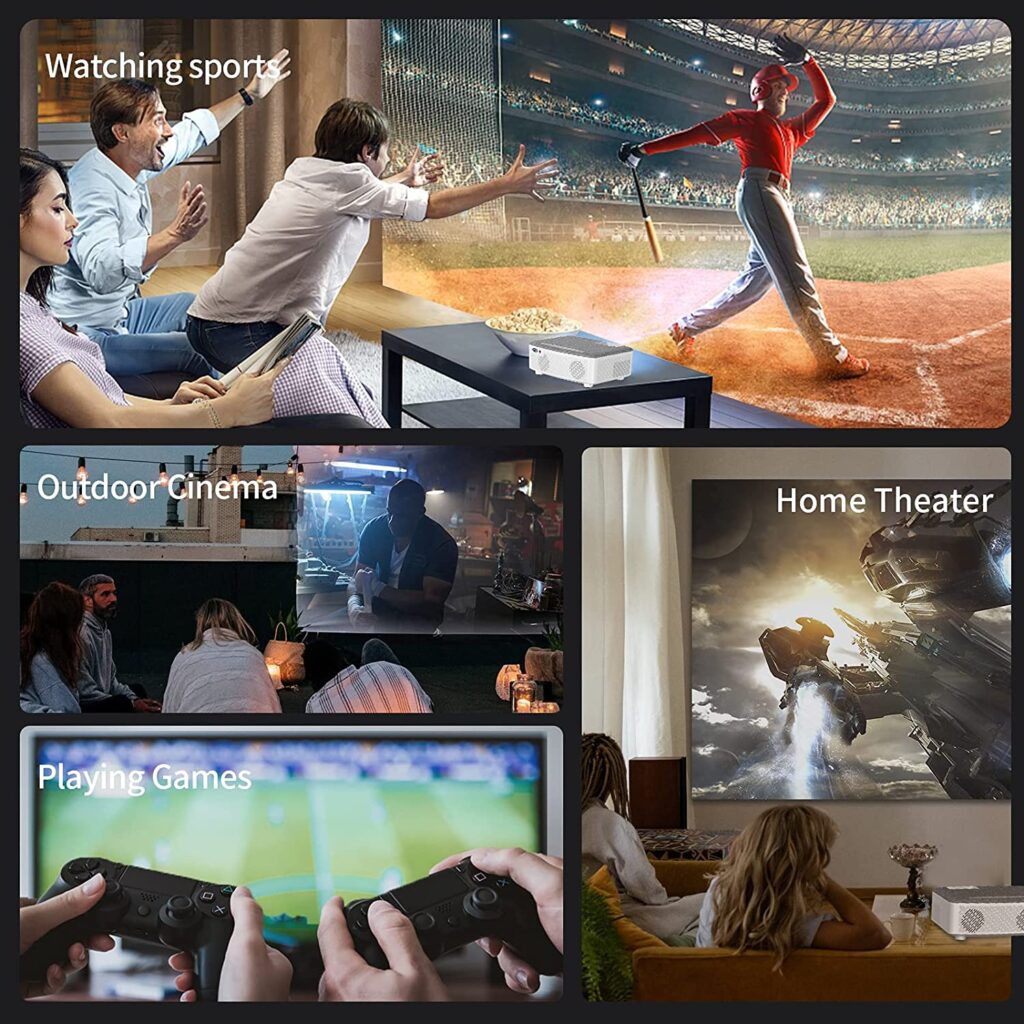 Highly Safe for the Unlimited Entertainment
Dust-proof – the HD projector is designed very well to eliminate dusts, dirt, muds and other pollutes. To keep it apart from dusts, the projector has enclosed display design.
Diffuse Reflection Technology – Asnish projector has LCD diffuse reflection technology to produce lenient images. Therefore, the images coming from this projector will not harm your eyes; they are eye pleasant. These images are healthier than traditional TV images.
Bluetooth Function – users of this projector can use the Bluetooth connection option for the wireless headphone connection. So, users have extended connection flexibility. They will be able to enjoy the pleasing audio privately, anytime and anywhere.
The Latest Multimedia Projector with Many Connection Ports
A wide varieties of connections are available in this projector. It features popular multimedia ports such as HDMI, USB, VGA, TF Card. Therefore, Asnish HD 720P projector is compatible with most of the devices. Users will be able to connect their favorite devices such as TV Stick, XBOX, USB Flash Drive, Laptops, Computers, Phones, and Cameras etc.
Warranty – the Asnish projector is protected with 3 years technical support and 3-month return guarantee. Therefore, you do not have to worry if anything went wrong. You can get the benefit for return warranty and technical support.
Ideal Gift – such projection device can be the best Christmas gift, holiday gift because it has an impressive outside design. The overall visual and audio performance are good. This will surely deliver a home theater experience when you watch with your family and friends.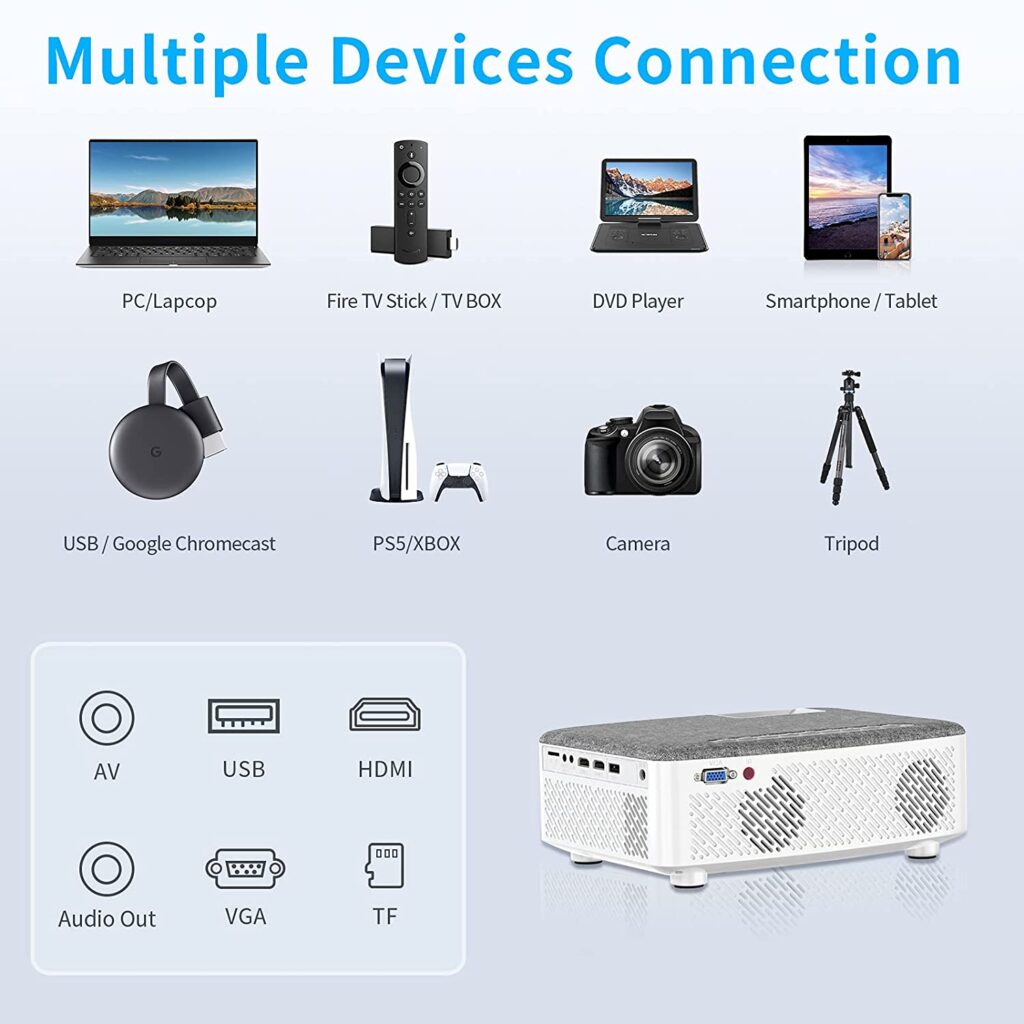 Prime Specifications and Features
Native 720P Resolution
Bluetooth Connection
7500 Lumens Brightness
50,000 Hours Lamp Life
5000:1 Contrast Ratio
10W HiFi Speakers
Asnish brand
Seamless connection with gaming machines, laptops, DVD players, flash drive, TF card, sound bar
Perfect for video games, business, outdoor and home theater
The important features of the Asnish HD projector have been mentioned above. The low-price projector has 7500 lumens brightness, 50,000 hours lamp life, 5000:1 contrast ratio, 10W HiFi speaker and Bluetooth connection. It comes with many multimedia port for the seamless device connection.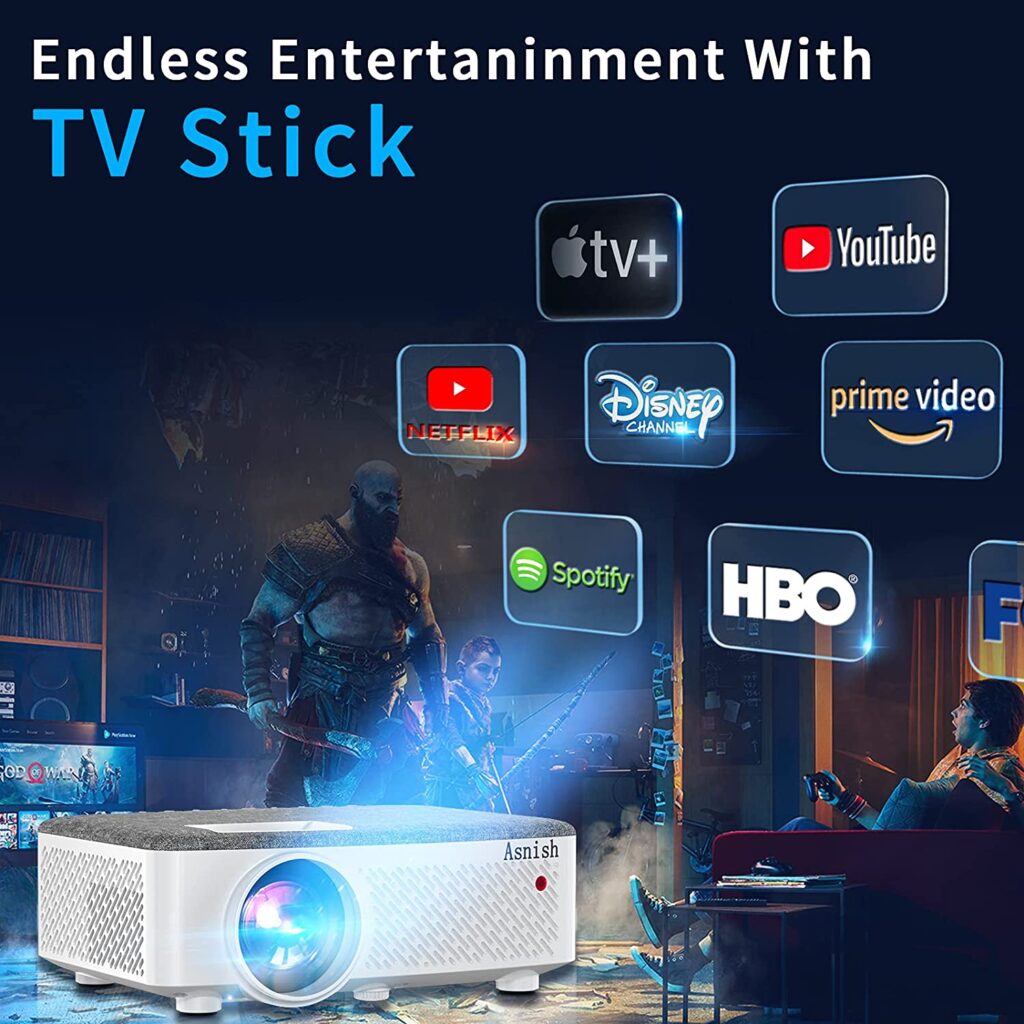 Pros
Good audio performance from the built-in speaker
Excellent customer service
Clean and crisp picture!
A great replacement of traditional TV
Good color performance
The audio can be adjusted as per your preference.
Focus knob for more picture clarity
Dual-HDMI connection
According to many users, the Asnish wireless projector is good, clear, blur-free and easy to adjust.
It features various input and output connection ports for the easy device connection.
Cons
If you place the projector close to your wall, the picture frame gets smaller but it is OK with many users.
Well, the pros and cons are before you. Now you can decide if it is worth buying. To me, it seems an excellent HD projector that comes at a low price. The Asnish projector is supported with responsive customer service, 3-month return policy and 5-year technical support. It has a host of multimedia connections and multiple installation methods.
Asnish HD Projector Review – Conclusion
The 720p projector is capable to deliver good performance. It comes with many rich-features that are hard to find in an ordinary projector. Most importantly, it is a low-price projector, which is further supported with great return policy and technical support.
Many users praise its display performance, audio performance, ease of installation and other features. Therefore, it is highly recommended to buy.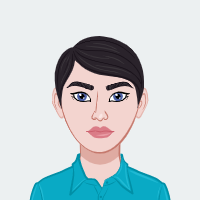 Nikita is a product reviewer who specializes in electronic products. She is an active member of several online forums and is always up-to-date on the latest products and research. Her reviews are detailed and honest, and her recommendations are always spot-on. If you're looking for a new electronic product, Nikita is the person to ask!