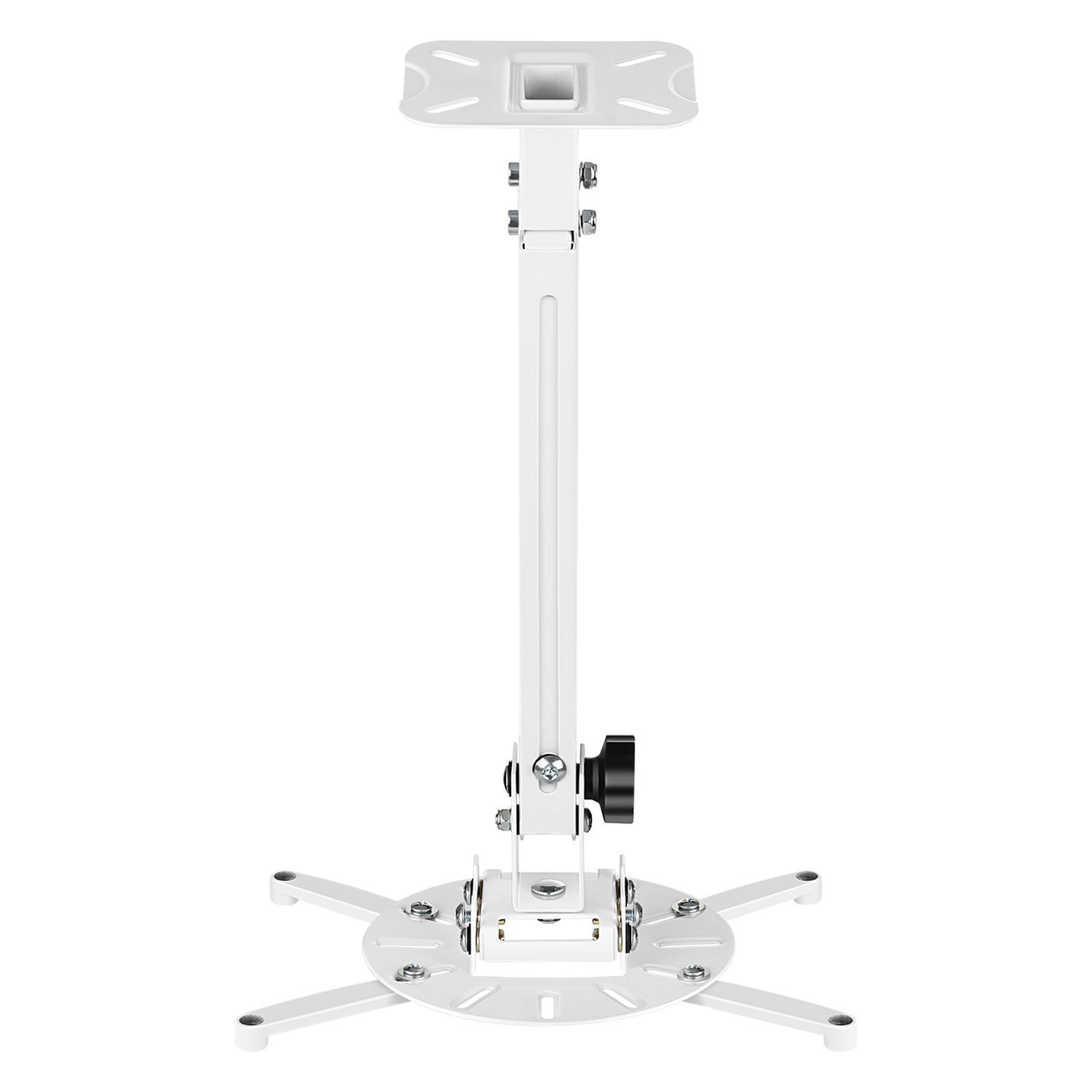 SIMBR Universal Wall or Ceiling Projector Mount is perfect for installing your projector not only on the ceiling but also on the wall. It has 30° tilting, 30° rotating, 360° swiveling and 16.5 inches to 25.2 inches height ensuring easy adjustment to the best visual angle.
It has flexible directional arms that let it work with 3 or 4 hole mount patterns. SIMBR Universal Wall or Ceiling Projector Mount can be collapsed to adjust monitor hole patterns from 6.7 inches to 11.8 inches. It has fast lock and release profile that make the installation very easy. Read more…

SIMBR Universal Projector Ceiling Mount or Height Adjustable Wall LCD/DLP Mount Bracket for Epson, Optoma, BenQ, Viewsonic Projectors, 25" Extension Pole, 33lb Load Capacity



$29.43

@ Amazon.com (Save 13%)
Product Description
【2 in 1 Universal Mounting】Telescoping arm ceiling mount & Wall Mount fit the majority of projectors on the market that have mounting holes diagonally between 6.7''/17.02cm to 12''/30.48cm. And it can be used to mount projectors which come with 3 or 4 holes mount patterns.
【33lb Max Loading Capacity】Heavy gauge steel offers loading capacity up to 15kg/33 lbs. Ensure that your projector is held safely and firmly without rocking and moving.
【Telescoping Height Adjustment】Without extension pole, the height is 6"/15.24cm; With extension pole, height adjust from 17"/43.18cm to 25"/63.5cm.
【Newly Designed】Projector mount can be installed on the wall or the ceiling. Exclusive "No-slip" adjustment system; Lock in any position; Easily release and lock.
【Fully Adjustable】60-degree tilt, 60-degree swivel, and 360-degree rotation hitting all the best viewing angles. NOTE: This projector mount is not compatible for Epson TW series and Acer H9500BD series.
Product Details
| | |
| --- | --- |
| Brand: | SIMBR |
| Model #: | 123456 |
| Size: | 25'' pole |
| Color: | White |
| Dimensions: | 12.8 X 7.09 X 3.23 Inches (Length X Width X Height) |
| Price: | $29.43 (Save 13%) |
SIMBR Universal Projector Ceiling Mount or Height Adjustable Wall LCD/DLP Mount Bracket for Epson, Optoma, BenQ, Viewsonic Projectors, 25" Extension Pole, 33lb Load Capacity
---
---
Images of SIMBR Universal Wall or Ceiling Projector Mount