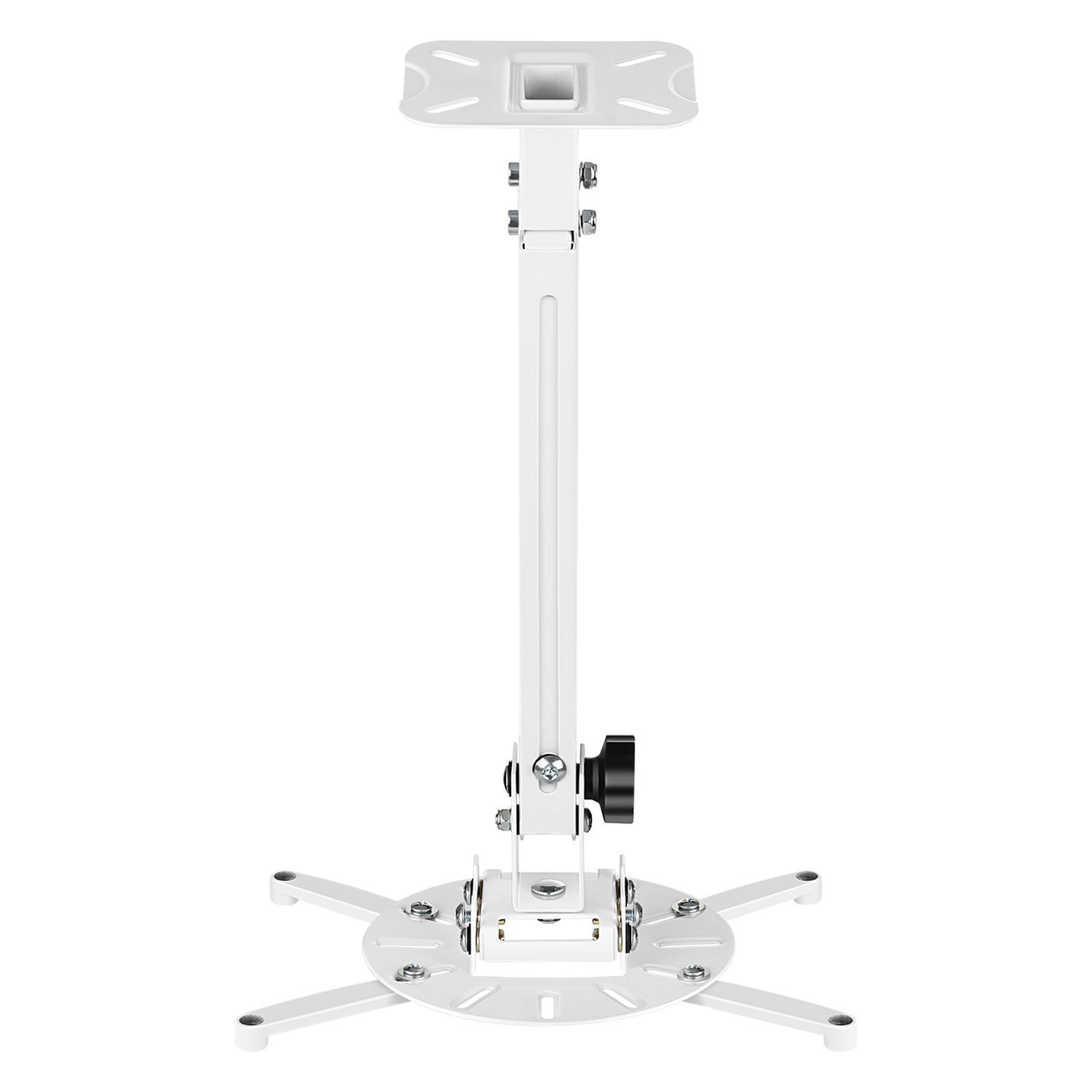 SIMBR Universal Wall or Ceiling Projector Mount is perfect for installing your projector not only on the ceiling but also on the wall. It has 30° tilting, 30° rotating, 360° swiveling and 16.5 inches to 25.2 inches height ensuring easy adjustment to the best visual angle.
It has flexible directional arms that let it work with 3 or 4 hole mount patterns. SIMBR Universal Wall or Ceiling Projector Mount can be collapsed to adjust monitor hole patterns from 6.7 inches to 11.8 inches. It has fast lock and release profile that make the installation very easy. Read more…

SIMBR Universal Projector Ceiling Mount or Wall LCD/DLP Mount Bracket Holder for Epson, Optoma, BenQ, Viewsonic Projectors, 6" Extension Pole, 33lb Load Capacity



$18.99

@ Amazon.com (Save 42%)
Product Description
【Universal Mounting】 Fitting the majority of projectors on the market that have mounting holes diagonally between 6.7''/17.02cm to 12''/30.48cm, such as Epson, Optoma, Benq, Acer. NOTE: This projector mount is not compatible for Epson TW series and Acer H9500BD series.
【Adjustable Arms】The arms are fully adjustable to fit virtually any projector. The arms are also removable for projectors that have less than 4 mounting points.
【33lb Max Loading Capacity】Heavy gauge steel offers loading capacity up to 15kg/33 lbs. Ensure that your projector is held safely and firmly without rocking and moving.
【Fully Adjustable】30-degree tilt, 30-degree swivel, and 360-degree rotation hitting all the best viewing angles.
【Easy to Install】 Quick release hooks that attach and detach by tightening and loosening the mounting bolts.
Product Details
| | |
| --- | --- |
| Brand: | SIMBR |
| Model #: | 123457 |
| Size: | 6'' pole |
| Dimensions: | 7.56 X 7.09 X 4.53 Inches (Length X Width X Height) |
| Price: | $18.99 (Save 42%) |
SIMBR Universal Projector Ceiling Mount or Wall LCD/DLP Mount Bracket Holder for Epson, Optoma, BenQ, Viewsonic Projectors, 6" Extension Pole, 33lb Load Capacity
---
Duronic Projector Mount PB04XL | Black Bracket Fixing Ceiling or Wall | 13.6kg Capacity | Universal | Heavy Duty | Fittings Included | Rotate 360 °, Swivel 180 °, Tilt 180° for Easy Projection Set-up



$47.99

@ Amazon.com
Product Description
UNIVERSAL MOUNTING: This projector bracket has been designed to be universal which means that it should fit any projector unit. If you are in doubt, please ensure you check the measurements to ensure it will fit the way you need it to.
SPECIFICATIONS: Maximum weight capacity is 13.6kg. The whole bracket measures 478-688mm long and 307mm wide. Please see images for an illustration of the sizes. Once fixed onto the ceiling there will be a gap of 478-688mm between the projector and the ceiling. Rotation is 360 °, tilt (forward and backward movement) is 180°, and Swivel (side-to-side movement) is 180°. This model is long in length and features an adjustable arm that can range between 478-688mm and can swing from side to side.
DESIGNED TO PREVENT OVERHEATING: The shape of this Duronic projector mount has been carefully considered and designed to ensure that vents on the projector mount are not covered or obstructed ensuring that only a minimal amount of the mount bracket sits flush with the machine. Additionally, it is made of aluminium which allows heat to dissipate naturally and much more effectively compared to steel which would poorly conduct heat and cause overheating.
SIMPLE TO INSTALL: Fittings are included along with detailed instructions to guide you through fixing your mount to the ceiling. It couldn't be simpler!
GOOD QUALITY YOU CAN RELY ON: We pride ourselves on providing consistently good quality items. This projector mount is no exception; it's made from a heavy-duty metal material which will support the weight of your projector with ease and stability. For extra peace of mind, this bracket has a 2-year warranty. Please note: the images of a projector are for display purposes only to show the functions of the bracket. The projector is not included.
Product Details
| | |
| --- | --- |
| Brand: | Duronic |
| Model #: | PB04XL |
| Color: | PB04XL |
| Dimensions: | 23.62204722 X 5.3149606245 X 3.149606296 Inches (Length X Width X Height) |
| Price: | $47.99 |
Duronic Projector Mount PB04XL | Black Bracket Fixing Ceiling or Wall | 13.6kg Capacity | Universal | Heavy Duty | Fittings Included | Rotate 360 °, Swivel 180 °, Tilt 180° for Easy Projection Set-up
---
---
Images of SIMBR Universal Wall or Ceiling Projector Mount