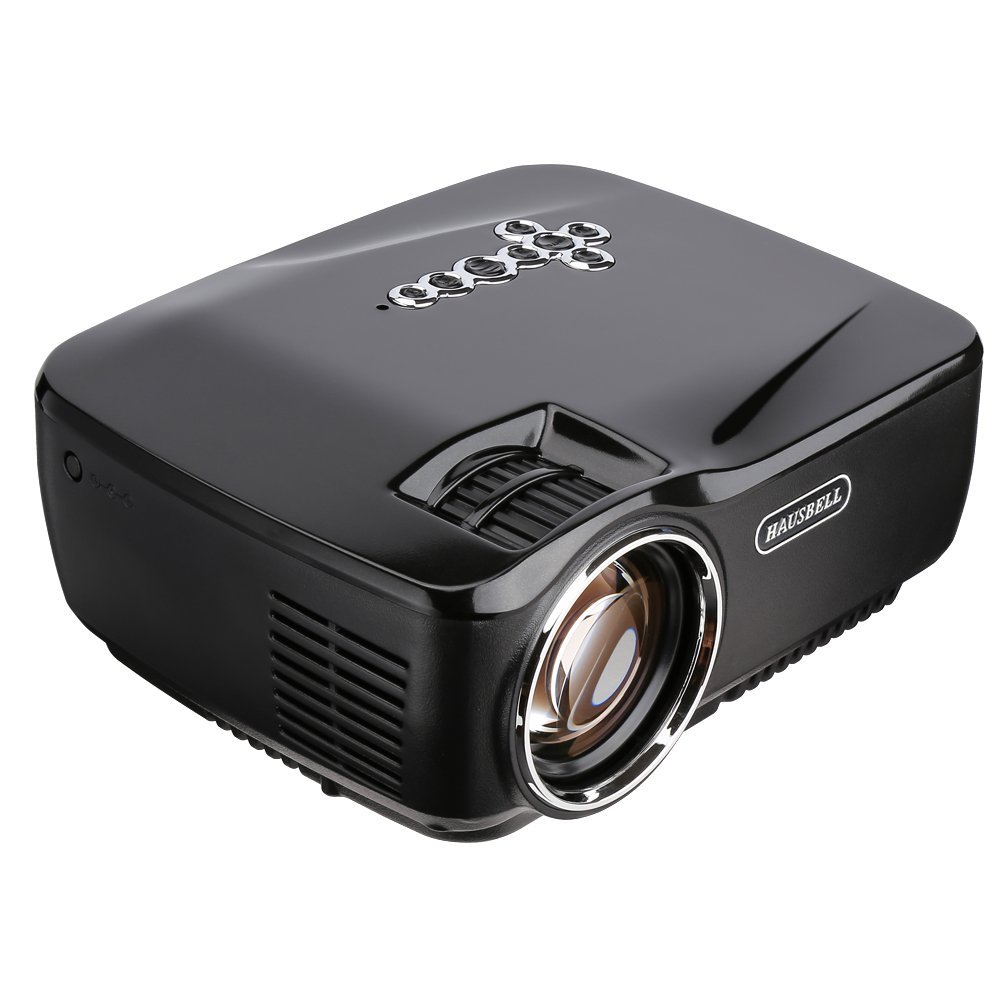 HAUSBELL 1500ANSI Lumens LED mini video projector is good for dark environment as it can give you good viewing experience in a dark area. So please make sure that this Hausbell mini projector is not made for bright room without shades. This outdoor and indoor Hausbell LED projector delivers unbeatable home cinema experience because of the latest features and specifications it carries. It has 800 X 600 native resolution that can be up-scaled to 1920 X 1080 native resolution.
Further, this Hausbell projector is portable and versatile. This is a lightweight mini video projector that can easily be moved to different rooms and put in your travel bag.
Hausbell mini projector works with many input methods such as VGA, HDMI, USB, AV and SD so it is very easy to connect with most devices such as gaming consoles, computers, laptops etc.
1500ANSI mini projector is made in a user friendly design as it carries LED light design that makes the output light soft and not dazzlingly bright.
Rii i8 Mini Bluetooth Keyboard with Touchpad&QWERTY Keyboard, Portable Wireless Keyboard with Remote Control for Smartphones /laptop/PC/Tablets/ Windows/Mac/ TV/Xbox/PS3/Raspberry Pi .Black



$21.99

@ Amazon.com (Save 56%)
Product Description
1.3 in 1MultiFunction: Advanced bluetooth function &mini QWERTY keyboard &TouchPad combo Touchpad which supports multi-finger functions, Ability to type as a smartphones /PC/ tablet keyboard, and remote control smart TV . Built-in rechargeable lithium battery, A multi-purpose Rii mini keyboard brings great convenience to your life.!
2.Game Handle Design: The mini wireless keyboard android is designed like a handle for game player. There are 2 round polorus on the right and left side of the keyboard. At the same time, it also looks like a really keyboard for PC or Notebook.
3.Wireless Remote Control: The keyboard can be connected with bluetooth function. And it can be used as a remote replacement. Its operational range is up to 15 meters. No matter on sofa or in car,remote your smart tv or computer with the wireless keyboard anytime and anywhere!
4.WIDE COMPATIBILITY :with bluetooth wireless function Perfect for PC Laptop Raspberry Pi 2-3 MacOS Xbox 360 Xbox One PS3 PS4 Google Android TV Box HTPC IPTV and so on.For our i8 BT Wireless keyboard can work with Amazon Fire TV.Special Notice: if you want to use this keyboard with Amazon Fire TV 4K and Amazon Fire Stick you need to prepare a BT Micro USB receiver.
5.We promise 100% satisfactory after-sales service,45 days unconditional refund, Up to 12 months warranty (repalcement) ,so that your purchase has no worries.
Product Details
| | |
| --- | --- |
| Brand: | Rii |
| Model #: | FMKBTL1-IV2 |
| Warranty: | International Version (No Warranty). See US Version for warranty. |
| Size: | BT-Black |
| Color: | Black |
| Dimensions: | 7 X 4 X 1 Inches (Length X Width X Height) |
| Price: | $21.99 (Save 56%) |
Rii i8 Mini Bluetooth Keyboard with Touchpad&QWERTY Keyboard, Portable Wireless Keyboard with Remote Control for Smartphones /laptop/PC/Tablets/ Windows/Mac/ TV/Xbox/PS3/Raspberry Pi .Black
---
HAUSBELL WiFi Smart Plug, Alexa Smart Plug, WiFi Outlet, Mini Socket, Smart Outlets, WiFi Outlet Plug, Smart Home Devices, Compatible with Alexa, Echo, Google Home, Remote Control No Hub Required



$19.99 ($72.69 / kg)

@ Amazon.com
Product Description
【Works with Alexa & Google Home】---Wifi smart plug is compatible with smart phone system. Requires Android 4.4 or above & IOS 8 or above. It only supports 2.4GHz Wi-Fi network.
【Manage Your Home Remotely】---Instantly works with Alexa for voice control, connected to smart plug wherever you have Internet by using the free app on your smart phone. Enjoy peace of mind by checking on your devices remotely and always coming to a well-lit house with your favorite song playing and coffee maker working. Never worry if you left the iron heater or hair strengthener on.
【Set Timer and Countdown】--- Set timer, schedule your smart socket to automatically turn on and off your electronics as needed, such as humidifier, electric kettle, Christmas tree, coffee maker, lamp and electric fan.
【Create Group & Share to All】---Create a group for all Wi-Fi Smart Plugs and control them all in one command. Share your smart plug to all family members in a minute. No more worries, everyone can control it easily.
【Satisfaction Assured】---You can set it up quickly and No Hub Required. Lifetime technical support services. If you have any questions, please feel free to contact us. We are aimed at providing you best customer service.
Product Details
| | |
| --- | --- |
| Brand: | Unknown |
| Dimensions: | 5.5905511754 X 4.6850393653 X 2.2047244072 Inches (Length X Width X Height) |
| Price: | $19.99 ($72.69 / kg) |
HAUSBELL WiFi Smart Plug, Alexa Smart Plug, WiFi Outlet, Mini Socket, Smart Outlets, WiFi Outlet Plug, Smart Home Devices, Compatible with Alexa, Echo, Google Home, Remote Control No Hub Required
---