There are various top brands that make best pocket projector. I have selected top three projectors that can be the best pocket projectors according to the performance, size and features they carry. These top three projectors are from ArtLii, PTVDisplay and AAXA Technologies.
Best Pico Projector – Artlii Mini Pocket Projector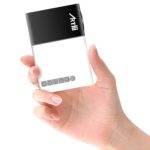 Artlii is a popular brand for many high performance pocket projectors. If you are looking for an impressive pocket projector, you can check Artlii iPhone pocket projector, which is perfect for home cinema and video party. The Artlii projector is compact and lightweight that weighs just 0.28-kg and measures 12.5 x 8.6 x 4.7 centimeters. According to the mentioned measurement, it is a pretty small projector so you can easily carry it in your pocket, backpack anywhere you go. Further, it can be powered using a power bank too. That means the Artlii mini home cinema projector is a great companion of travelers. Further, when it comes to connectivity, it is compatible with numerous devices because it comes with multiple interfaces such as USB, HDMI, AV and SD. No matters, if you want to connect this projector with your preferred devices such as laptops, smartphones or tablets, you can easily establish a reliable connection with your preferred devices. If you are looking for a small projector for home entertainment then this Artlii projector can be the good device for you. Because it is extremely suitable for home entertainment. You will be able to entertain yourself with video games, TV shows on a large screen of approx. 1.5M from 3.8m distance. Amazingly, the projector is also protected with a 3-year warranty with 100% full refund if you are not satisfied with the result it delivers to you. Read more…
---
PTVDISPLAY Smart 1080P Pocket Mini Projector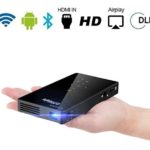 PTVDISPLAY smart mini projector is the best pocket projector because it is made in a small size and it delivers impressive performance. The smart projector is brighter than ordinary LED projectors because it uses DLP 0.3 DMD technology with advanced multi-color processing. It carries OSRM LED lamps with 30000 hours of lifespan. Further, it is powered by Android Operating system and has good wireless features to connect with your desired devices. Also, it comes with HDMI input that is perfect to connect with laptop, game machines, TV boxes, and it supports external Bluetooth speakers. Amazingly, PTVDISPLAY Smart Pocket Mini Projector can be operated by a mouse or keyboard also. The contrast ratio is 1000:1 with 100 ANSI lumens brightness. The best pocket projector is made in a palm size that measures 14.7 x 8 x 1.8 centimeter and weighs just 248 grams. The smart projector is perfect for home entertainment and you can easily carry it anywhere you go. Read more…
---
AAXA Technologies KP-101-01 AAXA LED Pico Micro Video Projector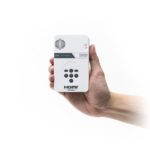 AAXA Technologies KP-101-01 LED projector carries a small size and impressive performance, which make it the best pocket projector. This portable AAXA LED projector uses vibrant color technology, and comes with 960 x 540 qHD native resolution. It has built-in rechargeable Lithium-ion battery that makes it an ultra-portable projector. AAXA LED pocket projector is able to deliver up to 60 inch image in dark-light environment, and it is the perfect device for personal media sharing with friends and family. Because it comes with USB Plug & Play, which is very easy to setup, and compatible with Apple Mac and Personal Computer. Other important features of KP-101-01 projector are built-in speakers, 16:9 compatible, mini HDMI, 3.5mm audio jack, composite AV connections and Micro SD as well. Read more…
---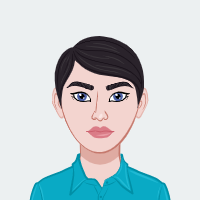 Nikita is a product reviewer who specializes in electronic products. She is an active member of several online forums and is always up-to-date on the latest products and research. Her reviews are detailed and honest, and her recommendations are always spot-on. If you're looking for a new electronic product, Nikita is the person to ask!