Fosa is slowly becoming a popular brand name for impressive video projectors. It only produces high quality video projectors, which deliver the best performance and they come at affordable prices too. However, I admit that Fosa is not as popular as BenQ, Optoma, ViewSonic and many others. Since Fosa produces only affordable projectors with latest projection technology so it is able to catch general public attention.
Fosa is a popular projector brand that makes impressive projectors at affordable prices. If you are looking to buy a good quality Fosa projector, please check Fosa UC18, which has impressive features and it sells at an affordable price on Amazon.com.
Fosa UC18 is a portable video projector that comes with full 1080p resolution and it supports many connection inputs such as USB, HDMI, VGA, SD, AV and many others. Fosa UC18 is good for movie nights and video games.
Fosa UC18 small and compact video projector that has high efficiency and it is very easy to operate. The projector is no larger than an iPad mini. It is very easy to setup and then you can watch movies with your family right away.
Some top Fosa Projectors are Fosa YG320 mini projector, Fosa GP9 portable LED projector and Fosa UC18 full HD 1080p Projector. If you are with low budget, you should explore more about above mentioned Fosa projectors, which comes with impressive features and deliver the best projection experience.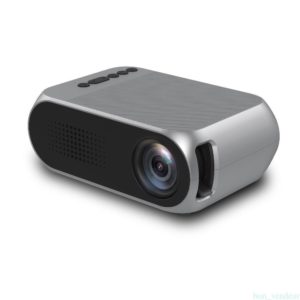 This is a portable projector that doesn't require too much space in your room. Fosa YG320 is perfect for entertainment at home, video games and sports.
The mini projector has up to 600 lumens brightness making it perfect for dark environment only. I admit that the 600 lumens brightness may not be sufficient for daylight projection.
When it comes to support resolution, the Fosa projector has 1080P support resolution with contrast ratio of 8000:1. With the 1080p support resolution and 8000:1 contrast ratio, it is perfect for high definition playback on larger screen. Read more…
Other important capabilities/features of Fosa YG320 are:
Low power consumption
24-inch to 60-inch projection range
Manual focus adjustment support
400 to 600 lumens brightness
USB, HDMI, AV and micro-SD inputs
---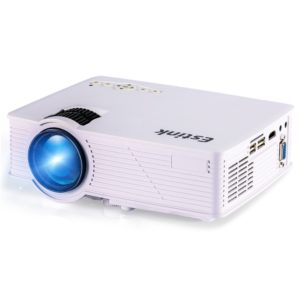 Fosa GP-9 is another cheap and best video projector. It carries a portable design so that you can take it anywhere you go. This projector is very popular for its brightness capability. It is claimed that Fosa GP-9 is 50-percent brighter than normal LED projectors.
Amazingly, it carries the latest LCD source technology that makes it brighter than other projectors in the same category. If you want to experience cinema-like projection experience then you must explore more about this Fosa GP9 projector.
Further, various inputs are available with this portable video projector. You will be able to find the widely used inputs such as HDMI, VGA, USB, AV, SD card and many others. You can easily establish a reliable connection with your devices such as laptop, DVD players, TV setup boxes etc.
Because of the portable and lightweight profiles, it is perfect for party, home entertainment, games and camping.
A 3-year full guarantee is also attached with this performance oriented projector. And the customer service team is always available to help you out if you got any technical problems. Read more…
---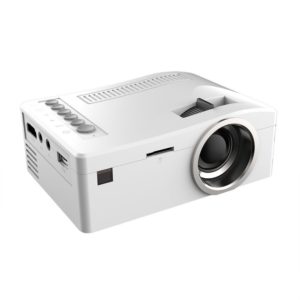 If you are looking for a projector that has all the required features at very low price. You can check Fosa UC18. You can easily purchase it under $50, which is really an impressive price. Not only does it come at a low price, but it carries a compact design so that you can easily carry it anywhere you go.
This mini projector is not bigger than an iPad mini. Also, this Fosa projector is very easy to setup. As soon as you finished the installation process, you can enjoy high quality movies with your friends and family.
Further, it comes with HDMI input, which is a widely used interface for the reliable connection with laptop, computer and DVD player. You just need to use your already owned devices to project photos, videos and other multimedia content.
Further, it is powered by updated projection technology that is further infused with latest natural color. The native resolution is 320*180 and support input resolution is 1080p. This Fosa projector also comes with an advanced LED bulb that makes less notice. The less notice advanced bulb also makes it a portable home cinema system.
All the above three video projectors are affordable home entertainment devices. These projectors may not cost more than $50. Finding a performance oriented video projector under $50 is pretty tough task today. If you are a projector buyer, you must explore more about these projectors before you commit to buy any of them. You can check the availability of these projectors by visiting Amazon and other shopping websites. Read more…
---
[home]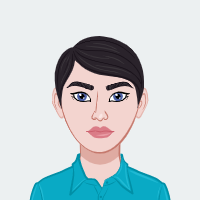 Nikita is a product reviewer who specializes in electronic products. She is an active member of several online forums and is always up-to-date on the latest products and research. Her reviews are detailed and honest, and her recommendations are always spot-on. If you're looking for a new electronic product, Nikita is the person to ask!